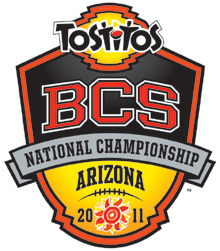 In this preview, the first written from 32,000 feet, I'll spare you the usual comparisons between the Tigers and the Ducks that you've heard over and over the last few weeks. Yes, Oregon is smaller than Auburn, way smaller. Yes, Oregon is very fast. Yes, both defenses are the weaker link of each team, but have gotten the job done each week.
So now that we have the basic similarities and differences out of the way, let's talk about what could be the deciding factor in the BCS National Championship Game.
Plain and and simple: Auburn needs, wants, has to have, can't live without, deserves (did I say needs?) this championship more than Oregon. That's not a knock at the Ducks. They have had an excellent year. They are a great team. They scare me, and I completely respect them.
But in terms of history, school pride, conference pride, and the whole Auburn/Alabama thing, the Tigers without a doubt have more to prove and more to gain by winning on Monday night than Oregon does.
I'm not being pompous. I'm not being an SEC elitist. It's just the truth. I'll actually venture to say that Auburn has more reasons to win than any other team in the nation.
For starters, in 1983 Auburn won the Sugar Bowl, but was jumped in the final poll to have a championship taken out of their hands. In 1993, Auburn went undefeated, but was on probation. In 2004…well you know what happened.
At least once in each of the last three decades Auburn has done everything they could do on the field and to no fault of the those teams/coaching staffs they were denied a title or a chance to play for the title.
This year, for the first time ever really, Auburn can play a game, win that game, and be named the national champions. A win Monday night would take all the 30+ years of unfairness and blatant disrespect and punch it right in the gut. I don't see this as added pressure. I see it as a great opportunity to avenge all those years of frustration for all the Tigers and Tiger fans who had to experience them.
Now what could possibly add some pressure is the string of national titles won by the SEC. As you know, the conference has won four in a row. Auburn does not want to be and can not be the team that is responsible for the streak ending. The SEC will never hear the end of it from the rest of the nation, and Auburn will never hear the end of it from the rest of the SEC.
On top of that, I'm pretty sure Oregon is tired of hearing about the big, bad SEC and wants to be the ones that knocks the conference off their throne. I think most fans look into this a little too much, but conference respect is a big factor if you hear about it all day, every day for an entire month, and in the rest of the nation's case, the last five years.
If I can had a personal reason to the list, and I can, I want Auburn to win just to keep the haters hatin'. I won't tarnish this site by printing their names, but you know who would hate to see Auburn win and I hope they spend Monday might in a bad mood.
To me, this final reason that Auburn can not lose is the most important and that reason is simple: Bammers.
Nothing will make Bama fans forget the Iron Bowl collapse, their recent recruiting losses, and the fact that most of their offense just said "see ya", than an Auburn loss. It won't matter that they have no reason to gloat. They'll take an Auburn loss over anything else at this point. We've all seen the classiest of the classy ones buying up all the Oregon gear, spending their money on another team's clothes to sit in a house full of their own fans and proclaim their love for Auburn's opponent.
Bottom line: if Auburn loses, even by one point on 75-yard field goal by Oregon, Bammers will act like they just won number 14, or whatever number their claiming that day.
Most would say that all these reasons are added pressure and that Auburn has the most to lose. Yes, they do have the most to lose, but whether there's more pressure or not, it won't affect this team. Auburn has won in every way possible, on the largest stages (to this point), and facing the worst situations imaginable (see 0-24 at Alabama).
I have no reason to doubt them, I have no reason to think that they can't rise to the challenge, and I have no reason to believe they can't handle the largest amount of pressure they will ever face. This team has and will overcome all obstacles.
Let's go men.
Do it for Pat Dye.
Do it for Stan, Patrick, and Frank.
Do it for Jason, Cadillac, Ronnie, and Carlos.
Do it for yourselves.
Do it for Auburn.
Auburn 38, Oregon 24