To be honest, I forgot about this whole thing. That's what happens when you find yourself at the bottom of the pack with no signs of life after one week. You tend to not really care anymore. This whole contest would have ridden off into the sunset, never to be mentioned again, if it had not been for the winner reminding me that I promised a prize to the contestant that came out on top. And you know I always deliver on prizes.
This year's winner receives (surprise, surprise) Chad Gibbs's God and Football.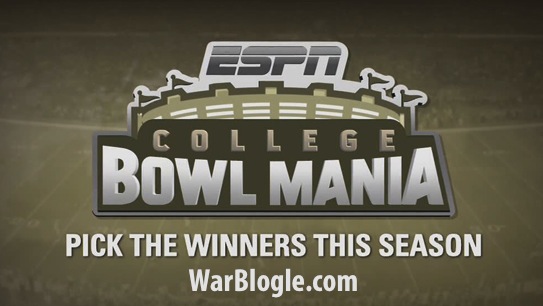 So, without further adieu, I give you the winner of the very first WarBlogle.com Bowl Pick 'em: Payton Haisten. He took the pick 'em with an outstanding, and frankly suspicious, 99.6% average. You can see the full results here.
Now we'll here from the winner himself…
Before I thank WarBlogle for allowing me to join his Bowl Mania group and for rewarding me for edging out some great Auburn competitors to win I would like to start off with a story…
When I met with Milton McGregor the day before I chose my picks for WarBlogle.com's Bowl Pick'em to receive my pre-loaded debit cards for the month, I ran into Joe Schad in the bathroom or as Joe would like to call it, the powder room. He was touching up some spots he had on his Squidward-esque nose from snooping around. I figured that since I had the chance to talk to him I would ask him what he thought about College Bowl Mania. He told me every one of his picks according to his sources. The biggest shock to me was that he chose Auburn to lose. After revealing his picks to me he left the restroom. As he walked out, I noticed there was a strand of toilet paper on his foot. I took it as a sign.
The next day I took into account Schad's choices and decided to choose against every single one of them, including the Auburn loss that  he was so confident about. On January 11, I looked at my finish and saw that I had won the group. I must say, I wasn't shocked. However, I can't take all the credit. Thanks Joe, you were a big help.
Thank you WarBlogle for the copy of Chad Gibbs's, God and Football. I appreciate everything and keep up the great work.
War Eagle!
Thanks to everybody who participated and proved that you can pick games better than I can. I will now go lock myself in a closet and watch every bowl game ever played to increase my chances of winning next year. WDE.