National Signing Day is old news. Early Signing Day is where it's at. But really, it's just a good way to get all your committed guys out of the way, and maybe pick up a few surprises just before Christmas.
As the first day of the early period ends, Auburn got everything they expected to get, plus two more. The class currently sits at 16 players. Will Putnam (4-star OL) will be announcing his decision tomorrow.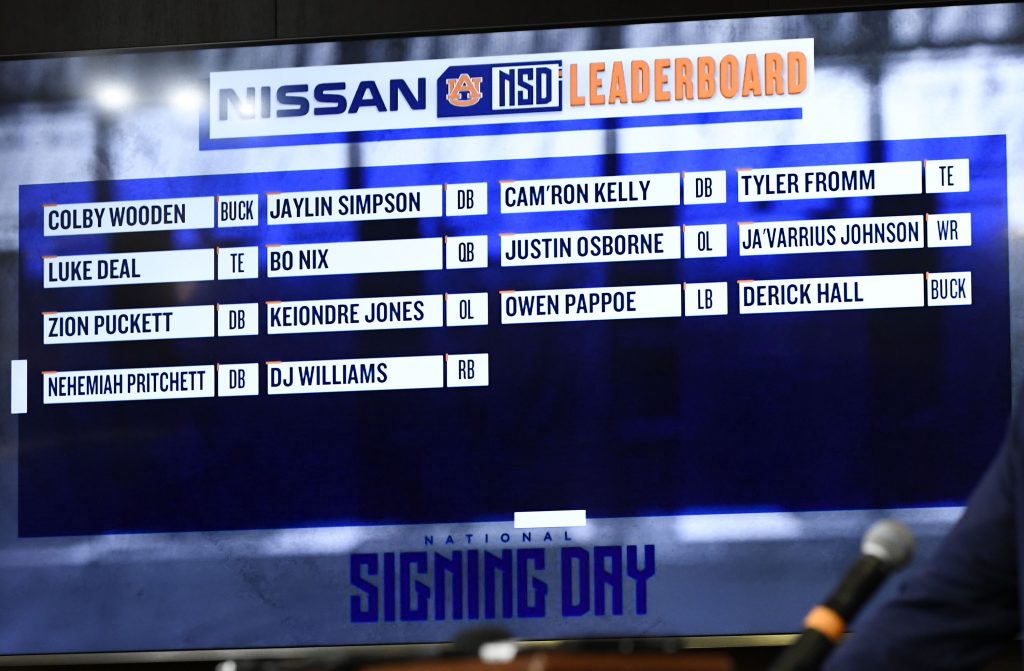 As of right now, here are Auburn's 2019 class rankings according to the big three: ESPN – #13, Rivals – #14, 247 – #11.
---
Luke Deal
3-Star TE, 6-5, 245; Emerald HS; Greenwood, S.C.
Versatile athletic tight end prospect … passed for 742 yards and eight TD as a senior, while adding 332 rushing yards and seven scores and nine receptions and one receiving TD for Coach Tim McMahon at Emerald High … all-Lakelands team … Shrine Bowl … ESPN ranks him as a four-star recruit and the No. 10 tight end nationally … ranked among top seven prospects in South Carolina by ESPN, 24/7, Rivals … also a basketball letterman
Tyler Fromm
3-Star TE, 6-5, 225; Warner Robins HS; Warner Robins, Ga.
Coveted tight end prospect … two-year starter for Coach Mike Chastain at Warner Robins High, helping the Demons to the Class 5A state championship title game All-American Bowl … ESPN ranks him the No. 8 tight end recruit nationally … top 40 overall prospect from state of Georgia by Rivals, 24/7 … also a basketball letterman
Derick Hall
4-Star Buck, 6-4, 225; Gulfport HS; Gulfport, Miss.
Long, athletic pass rusher with a broad wingspan … recorded 83 tackles as a senior for Coach John Archie and the Admirals … Under Armour All-American Game … Sun-Herald all-South Mississippi first team … rated among the top 10 prospects in the state of Mississippi … consensus four-star recruit … also a basketball starter and a state finalist at 200 meters in track
Jaren "Stone" Handy
4-Star DL, 6-5, 280; Hattiesburg HS; Hattiesburg, Miss.
Prospect who brings size and strength to the defensive line … recorded 14 TFL as a senior for Coach Tony Vance at Hattiesburg High … Alabama-Mississippi All-Star Game … Hattiesburg American all-area … consensus four-star prospect at defensive tackle … rated No. 5 (Rivals), 6 (24/7), 8 (ESPN) recruit in state of Mississippi … PrepStar Dream Team … also a basketball letterman
Ja'Varrius Johnson
3-Star WR, 5-9, 170; Hewitt-Trussville HS; Trussville, Ala.
Productive prospect at wide receiver … totaled 87 receptions for 1,683 yards and 15 TD as a senior for Coach Josh Floyd at Hewitt-Trussville High … Alabama-Mississippi All-Star Game … AL.com A-List … Class 5A all-state first team … rated a top 15 overall prospect in the state of Alabama by 24/7, Rivals, ESPN … ESPN four-star recruit
Keiondre Jones
4-Star OL, 6-4, 325; Callaway HS; LaGrange, Ga.
Offensive lineman with outstanding potential … four-year starter for Coach Pete Wiggins and the Cavaliers at Callaway High … Under Armour All-American Game … SportsVision offensive lineman of the year … Class 2A AJC and GSWA all-state first team … consensus four-star prospect at offensive guard … rated the No. 14 (ESPN), 18 (24/7), 21 (Rivals) recruit in the state of Georgia
Cam'Ron Kelly
4-Star DB, 6-1, 205; Oscar Smith HS; Chesapeake, Va.
Terrific two-way athlete who projects as a cornerback … played in state title game as a sophomore and junior for Coach Scott Johnson at Oscar Smith High … World All-Star Bowl … Tidewater player of the year … consensus four-star prospect at cornerback … rated a top 10 overall recruit in state of Virginia by ESPN, Rivals, 24/7 … also a baseball letterman and honor student
Bo Nix
5-Star QB, 6-2, 210; Pinson Valley HS; Pinson, Ala.
Decorated quarterback who set Alabama state records with more than 12,000 career total offense yards and 161 career TD accounted for (127 pass, 34 rush) … led Pinson Valley High to consecutive Class 6A state titles … father Patrick Nix was his coach … Alabama Gatorade player of the year … USA Today All-USA offensive player of year finalist and All-America first team … Under Armour All-America Game … Alabama-Mississippi All-Star Game … AL.com A-List … Rivals, 24/7 and PrepStar rate him the nation's top quarterback prospect … Rivals, PrepStar five-star recruit … listed among top four overall recruits in state of Alabama by Rivals, 24/7, ESPN
Justin Osborne
3-Star OL, 6-4, 305; Marcus HS; Flower Mound, Texas
Promising offensive tackle with strong potential … outstanding senior season … three-year starter for Coach Kevin Atkinson at Marcus High … first team 5-6A all-district for the Marauders … Texas Top 100 … three-star prospect rating by ESPN, 24/7, Rivals, PrepStar
Owen Pappoe
4-Star LB, 6-1, 215; Grayson HS; Lawrenceville, Ga.
Nation's top-rated outside linebacker prospect … recorded 121 tackles, 14 TFL as a senior for Coach Christian Hunnicutt at Grayson High … Under Armour All-America Game … AJC Super 11 … Gwinnett Daily Post Super Six … Class 7A all-state first team … rated as a five-star linebacker prospect by 24/7, PrepStar and ESPN
Nehemiah Pritchett
3-Star DB, 6-0, 180; Jackson HS; Jackson, Ala.
Versatile athlete who projects as a cornerback in college … key contributor on both sides of the ball for Coach Danny Powell at Jackson High … Alabama-Mississippi All-Star Game … consensus three-star athlete … rated the No. 19 (Rivals and 24/7), 25 (ESPN) prospect from the state of Alabama … a Class 5A first team all-state outfielder in baseball
Zion Puckett
4-Star DB, 6-0, 200; Spalding HS; Griffin, Ga.
Talented prep athlete who projects as a cornerback … recorded 93 career tackles for Coach Nick Davis and the Spalding High Jags … Class 4A Georgia all-state … consensus four-star prospect at cornerback … rated as the No. 12 (Rivals), 14 (24/7), 16 (ESPN) overall recruit from the state of Georgia … PrepStar Dream Team … also a basketball and track and field letterman
Jaylin Simpson
4-Star DB, 6-0, 175; Frederica Academy; Brunswick, Ga.
Talented defender who projects as a safety … 48 tackles, four interceptions as a senior for Coach Brandon Derrick's Knights at Frederica Academy, helping them to the state championship … GISA all-state and all-region 2-3A … consensus four-star recruit … PrepStar All-America … state high jump champion and a basketball letterman
D.J. Williams
3-Star RB, 5-11, 205; Sebring HS; Lake Placid, Fla.
Gifted running back who had an outstanding senior season … rushed for 1,221 yards, 21 TD and passed for 1,113 yards, 13 TD as a senior for Coach LaVaar Scott and the Sebring High Blue Streaks … two-year all-Highlands … ESPN rates him as a four-star prospect at running back … ranked as the No. 24 (24/7), 27 (ESPN), 29 (Rivals) overall running back recruit nationally … also a baseball letterman
Colby Wooden
4-Star Buck, 6-4, 235; Archer HS; Lawrenceville, Ga.
Athletic defender with plenty of potential … key contributor for Coach Andy Dyer and the Archer High Tigers, advancing to the state Class 7A semifinals … first team all-state, all-county and all-region … 24/7 and Rivals rate him as a four-star prospect … ranked No. 19 (Rivals), 21 (24/7), 28 (PrepStar) overall nationally at his position and No. 34 (Rivals), 38 (24/7) among recruits from the state of Georgia
Jashawn Sheffield
4-Star WR, 6-1, 180; Frederica Academy; Brunswick, Ga.
Exceptional athlete on both sides of the ball … two interceptions, two fumble recoveries and 959 all-purpose yards as a senior for Coach Brandon Derrick and the Knights, helping them to the state championship … Under Armour All-America Game … GISA all-state and all-region 2-3A … consensus four-star prospect at wide receiver … rated as the No. 20 (ESPN), 28 (24/7), 38 (Rivals) overall recruit from the state of Georgia … also a track and field letterman