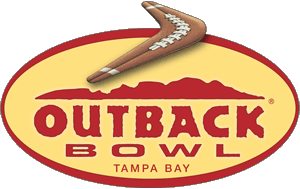 UPDATE #5 – Birdie was wrong at the time, but his guess ending up being correct: Auburn will play Northwestern in the Outback Bowl.
UPDATE #4 – No "official" announcements will be made about SEC bowl selections until Sunday. It has something to do with an agreement between the SEC and the BCS. However, the bowl lineup has already been unofficially set.
We know where the SEC Championship winner and loser are going. Here's where the rest of the league will end up:
Capital One Bowl: LSU
Outback Bowl: Auburn
Cotton Bowl: Ole Miss
Chick-fil-A Bowl: Tennessee
Music City Bowl: Kentucky
Liberty Bowl: Arkansas
Independence Bowl: Georgia
Papajohns.com Bowl: South Carolina
UPDATE #3 – According to Charles Goldberg of al.com, Auburn will play Wisconsin in the Outback Bowl. An official announcement is expected later this afternoon.
UPDATE #2.1 – It looks like the birdie was wrong.
UPDATE #2 – A birdie has told me that Northwestern will be the opponent for whichever SEC team that goes to the Outback Bowl.
UPDATE #1 – ESPN says that Ole Miss and Oklahoma State will play in the Cotton Bowl. This either hurts Auburn's chances for the Outback Bowl, or means that SEC divisional bowl tie-ins have been thrown out. Usually the Cotton and Outback Bowls get first pick after the Capital One Bowl. The Cotton picks the next best West Division team, and the Outback picks the next best East Division team. Call it the 4th-a and 4th-b picks. The two can swap if they would like, but rarely, if ever, do they both take teams from the same division.
Is Auburn going to the Outback Bowl? Some people with some clout seem to think the deal is already in the works.
There were reports mentioned in a few of the Auburn message boards (#2) this morning, and now Evan Woodbery has a post about it on al.com. It was also reported by VolunteerTV.com.
You can take it for what it's worth coming from a message board, but when it's posted on the largest news website in the state of Alabama, the report must have at least some merit. Or Woodbery, an Auburn beat writer that graduated from Alabama, is just playing a really mean joke on Auburn fans.
This would be huge for Auburn considering that the Outback Bowl is the 4th best bowl of the SEC bowl tie-ins, and the Tigers had been predicted to play in one of the two lower SEC bowls (Independence, PapaJohns.com) by most experts. Of course, this would mean an 10am start against a boring Big Ten team, but I think most Auburn fans would take it.
Supposedly, an announcement will be made this afternoon, so we'll see.