After a very late night at the ESPYs Pre-Party and a little sightseeing the following morning, I took the subway to downtown Los Angeles to hit the red carpet outside the Nokia Theater for the 2011 ESPYs. With the Staples Center to my back, I posted up (my spot) and waited for the athletes and celebrities to arrive.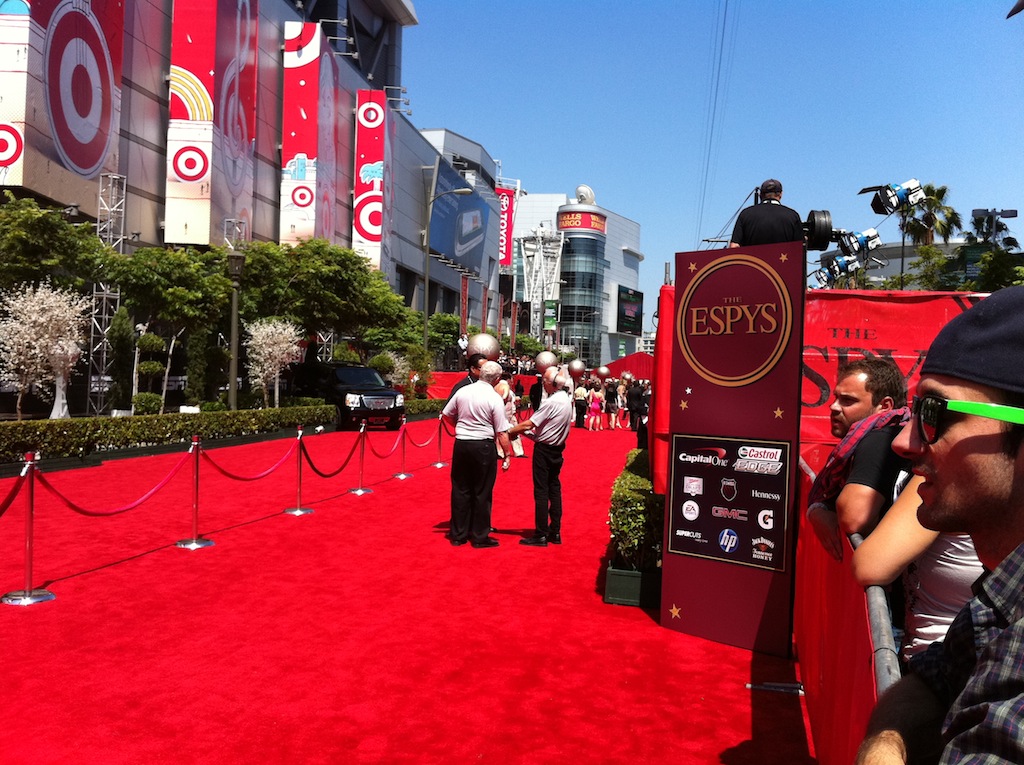 Somehow, someway, the first person I interviewed at my very first real live red carpet was… Greg McElroy. I know what you're thinking. Why was he even there? I guess to help accept the award for Best Game (if the 2010 Iron Bowl had actually won)…? Man, that would have been awkward.
So here's the interview, and yes I only filmed half his face on purpose. But really though, at least in this case, he was a nice guy. I'm just not sure who Zac Estridge is…
Once I had one under my belt, I felt a little more confident so I stepped up and asked Rece Davis for a few words. So yeah…two interviews, two Bama grads. What's the deal, 'Blogle?! Seriously though, Rece was, not surprisingly, very nice and looked happy to talk a little SEC football, especially when I asked what it's like to call a Cam Newton highlight.
Now that I had those out of the way, it was time to find an Auburn man. When I saw the lovely Mrs. Jonna Chizik walking by, I knew the head man was around. I got one of the runners to track him down and he quickly and graciously came right over. We talked about his book, blue helmets, and next season. I was nervous. You'll be able to tell.
I also got a quick interview with ex-Arkansas receiver and current Buffalo Bills safety, George Wilson. Ladies may remember him as Mary J. Blige's boyfriend in her video for "We Got Hood Love". Note: he would not give me a 'War Eagle,' but did say that 'Sooie' thing. I kept it out of the video for your protection.
Somewhere in all that I also interviewed the music duo and famous YouTubers, Karmin, but I'll save that for the "everything else" post.
In all, I got five personal interviews, footage of many others, and definitely gained some good experience. If I was there right now, given that I've seen how things work, I would talk to everyone that came by, no matter who they were or what they do. Interviewing on the fly when you're not sure who is going to be next is an art, but now that I've seen how it's done, I'm ready to do it again.
I had, of course, hoped to get Cam and he was going to be brought to me, but like the night before, about half way down the line he was whisked inside. Oh well, there's always next year.
As I did the night before, I also wielded a still camera and got a few good shots. Here you go:
So that's most of the Auburn-related media that I got on the trip. I still have tons of video and a few more pictures that I'll put in the aforementioned "everything else" post sometime this week. The whole story of my trip will be in there as well, so keep your eye on the 'Blogle.