It seems like just yesterday it was the middle of June, and we all knew Zach Calzada was going to be Auburn's starting quarterback. All it took was two long, hot summer months for us to realize yet again, we know nothing. Are we ever going to get tired of thinking we know more about what goes on between the sidelines than the guys that literally make a living on them? Absolutely not, but that's what makes this game so great.
It's that time of year again folks, we made it. The grass is cut, the numbers and endzones are painted, and War Blogle is dropping BlogleSpots faster than I can change my underwear. Welcome to the 2022 Auburn football season where we know less than we've ever known. The only thing I do know is this week's depth chart against the Mercer Bears. Let's dive into that and I'll tell you a few more things I know.
OFFENSE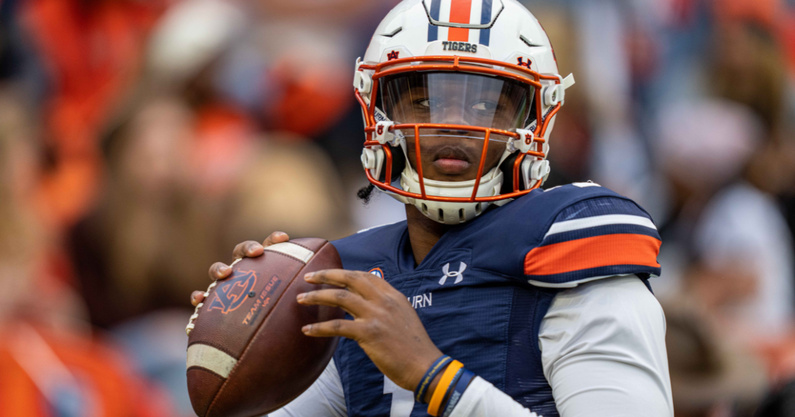 QB #1 T. J. Finley (6-7, 250lbs Jr)
-QB #9 Robby Ashford (6-3, 212lbs RFr)
Nothing like starting out with a banger for the first position group. Guys, just imagine if Harsin is half the QB developer we thought he was when we signed him. You saw Bo Nix improve from year two to year three. Now just imagine if we can get this 6'7" frame playing with confidence. He doesn't have to be elite; he just has to make the routine plays and he will be perfectly fine.
As far as Ashford, wow, what an athlete. The guy has elite speed and brings an entirely different dynamic to the quarterback room. If T.J struggles, I'm quite confident in the abilities of Robby or Calzada to pick up the slack. There won't be much if any drop off from last season.
---
RB1 #4 Tank Bigsby (6-0, 213lbs Jr)
-RB2 #27 Jarquez Hunter (5-10, 202lbs So)
No need to get long winded here. This is the best running back tandem in the SEC. The only people that will tell you otherwise are opposing fans that don't know football. If Tank and Hunter had Georgia's O-line? Yeah you get it. Elite group here in a long line of Auburn greats.
---
TE1 #25 John Samuel Shenker (6-4, 250lbs SR)
-TE2 #85 Luke Deal (6-5 257lbs Jr)
No surprises here. John Samuel Shenker has the best hands on the team (baseball background, duh) and has slowly seen himself evolve into the safety outlet when we need a play. This is a deep room. Sprinkle in some Brandon Frazier and Landen King and look out.
Shenker told Coach Harsin after the bowl loss to Houston "I'm coming back next year. Not for me, but for Auburn." Do with that what you will, if you need me I'll be over here running through this brick wall.
---
WRX #11 Shedrick Jackson (6-2, 202lbs Sr)
-WRX Camden Brown (6-3, 202lbs Fr)
WRH #3 Tar'varish Dawson Jr (5-10, 161lbs RFr)
-WRH #6 Ja'Varrius Johnson (6-1, 160lbs Jr)
WRZ #16 Malcom Johnson Jr (6-1 195lbs Jr)
-WRZ #0 Koy Moore (6-1, 192lbs So)
The common fan will tell you this group is underwhelming. I'm not going to go on a long tangent. I'm simply going to say watch out. Ya'll remember Anthony Schwartz? Auburn basically has two of those in Malcom Johnson, Jr. and Tar'varish Dawson. There's also a veteran leader in Jackson with the addition of Koy Moore, not to mention Landen King making the switch from tight end. On paper I can't make you understand just yet. Come back to me in a few weeks. This is not last year's wide receiver core.
---
LT #77 Killan Zierer (6-7, 312lbs Sr)
-LT #55 Brendon Coffey (6-7, 293lbs Sr)
LG #71 Brandon Council (6-4, 328lbs Sr)
-LG #76 Jeremiah Wright (6-5, 335lbs Jr) or
-LG #50 Jalil Irvin (6-3, 313lbs Sr)
C #54 Tate Johnson (6-4, 285lbs Jr)
-C #50 Jalil Irvin (6-3, 313lbs Sr) or
-C #57 Avery Jernigan (6-4, 310lbs, So)
RG #58 Keiondre Jones (6-4, 340lbs Jr) OR
RG #62 Kameron Stutts (6-5, 339lbs Sr)
RT #68 Austin Troxell (6-7, 309lbs Sr)
-RT #65 Alec Jackson (6-5, 321lbs Sr)
Wow, look at all of these seniors. You'll note there is no Nick Brahms anchoring this line as it appears injuries have him focused on life after football. We wish him the best of luck and I know he'll be a hell of a coach on the sidelines.
This is definitely the "prove it" group on this team but I'm confident in the experience and leadership. It's great to see both Austin Troxell and Killan Zierer healthy at the same time. Jeremiah Wright is back adding depth and with the Swiss army knife, Brandon Council, I am confident in this group remaining stable throughout the season.
---
DEFENSE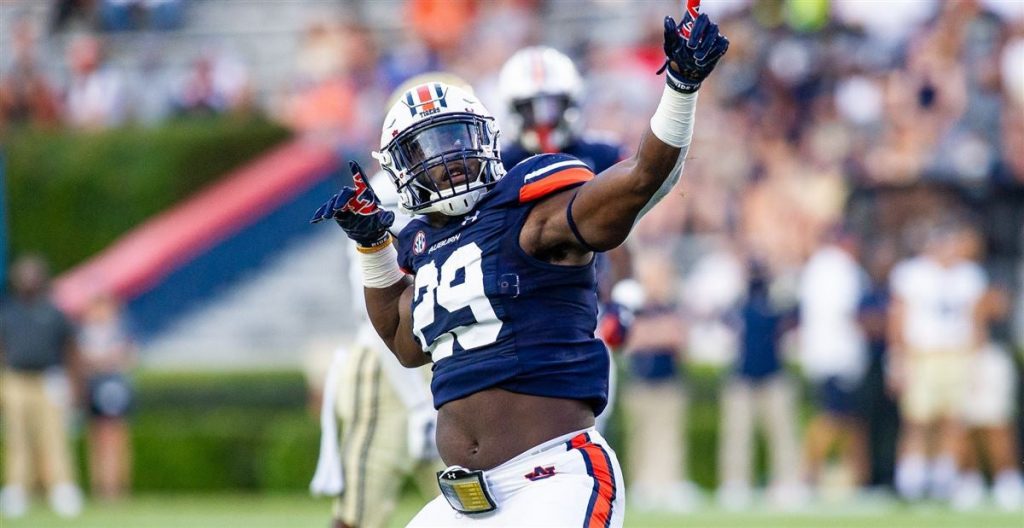 Rush #29 Derrick Hall (6-3, 256lbs Sr)
-Rush #39 Dylan Brooks (6-4 232lbs RFr)
DE #25 Colby Wooden (6-5, 284lbs Jr)
-DE #91 Morris Joseph Jr (6-2, 281lbs Sr)
If Derick Hall or Colby Wooden need an intro, you don't need to be here. Chalk Hall up as one of the top three pass rushers in the SEC and get ready to watch him on Sundays. A high motor guy and the epitome of an Auburn man going for the all-time Auburn sacks record this season. As for Colby, just turn on the film.
Dylan Brooks, after taking a red shirt last season is prime for some early playing time. He was a highly touted recruit, and it's an understatement to say how excited I am to see him.
---
NT #99 Jayson Jones (6-6, 328lbs So)
-NT #92 Marquis Burks (6-3, 302lbs Sr)
DT #50 Marcus Harris (6-3, 294lbs Jr)
-DT #5 Jeffrey M'Ba (6-6, 313lbs So)
Where to begin… This defensive interior is huge. Physically one of the biggest lines Auburn has fielded in quite some time. There are several names not on the two deep that will contribute. Get very familiar with #99 and #5 if you aren't already. This is as deep on an Auburn defensive line as we've seen in a while. That alone should inspire confidence (or fear depending on your college affiliation).
---
Stud #55 Eku Leota (6-4, 257lbs Sr)
-Stud #98 Marcus Bragg (6-5, 262lbs Sr)
MLB #0 Owen Pappoe (6-1, 225lbs Sr)
-MLB #32 Wesley Steiner (6-0, 237lbs Jr)
WLB #13 Cam Riley (6-5, 230lbs Jr)
-WLB #9 Eugene Asante (6-1, 216lbs Jr) OR
-WLB #46 Jake Levant (6-1, 224lbs So)
I think we all have an idea of what #0 is capable of when healthy. If Pappoe can stay healthy and plays like he isn't already counting his money, he will be the best interior linebacker in the SEC. It's really that simple. He is without a doubt the most athletically inclined linebacker to walk through the tunnels at Jordan Hare. Will he put it all together this year? One can only hope. Playing alongside a glorified defensive end, Cam Riley, I'm ready to see this linebacking core to get after it. It's all about "want to" with this group.
---
CB #18 Nehemiah Pritchett (6-1, 182lbs Sr)
-CB #6 Keionte Scott (6-0, 237lbs So) OR
-CB #23 J.D Rhyme (6-1, 174lbs Jr)
CB #36 Jaylin Simpson (6-1, 178lbs, Jr)
-CB #4 D.J. James (6-1, 174lbs Jr)
S #10 Zion Puckett (6-0, 207lbs Jr)
-S #24 Craig McDonald (6-2, 204lbs So) OR
-S #27 Marquis Gilbert (6-2, 178lbs, So)
S #1 Donovan Kaufman (5-10, 205lbs So)
-S #20 Cayden Bridges (6-2, 202lbs RFr)
Yes this secondary lost Roger McCreary and Smoke Monday. Rumor has it Smoke just got another targeting penalty drinking his morning coffee. Poor Karen, but in all seriousness this secondary isn't going to miss a beat. Jaylin Simpson is going to play on Sundays and the book of Nehemiah foresees much success. Outside of the defensive line, this is the deepest group on the team. You can expect them to be a strength and not a liability in any way.
---
I'm not going to get into special teams. We have a Carlson another year and the #1 high school kicker in the country. I expect our return game will be a multitude of speed guys until one defines himself. We might have the best punter in the country from the land down under but hopefully we don't have to see him too often.
It's time to strap in folks. This is a very deep and experienced team in most position groups. As always it will come down to quarterback play and stopping then run. Don't listen to the naysayers. This is a damn good football team.