On a day where many highly ranked teams lost or highly struggled with lesser opponents, Auburn had a little bit of the same on Saturday night against San Jose State. It can be easy to look ahead when a Mountain West team comes into town for a night game a week before a large matchup with Penn State. It can be easy to succumb to the little engine that has nothing to lose. I'm not saying Auburn did that, but two plays made it look that way.
Two plays into Auburn's first drive after a few incompletions and many penalties, people that put about as much time into Auburn football as <somebody that doesn't put much time into anything> were chanting for the backup quarterback. I'm not going to get into how stupid that is for the 100th time, but it's stupid. Stop.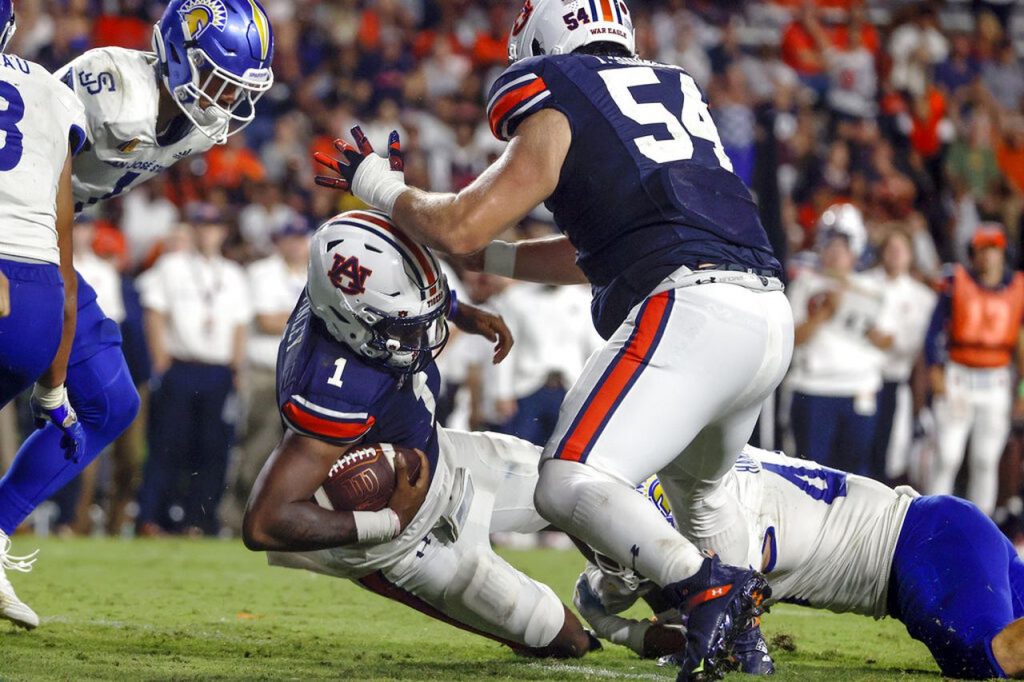 BECAUSE GUESS WHAT… he came in the next drive and threw one of the easiest picks I've ever seen. I actually think he thought the defender was an Auburn receiver. You see, when you cheer for one guy or boo for another, it almost forces level-headed people to pick a side. I don't care who plays. I want Auburn to win. The coaches see these guys in practice for months and all day, every day in film. Is the #1 always going to the best option in every situation on the football field? Not at all. But he's out there because he can run the offense the best. That's what we have with TJ Finley right now.
But anyway, Ashford threw a pick, which led to zero points for San Jose, but took away a chance for Auburn to score early and get the game where it needed to be. Then later, TJ Finley threw a pick that was also just a great play by the defender, and that led to three points for San Jose State, and obviously took away another chance for Auburn to score.
Then on a 9 play drive, that only featured 2 passes, Auburn finally scored and took the lead. But it didn't last long because the Spartans took it right back on the next drive right before the half.
Sidenote: there is literally nothing worse than sitting through halftime at Jordan-Hare Stadium with Auburn losing, especially in a game like this. 1) you get to sit there for 20 minutes and worry that Auburn isn't going to come out and make things right, 2) you have to listen to TGBY (that guy behind you) explain to everybody how terrible we are. It's awful.
The 2nd half was a little more like it should've been. TJ Finley took back over and ran the offense nicely. Auburn relied more on the ground game and Tank, Jarquez, and Damari all contributed.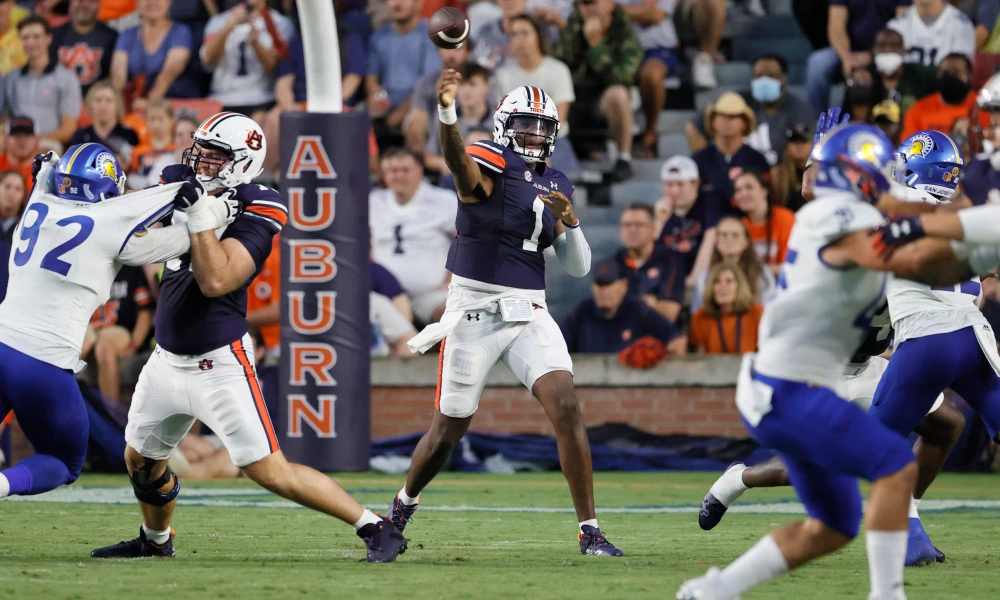 Most people were so worried about the offense that it made any little drive by San Jose State feel worse. I tweeted it after the game, but every single year one inferior opponent comes in and slant passes Auburn to death. They are short timing routes that are nearly indefensible and it allows them to slowly and meticulously move down the field. It feels terrible, but it rarely gets them in the endzone.
That said, the Auburn defense only gave up one touchdown and a three field goals, even with the Spartans getting inside the 20 (and to the 1-yard line) a few times. They were definitely bending, but they weren't doing a lot of breaking.
This was one of those games where the little engine that could puts a scare in the team that knows they can win without their best. It causes all the naysayers to say Auburn won't win another game if they play like that. Here's the thing: they won't. It's Big Ten and SEC from here on out. There should be no lack of drive.
In the end, Auburn won. I've seen a little more "it was ugly but let's take the win" than "it's gonna be a long season," but the real season starts now. It's big boy football time.