I thought I told everybody last week to calm down. A few weeks ago, I could have sworn I talked about the perception of Bo Nix and how most are wrong. Thanks to a Georgia State inevitable sleepwalk, things have only magnified. The absolute worst thing that could happen, indeed happened.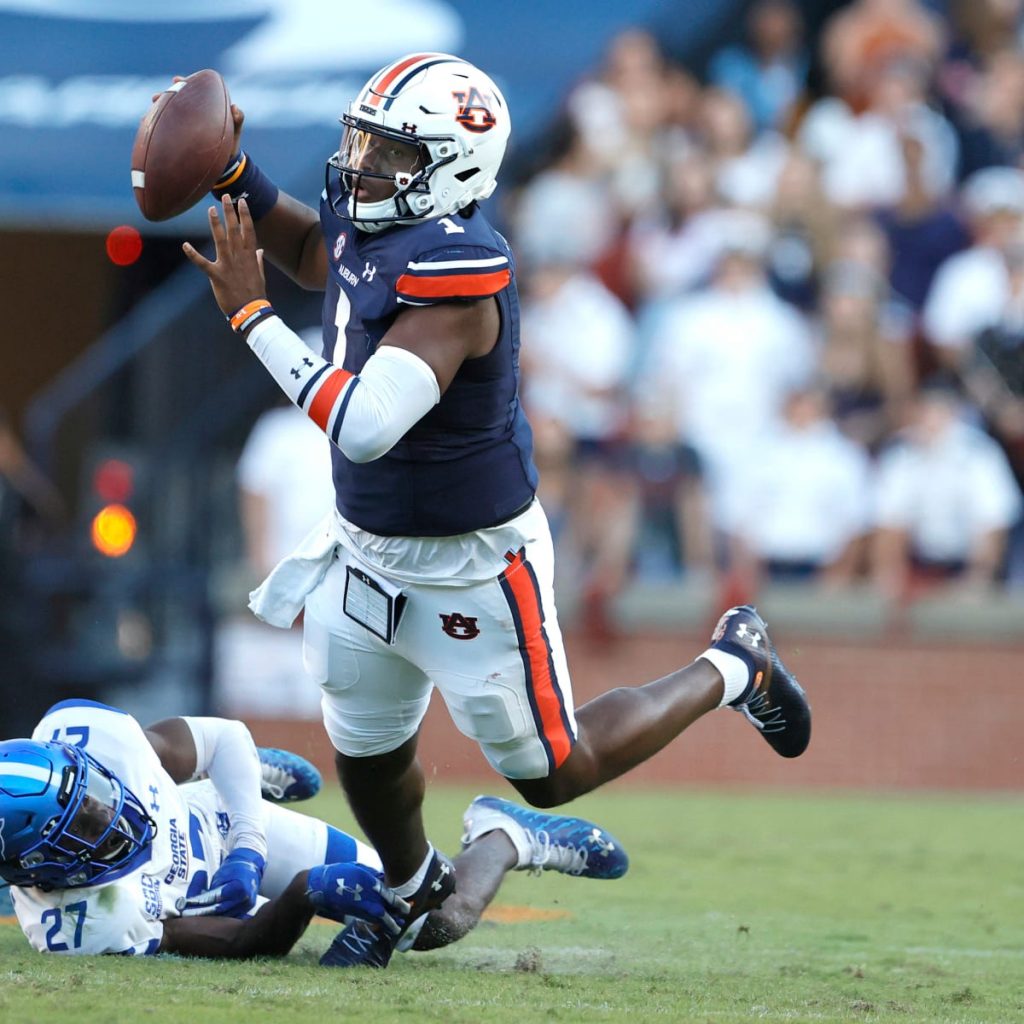 TJ Finley entered the game in the third quarter and ultimately lead Auburn down the field for a game winning touchdown drive late in the fourth. It was an amazing drive that nobody can deny or take away from him. I, for one,  am very proud and thankful for his efforts as we all should be. With that said, let's think this through for a minute.
Saturday was nothing short of a nightmare. When you let teams like Georgia State hang around there's a few things that can happen and none of them are good. These teams have talent and when you allow them to stay in the game their confidence only grows. Tucker Gregg, a white walk-on running back from Murray County High School ran for 150 yards on 12 carries and a score. Three carries that were absolute busts in the run fits where he wasn't touched for the first thirty yards or so isn't exactly ideal.
No Owen Pappoe or Zakoby McClain was a major issue in the first half. We all saw what the defense did in the second half though with only one of the two. If only Bo Nix had played better.
Auburn has the best running back duo in the country. Not many people will argue that. Tank Bigsby averaged a measly 3.3 yards per carry Saturday. Out of Tank's 18 carries, his longest run of the day was 12 yards. Yes folks, Georgia State pushed our offensive line, and defensive line for that matter, around all afternoon. If that isn't your biggest concern, I'm not sure what to tell you. But yeah, Bo Nix man….
I counted not 1, not 2, but 3 offensive snaps where Auburn only had 10 players in formation. I would assume the passing game coordinator that is responsible for personnel will be held accountable for that. Oh, that's right. Wide Receivers coach Cornelius Williams is responsible for personnel substitutions. I heard he had a rough weekend, but that's a story for another day.
Auburn recorded another 4 dropped passes, including a dropped touchdown that hit Ze'vian Capers in both hands. Auburn also had 6 penalties for a combined 65 yards which is just too many for a home game with no crowd noise. Good grief, Bo Nix.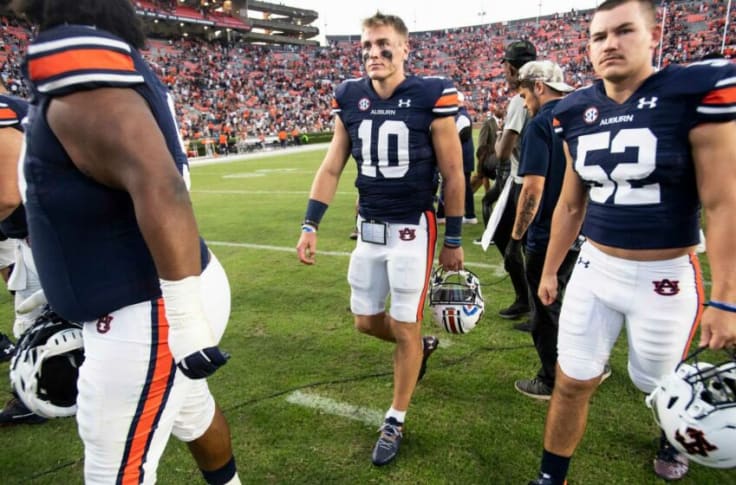 Now, does Bo Nix make every single throw? Absolutely not. It is frustrating when you've got guys streaking down the field with a step on the defender and not making that connection. The issue here is every player on the team underperformed Saturday. It's only magnified because this fanbase still has pre-conceived Malzahn-era Bo Nix in the back of their heads.
The student section is literally chanting TJ's name while the whole team is just going through the motions. I'm sure Bo's confidence just skyrocketed after that. The team needed a spark. It wasn't magic sauce or TJ Finley's elite play. It was simply a momentum shift and a mental reset for a struggling football team.
I don't think anybody can honestly say that Finley looked noticeably better than Nix once he came in. I continued to see drops and overthrows. The mentality that "well he came in cold, and this is Bo's 3rd year he shouldn't still be missing those throws" is tired.
If we are getting the exact same thing in a bigger, less mobile, less experienced version, why are we hollering for change? It needs to be obvious that he's better. We should not be basing our opinion off of one successful drive against Georgia State. That doesn't eliminate summer and fall camp folks. I'm sorry.
At the end of the day, you're mad at the wrong things. Our defense has not lived up to what we know it can be yet. Our offensive line is as bad as we feared, and we are struggling to run the football with the two best backs in the country. We lead the SEC West in dropped catchable passes. We rank 11th in the SEC in penalties. I mean, where does it end?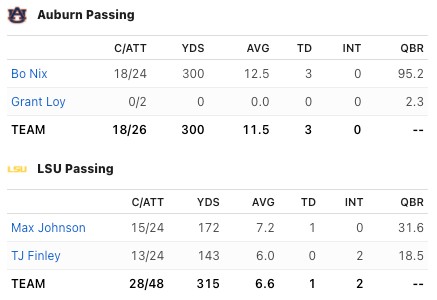 It's LSU week. There is a lot of talk about who the guy needs to be. You've got a guy that transferred from LSU because he wasn't good enough the be the starter. He's had one successful drive in his time at Auburn. You want to start him against his former team?
In the other corner you've got a three year starter. A guy that has beaten Oregon, Alabama, Texas A&M, both Mississippi schools twice, Arkansas twice, and so on and so forth. Oh, and one of these quarterbacks beat the other by 37 points last season. I think you know the choice here.
You're understandably mad, but you're mad at the wrong things. It's time to get on or get out.