A certain Bammer has decided that his time of writing a weekly piece on the 'Blogle is done. It will be sad to see him go. Wait, what am I talking about? One less Bammer is always a good thing.
In his stead, I have decided that it would be a good idea to have a man of age, but youthful spirit, post his thoughts and memories from SEC (and some big out-out-of conference) games in Auburn history. Each week's post will be a look back at a game from Auburn's opponent for that week. So let's take a walk down memory lane with Merideth Akers and his memories of the 1970 Auburn-Mississippi State game.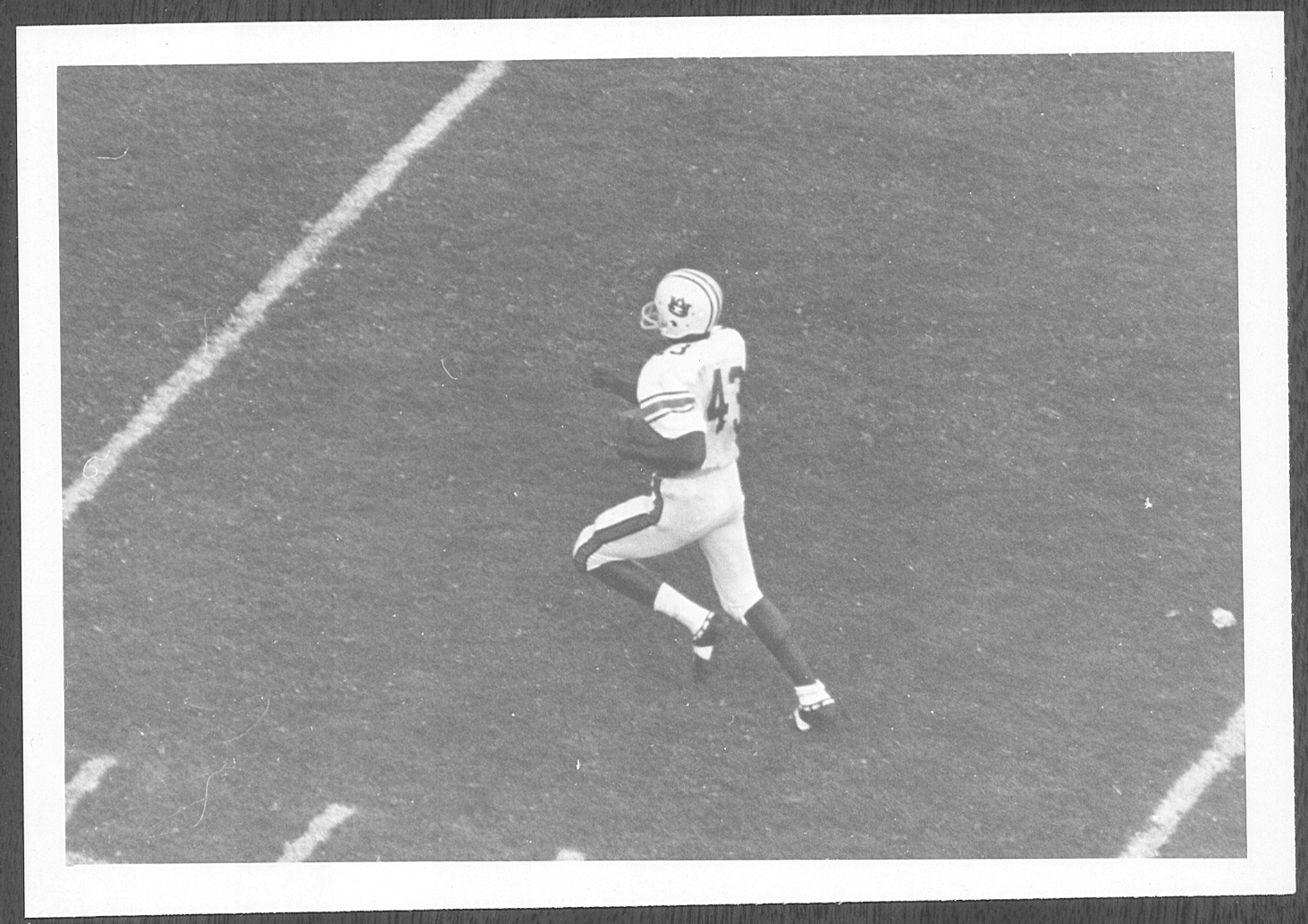 A Dog-gone Dominant Performance
by Merideth Akers
I was in the stands for a night game at Legion Field in November, 1970 for the Mississippi State vs. Auburn football game.
Auburn had only one African American player on the team, James Owens, a scholarship running back. James Owens is now a preacher and his nephew, LaDarius Owens, is a freshman linebacker for the Auburn Tigers. Mississippi State had only one African American player on their team, Frank Dowsing, a scholarship defensive back.
If I recall correctly, Kentucky was the only other SEC school to have an African American player on their team. So, in some small way, this game had a bit of historical significance in the integration of southern athletics. James Owens and Frank Dowsing are certainly due our respect and our thanks.
The two teams had some similarities, Pat Sullivan was an exceptional quarterback for Auburn and Joe Reed was an exceptional quarterback for Mississippi State. Of course, Pat Sullivan would win the Heisman Trophy the next year, and both quarterbacks went on to careers in the NFL.
Terry Beasley was a record setting All-American receiver for Auburn and David Smith was a record setting All-American receiver for Mississippi State. Both receivers set records that still stand.  Larry Willingham was an All-American defensive back for Auburn and Frank Dowsing was an All-American defensive back for Mississippi State.Some thought that the talented, yet under-achieving, Mississippi State team would put up a good fight against a very good Auburn team, but it was not to be. Pat Sullivan had his way with the Mississippi State defense, completing passes to Terry Beasley, Alvin Bressler, Dick Schmalz, and Robby Robinette. The offensive line, including Spence McCrackin, and Jimmy and Danny Speigner, gave Sullivan all the time that he needed.
The defense of Knock'em-down Bob Brown (I still love that nick-name), Dave Beck, Mike Neel, Johnny Simmons, Larry Willingham, Tommy Yearout, and Bobby Strickland kept a strangle hold on Joe Reed, David Smith and the Mississippi State offense all night.  Auburn won 56 to 0.  It is one of the most dominating Auburn wins against an SEC opponent that I have seen.
However, still engraved in my memory is the image of All-SEC linebacker Bobby Strickland breaking his leg very late in the game.  Auburn could have used him the next week as they lost to Georgia 31-17.  But Auburn rebounded from the Georgia loss with a 33-28 win over Alabama and a 35-28 victory over Ole Miss and Archie Manning in the Gator Bowl (one of the most exciting Auburn Bowl Games ever).
Where you at this game? If so, what are some of your memories?