As I said there would be in the game preview, there was a major letdown and a potential disaster on Saturday as Auburn scratched out a 10-point win over Georgia State. The better team won, but the better team trailed for nearly 59 minutes. Why? There's quite a few reasons, and it's not the only one that most fans want to think about.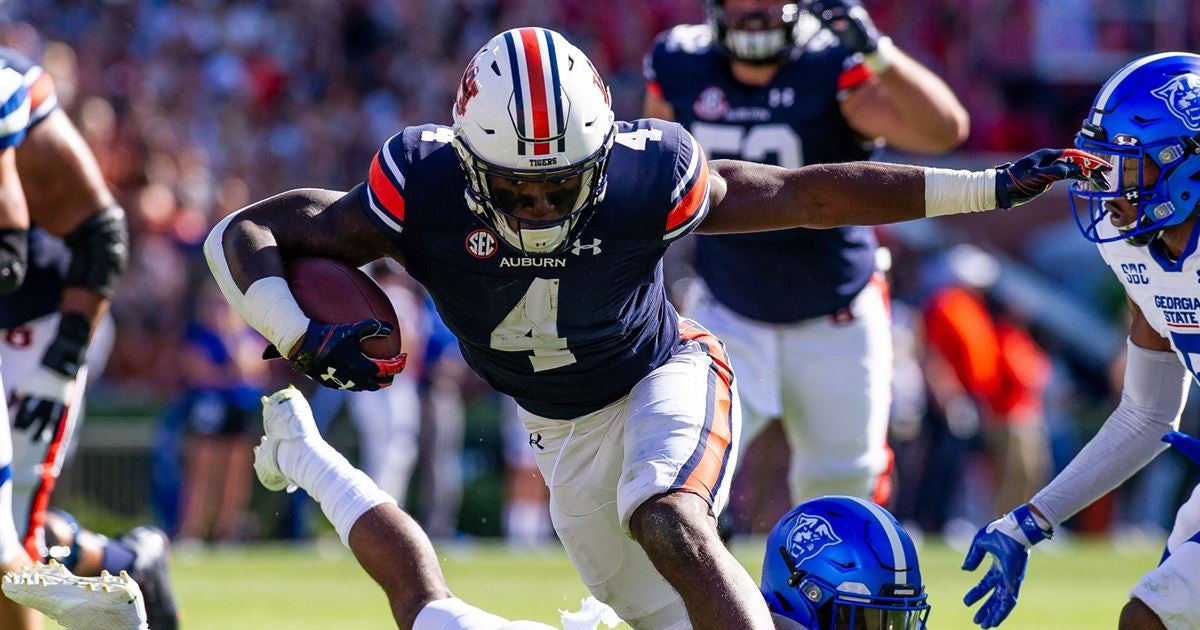 For starters, the main reason for the lack of energy and care to demolish an inferior opponent was due to human nature. As I mentioned in that aforementioned game preview, Auburn had built up to Penn State with two huge 50+ point wins. Then they went to Penn State and felt like they stopped themselves from winning a winnable game. Follow that up with a home game against a Sun Belt opponent and it's recipe for not having the most care in the world. That said, the talent should override that sentiment and allow Auburn to get an easy win. It did.
But that wasn't the only thing Auburn had to deal with on Saturday. If you look at the box score, you'll notice that Georgia State scored all 24 points in the 1st half. Why would that be? Halftime adjustments? No, Derek Mason said he didn't make any. Auburn played the entire game without the quarterback of their defense, Owen Pappoe. Due to the dumbest call in the history of dumb rules, Zakoby McClain also missed the first half.
So Auburn played the first half of a game that they slightly understandably didn't care about without their two best players on defense. It showed with multiple busted coverages and runs that came out of nowhere. It felt like Fred Talley in 2002. If you don't get this reference, get off this site.
Once McClain was back in, Georgia State had four 3-and-outs and never got past the Auburn 37 yard line. It's not that Auburn can't function as a defense without 1-2 players. They are all skilled. But they all need leadership and the guys back there calling the plays, formations, etc. Once that was back, it wasn't even a challenge.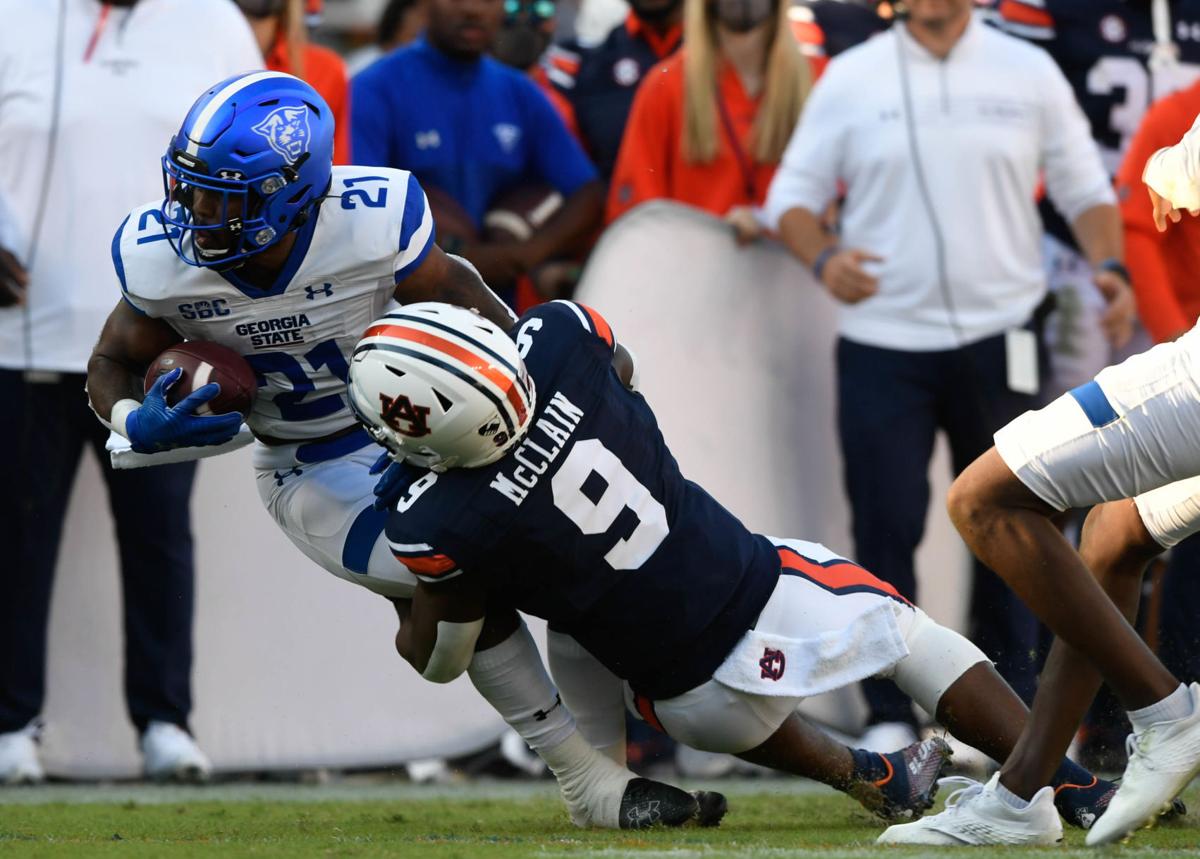 Another issue that has plagued Auburn since the Alabama State game is the lack of consistent running game. Tank Bigsby has been pretty well hemmed up. His need for contact has seemed to keep him from busting long runs like he did against Akron. He'll drag a pile, but he can't drag a pile every time.
Jarquez Hunter has arguably been the better running back the last few weeks. He's had longer runs, able to move a pile, and still get away and use his speed. But in general, Auburn is not running the ball like they should against teams that most SEC teams would run all over.
Is this due to the offensive line? Some say they've been fine. They've been fine in mostly protecting the quarterback, but if their job is to also push tacklers in such a way that there is a hole to run through, then maybe they have not. Again, I think some of this falls on the actual running backs, but as the old saying goes, it starts up front.
So Auburn was without their defensive quarterback, and after the 2nd drive of the 2nd half, Bryan Harsin decided to make a change at offensive quarterback. Bo Nix and his receivers had been off all night. I can think of two overthrows off the top of my head, but a lot of it was drops or just some seemingly out-of-sync routes.
After Auburn blocked a punt to cut the lead to five, TJ Finley came in the game to cheers as if the Kick Six was happening again. This, of course, is ridiculous and will be address in a BlogleSpot this week. I don't care who plays, I'll pull for anybody out there, but the ultimate disrespect of cheering that loudly for the starting quarterback to be benched as if his last two overthrows were done on purpose and equivalent to punching your mom in the face is trash at a level that shouldn't exist anywhere outside places like Tuscaloosa.
That said, the offense wasn't exactly stellar from the onset of Finley's entry. The first three drives went missed field goal, punt, fumble. There were over throws, some drops, and a missing receiver here or there. Hmm, which coach was fired on Sunday?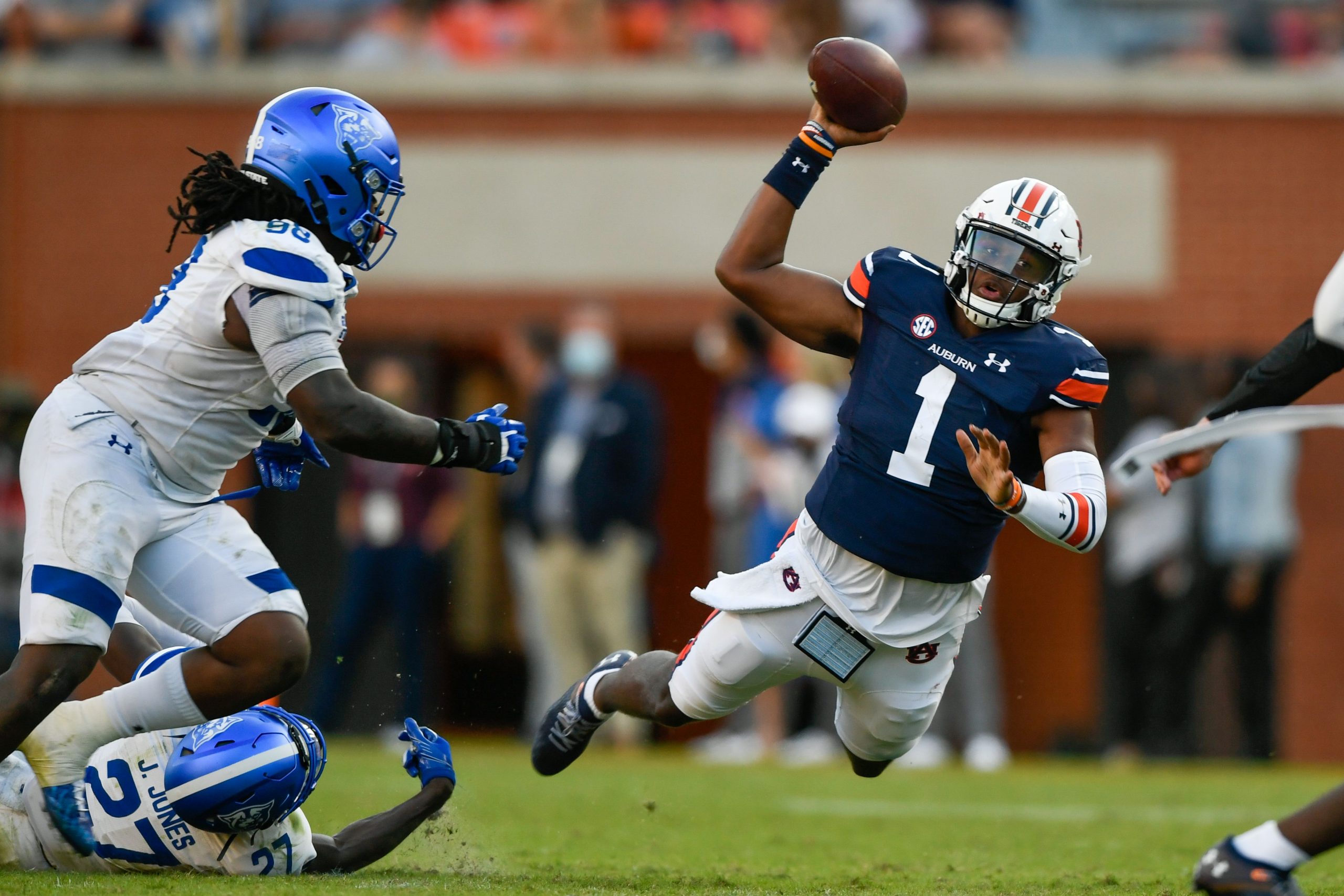 The lone scoring drive consisted of a falling down throw and a major scramble broken play. Finley ran for his life multiple times. Which position is usually responsible for that?
So to recap, Auburn was playing Georgia State right after a close loss at Penn State, they gave up all 24 points in the 1st half without their two best defensive players in the game, the run game was hampered like it has been the previous two games, and the receiving woes persisted regardless of the quarterback.
Auburn now plays eight straight SEC games. There will be no more human nature letdowns. Barring other injuries or unforeseen terrible targeting calls, they won't play entire halves without their two best defensive players. The return of Sean Shivers will help the run game and adding more Hunter will as well. The coach in charge of what has been a problem area of the offense has been replaced. All things are fixable or were specific to this game. It won't happen again.
The only remaining question is who will start at quarterback at LSU. Bryan Harsin isn't telling you, me, or most importantly LSU. It's a question for another day.
Saturday was a perfect recipe for a letdown, but in the end the better team won as they should. Lots was learned. Now it's SEC season.