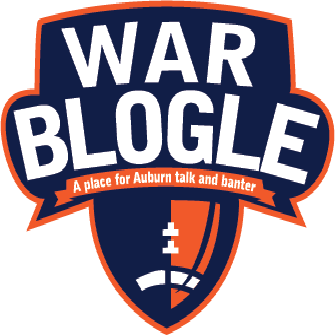 For the first time this season, I spent an Auburn Saturday at home. That meant tons of football was watched via six screens (pic tweeted below), but in terms of tweeting, it also meant no service problems and unlimited WiFi. Because of that, there were tweets a'plenty. I've split them up into pregame, halftime, and postgame to make things easier. Enjoy and War Eagle, fly down the field.
Pregame:
GAMEDAY BAABBBBBBBBBBAAAAAAAYYYYYYYY!!!!! #auburn #lamecocks
I've sent you pictures from campus each week this season, it's only fair that you do it for me this week. #auburn
Like actually grilling? WE @MsPotts_ESPN I see you @espn4d grilling #Saban. #Bama #GameDay
Shouldn't it be the Southeast Classic? WE @schadjoe Pregame Arkansas vs A&M yfrog.com/nu4p1hj
Paul Rhoads looks very different than how he looked at Auburn….as expected. bit.ly/nePT54
There will be blood. WE @mbs0010 @WarBlogle twitgoo.com/4kz6te
WE @KegsnEggs The last time South Carolina beat Auburn, the average US salary was $1,500 per year. bit.ly/oH3blx
Just put in a little Insanity work. Now it's time for the Tigers to go insane on the #lamecocks. #wareagle
Today's SEC game winners: Texas A&M, Georgia, LSU, Tennessee, Florida, Fresno State, Auburn. #notsafepicks
That's almost Bammertastic. WE @kerripender: @WarBlogle Dear Cocks, Don't try so hard. You just look pathetic. twitpic.com/6tg0ue
And one completion. WE @JHokanson Auburn RB commit TJ Yeldon had 105 yards rushing and two touchdowns last night…on THREE carries. Decent.
Oh that was a big hit on Aaron Murray. Is the whole team going to rush the field soon? #uga
Does Mississippi State have "unfinished" (not shiny) helmets? Have I missed this all season? #bullpups
So that's why you didn't go there… WE @AUKB18 Ark is not only embarrassing to the SEC they r embarrassing themselves. #terrible
Wait, Richt stole "Energy Vampires" from Chizik? Or did they read the same book? Why have my last three tweets been questions?
Some sort of prize to the first person to show me a @WarBlogle presence in Columbia. #auburn #lamecocks
Tiger Walk sign in Columbia. WE @toomuchmonth yfrog.com/nvs4wmj
I DO NOT HAVE A FOOTBALL WATCHING PROBLEM!!! twitpic.com/6tjhhw #sixscreens
WE @FootballAU: Auburn has arrived at Williams-Brice Stadium. #WarEagle
I just spotted two painted-up UGA fans doing a bro-tastic handshake. Cool dudes!
Paul Ellen just said TROvon Reed. Come on man! #auburn #wareagleanywy
Traffic? WE @auburnbeat Kickoff time has been set for 2:45 p.m. CT, which is about 15 minutes later than originally planned.
Rip the shirt off. WE @jpharris760 @WarBlogle What is a proper response when you War Eagle someone in Auburn T-shirt & they say "Thank You"?
Ma'am thats not my hand! WE @Szvetitz Gus Malzahn goes through Tiger Walk prior to the Auburn-South Carolina game. pic.twitter.com/tTYEU9aa
Video from Tiger Walk: twitvid.com/GXMXV (via @bittyhin). #auburn #wareagle #lamecocks
Just realizing that MSU doesn't normally wear white facemasks either. If not for the uncommon white pants today, they'd look just like TAMU.
Am I about to go lace up my gameday kicks just to sit in my recliner and watch Auburn? You dang right. #wareagle
Navy and Air Force are going to OT on CBS. CBS moved the Auburn game to 2:45 about an hour ago. HOW DID THEY KNOW?!
Here's to many grass stains on Spurrier's visor today. #lamecocks #auburn
"You really need your hat and shoes on?" – @BeautifulBlogle. <childish chuckle> – Me
WE @JoshatTheState: Under Armour confirms S. Carolina is switching uniforms before it takes field. Black numbers on black jerseys not good.
WE @JoshatTheState: SEC protested South Carolina jerseys.
Alright, Air Force wins in OT. Switch to Auburn, CBS.
Doing it right. WE @laurenRR @WarBlogle Pregame videos from @brooksw44 condo: yfrog.com/mee0eyj yfrog.com/h0heilnk
It's game time. Might see you at halftime. Might not. WDE. #auburn #wareagle #lamecocks
Halftime:
I'm really glad that my Twitter feed usually doesn't work on game days. I know we should be up at least two touchdowns, but dang…
If Auburn can play this much better (putting my index finger and thumb close together), they'll score a lot of points and win this game.
Postgame:
Before you talk about how bad things were remember that NOBODY picked Auburn to win. And that's just what they got… a top 10 SEC road win.
Now I'll say it: remember the last time South Carolina beat Auburn? I don't and neither does my grandmother. #wareagle #lamecocks
Mark Ingram just called Lattimore and said "don't worry man, with those stats, the Heisman is yours to lose."
Toomer's right now: twitpic.com/6towhn (via @RichardPettey). #auburn #wareagle
I think the key to the Lutzie throwback is tricking the crowd into thinking a sack is about to happen. It really rips their hearts out.
WE @AubOrange Even if they stopped the clock, 1 second has to run off on a spike by rule. Gah, some people are dumb.
And this next award goes to @LUTZenkirchen… twitpic.com/6tpn4r #auburn #wareagle
Who thinks Lattimore regrets the day he did the ol' hat switch? #lamecocks #auburn
Not just that he chose USC over Auburn, but the way he did it. Kinda seems like he's getting a little payback doesn't it? #lamecocks
Auburn sunset over South Carolina. WE @BethGoffMB yfrog.com/h04lwdkj
Hate to say I told you so. bit.ly/oiuPen WE @AUBlog Mike Dyer has outrushed Marcus Lattimore, 305-183, in their teams' three meetings.
Auburn is 1-0 in the month of October. Four to go. #wareagl
WE @JoshatTheState South Carolina ran four plays from Auburn territory in its 16-13 loss.
Oooohhh chest tat is pumped.
Text from former Auburn wide receiver Jeris McIntyre: "yeaaaaaaaaaaaaaaaaaaaaaa!!!!!" He's enjoying the win. #wareagle
Birmingham tweeps, the #1 Auburn golf team will be playing at Old Overton Club Sunday, all day Monday, and Tuesday. Go watch.
This has probably been said many times, but Auburn's defense held South Carolina to 2 of 13 on 3rd down conversions. That's improvement.
New Blogle: South Carolina Review (Abridged) bit.ly/pcLLx3 #auburn #wareagle #lamecocks
The Wisconsin student section singing "Fill me up buttercup" in unison might be the ga…. Nevermind.
Apparently every player on Alabama and Wisconsin's teams will win every individual award known to man. End the season right now.
All I know is that everything we usually think after week 5 ALWAYS holds true till the end of the season. EVERY year! Am I right?!?!
4 and 1 and that's alright, War Damn Eagle and goodnight! #bedtimepoetry #auburn #wareagle