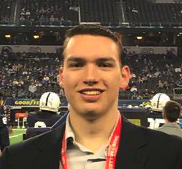 Steve Helwick (@s_helwick) on Twitter is college football writer for SB Nation sites Hustle Belt (MAC football) and Underdog Dynasty (emphasis on Rice and Houston). Additionally, he's launching a live YouTube late night show to talk about all things college football this season. His alma mater is the University of Texas, where he graduated with a degree in mathematics with an emphasis in actuarial science in the spring of 2019. This might be the be the best.

1. What are an Akron fan's thoughts about Auburn football historically and what about the program right at this moment?
Auburn's a great program historically. They participated in two National Championship Games in the 2010s decade under different coaching staffs and the program seems to peak as a title contender every 3-4 years. Moving on from Gus Malzahn was a surprising move from an outsider's perspective. Malzahn's performance in bowl games was definitely substandard, but the fact that he led Auburn to multiple SEC title games and three wins over Alabama during Nick Saban's dynasty is astounding.
Bryan Harsin is an interesting hire because I never imagined he'd leave his alma mater in Boise. I'm curious to see how his first season at the helm turns out because the possibilities are endless. Alabama will dominate as usual, but the rest of the SEC West appears quite open. Auburn should be involved in a litany of close games this year, and the team seems to have high variability in regards to how 2021 shapes up.
2. What's the vibe like in the fanbase? One win in two years? Ouch.
Yes, the lack of winning has drained some interest in football. Akron started to give off "we're more of a basketball school" vibe when the students and fanbase rallied behind the 2019-20 basketball team which was slated to qualify for March Madness, but COVID canceled the tournament. But winning cures all. For instance, it's great to see the Kent State fanbase finally show up in droves to watch a successful team after enduring decades of losing. Maybe Akron can eventually follow a similar trajectory in the Tom Arth era.
3. Thoughts on Terry Bowden? He got us an 11-0 season once, but not too many people love him around here.
Terry Bowden is well received at Akron for the successes he brought to the program. He flipped a perennial loser into a couple of solid seasons in the mid-2010s. Bowden coached Akron to arguably its best season ever in 2015, finishing 8-5 and winning the Famous Idaho Potato Bowl over Utah State — the Zips' first and only bowl win ever. In 2017, he guided the Zips to a MAC Championship Game appearance and qualified for another bowl game. His final season also featured a victory over eventual Big Ten East champion Northwestern on the road. But the inability to follow up that 2017 season with a winning record ultimately led to Akron overhauling its coaching staff.
4. Who are you two favorite Auburn Tigers of all time and why?
Hmm.. everyone loves Chris Davis and Ricardo Louis for their 2013 miracles. Those are basic answers, so I'll hit you with two different Tiger greats.
How can you not love Wes Byrum? As a true freshman, he drained a game-winning field goal TWICE in a hostile environment in Florida and then hit the Gator chomp. Any kicker that has that confidence is a legend in my book. I was also a huge fan of Eli Stove because it seemed like he suited up for Auburn for a decade, and I always love a well-executed jet sweep.
5. Which two Zips should Auburn fans look out for and why?
Bubba Arslanian is one of the premier linebackers in the MAC and operates as the team's best run stopper. The inside linebacker finished 10th in the FBS in total tackles with 125 in 2019 and his impact is felt nearly every play. He also thrives in getting to the quarterback and managed 3.0 sacks in six games last year — not bad numbers for an inside backer.
Quarterback Kato Nelson is an interesting name to watch as well. Nelson was the quarterback who led Akron to the MAC East title in 2017 as a true freshman. He didn't see the field last year but is expected to make a triumphant return under center Saturday. Nelson plays very confidently and offers the ability to scramble. Akron should be thrilled to have him back at quarterback, and every once in a while, he delivers a lethal showing in the passing game — registering two games of four touchdown passes during his lengthy tenure with the Zips.
6. In which positional matchup do you see Akron excelling against the Tigers?
There aren't any positional matchups where I expect the Zips to outperform the Tigers, but Arslanian is such a talent that he'll have his fair share of victories against Auburn's run game. His ability to take down opponents at first contact is the best part of watching Akron's defense. I'd like to see Akron run more inside linebacker blitzes to get a grasp of how he fares in rushing Bo Nix, and if any pressure can be generated on him Saturday.
7. Where will Akron struggle against Auburn?
In many places, unfortunately. The Zips are still in a rebuilding stage, and while they're on the upswing after that 31-3 win over Bowling Green last fall, Jordan-Hare isn't a place I'd expect them to experience much success. This has been a bottom 10 offense and bottom 10 defense for two years running. And this team is rather fresh off a 21-game losing streak. The victories and winnable matchups will come, but Auburn has the edge at almost every position group.
8. What's your prediction/analysis of the game?
I rarely predict shutouts, but I'm going Auburn 48, Akron 0. In 2020, the Zips' 121st scoring ranked offense scored single digits in two of its final three games, and Auburn's defense presents one of the toughest challenges the veterans on this offense have seen. While Tank Bigsby should thrive against a Zips' run defense which also ranked 121st last year, I believe Bryan Harsin should focus on developing Bo Nix's confidence in his passing ability. I predict the Nix-to-Demetris Robinson connection will be unstoppable, and the Harsin era begins with a stress-free 1-0.
9. Where will Auburn and Akron end up this season?
Auburn was a difficult team to read in 2020. It seemed like the Tigers were two different programs at home, where they'd pile points on LSU, and on the road, where they'd lose to South Carolina. They'll easily start 2-0, and that Penn State game is really intriguing because the status of the Nittany Lions is tough to gauge at the moment. Georgia State is no pushover, but I'm sensing a 3-1 finish to non-conference play. In SEC action, the x-factor games in the schedule are the Mississippi teams, as I expect the Rebels and Bulldogs to take it up a notch as Lane Kiffin and Mike Leach enter their second season at their respective programs. Overall, I think a 7-6 finish is a reasonable prediction this season — a similar finish to 2020, record-wise.
Akron has an FCS team visiting Week 3 and the Zips meet Bowling Green on the road Oct. 9. I expect Akron to win those two games and finish 2-10, which will be its winningest season since 2018. Anything better would be an extremely welcome sight for Zips fans. Building from the ground-up isn't easy, especially when other MAC teams all retain their veteran talent thanks to the NCAA extending eligibility for all players, but Akron might sneak up on somebody and keep a game competitive.
10. A kangaroo? Named Zippy? Does Akron get the point of mascots?
Zippy is a top-tier mascot in college football. Be honest, you used to choose him in NCAA mascot mash-up mode. We all did. Mike, Truman, Aubie… that's three Tigers in a single conference — where's the originality? There's only one kangaroo in college football, and kangaroos are intense creatures. They kick, they square up with humans…
Anyway, the name Zips comes from "zippers" which were rubber overshoes famously produced in Akron in the early 20th century. And the student council randomly selected a kangaroo to be the mascot. Fear the Roo.