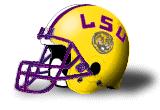 There is no way LSU will beat Auburn this weekend. No way at all. Update: Told you. I know I'm setting myself up for big time ridicule if the Purple Tigers win, but I'll take my chances. Why am I so confident? No, it's not because of Cam Newton, and it's not because of LSU's horrible offense, although those are pretty good reasons. The reason alone is fate.
As we all know, LSU holds a three game winning streak over Auburn. The 2007 and 2008 match-ups both came down to last minute passes that gave LSU the win. Both games definitely could have gone either way, but the Hat and his voodoo stole two from the good Tigers. Most would say the 2009 version of this rivalry was a blowout, and while Auburn did play pretty poorly on offense, they were put in a deep hole by some questionable calls to start the game. LSU was not better than Auburn last year, but they took their third victory in as many years.
Plain and simple, Auburn should and could have taken at least two of the last three, but woulda, coulda, shoulda, they still lost all of them. Bottom line, Auburn owes LSU one, and the football gods owe Auburn, at least in terms of this rivalry.
Now let's take Auburn out of the equation. If you polled 247 people and asked them who they thought the luckiest team and coach in America is, they would say Les Miles and his Bengal Tigers. They would be 100% correct. There isn't another team in the history of college football that deserves to have a loss more than LSU. People can say Auburn has been lucky this season, and while they have been fortunate in key situations, they have not experienced anything like what LSU has been given.
The ending of the Tennessee game was a joke. The fake field goal/bounce pass against Florida was just stupid. There are no real words to describe Les Miles and his luck, but so far it has worked, in the most inexplicable ways. Some have said that LSU hasn't been lucky, they just continue to play hard, and the ball bounces their way. Well, when it happens multiple times over a 3-4 year span, it's bound to end. What better time than now?
I know college football players don't really think this way, but if I was an Auburn player, part of me would feel a small sense of responsibility for ending the madness that is Les Miles and his dumb luck, not just for Auburn's sake, but for the nation's sake as well. I'd also feel responsible for avenging the last three losses and removing them from national and SEC title talk. They've undeservedly had our number for far too long. It is time for this to end.
Cam Newton will once again face a team that beat Auburn in the previous year, and although he had no part in that loss, he will take it on his shoulders to show Les and the world that this team is for real. We know LSU has the SEC's top defense, but Auburn's SEC leading offense has proven themselves time and time again and continue to get to stronger. On a side note, LSU's great defense gave up 29 points to the same Florida team that only scored 7 points against Mississippi State.
Auburn will play their most complete game to date, the defense will have a new star emerge in the secondary, and the good Tigers will take one back from the Hat.
Auburn 34, LSU 20