It was the best of times, it was the worst of times. But really, I was never scared. I really wasn't.
I had the toughest time all week trying to get up for this game, which I talked about in my game preview, but as soon as South Carolina went up 7-0, it was on. That's all it takes for me, I guess.
As long as the lead didn't get to two TDs, which never happened, I felt okay. This never happened because Auburn's offense was on fire. Like this kind of fire: punt, touchdown, touchdown, touchdown, touchdown, touchdown, touchdown, punt. Yeah, that's fire.
The offense was run exactly as Gus Malzahn wants it to be run. Auburn could've probably gone the whole game with only passing on 3rd and more than 3. When they were in those situations, they threw a quick slant to Duke Williams. Football is simple when you have him.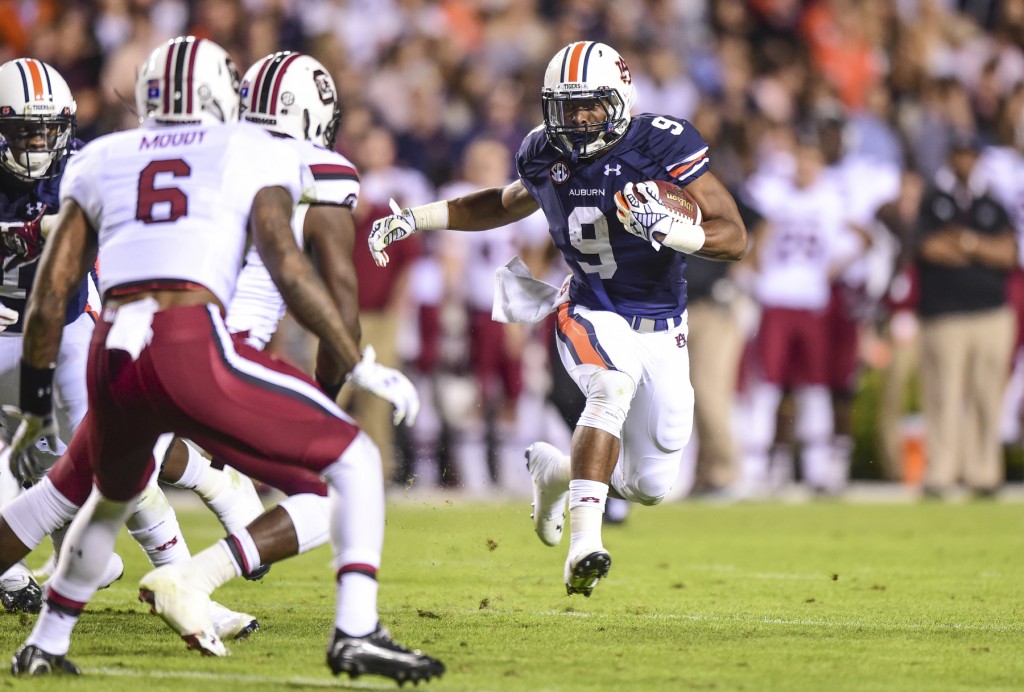 It probably had a little to do with South Carolina's atrocious defense, but the offense was mostly unstoppable and did as it pleased all night. Bad defense or not, they had to score on almost every drive given the way South Carolina's offense was playing. On the broadcast, Jesse Palmer, who really wasn't as annoying as normal, kept talking about how South Carolina had to score to keep up with Auburn, but it was really the same on both sides.
Why? Well, because South Carolina came into this game with nothing to lose. They are coached by Steve Spurrier. Steve Spurrier is the ultimate coach when it comes to playing with nothing to lose. And he proved it all night.
It's easy to look at Auburn's defensive performance and be worried, but remind yourself that South Carolina had a bye week and played Furman leading up to this game. So he really had about two weeks to prepare. And apparently during those preparations he decided to call a surprise onside kick and go for all but one 4th down.
Now that's totally legal, but in any regular football game, it's not going to happen. There were at least 4 to 5 situations where any normal coach not scared to lose a game would have punted. The defense made multiple stops that would've changed possession, but Steve don't care. Stopping any functioning offense on 4 downs is extremely hard. If more people did it, games would be very different. But the risk is usually much higher than the reward. And again, Steve don't care, at least not in that game.
So while you can look at it as Auburn giving up tons of yards and points to one of the best play callers in the history of the game, it's just as logical to remind yourself that nobody that Auburn plays is going to call a game like that. And take heart that Auburn won a game called like that. Don't think for one second that Mark Richt or Nick Saban is going to go for it on 4th down from inside their own 30. It won't happen.
When it comes down to it, Auburn beat a team with nothing to lose with one of the most innovative offensive minds calling the plays. Auburn's offense was able to do what they wanted, and the defense really made stops when it had to do it. Interceptions are real and becoming plentiful.
Pollsters are not bothered by a 7 point win over a now 4-loss team. They saw that Auburn scored at will, and did what it took when everything was thrown at them. They showed that the loss to Mississippi State was long gone, and they set the tone for 2nd half of the season.