15. Auburn 27 vs. Clemson 24 – Sept. 16, 2010
Note: This game was not in the 2010 edition of this list because it was played in 2010, but was #12 in the 2015 edition of this list.

How I Remember It: ESPN was in town with Brent Musburger and Kirk Herbstreit calling the game. That made it feel really big. It was really big. I'm pretty sure it was the first game on ESPN 3D, too.
Auburn got down early due to Clemson firing on all cylinders, but after halftime Cam Newton & Co. turned it on. I remember Terrell Zachary scoring on a long bomb. I remember Clemson literally being one catch from winning the game in overtime. I remember Clemson's longsnapper getting called for an illegal snap prior to the game-tying field goal in overtime. I also remember the Clemson kicker missing the kick after the penalty to give Auburn the overtime win.
This was one of the hardest hitting games of the 2010 season. Seriously, like, everybody got hurt.
What Really Happened: Clemson came into Jordan-Hare unranked, with a 2-0 record after knocking off college football greats North Texas and Presbyterian. Auburn was ranked #16, with a 2-0 record after taking down Arkansas State and holding on to beat Mississippi State on a Thursday night.
Clemson drove 76 yards on the first possession of the game to take a 7-0 lead, while Auburn went 3-and-out on their first three possessions. It was not good.
Clemson then scored 10 points in the 2nd quarter while Auburn continued to go 3-and-out. But with 1:14 left in the first half, Auburn was able to drive down and give Wes Byrum a chance to kick a field goal. Wes made the kick as time expired to go into the half down 17-3. It was the first positive of the game for Auburn, and it was apparently all they needed.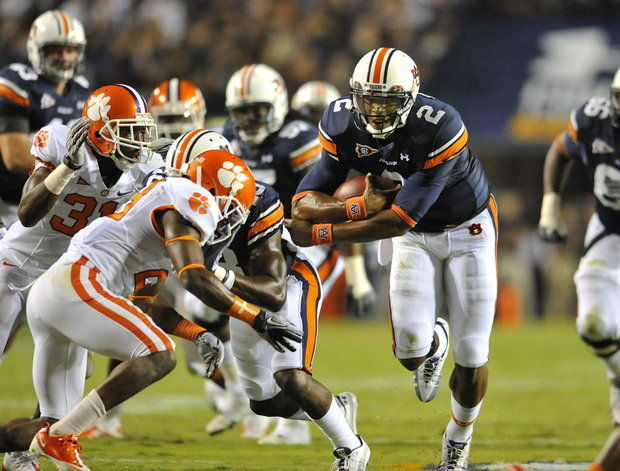 The blue Tigers then scored 21 unanswered points in the 3rd quarter, including the afore-remembered bomb to T-Zach, and a quick sweep around the left end by Onterrio McCalebb. Going into the 4th quarter, Auburn led Clemson 24-17.
That lead lasted just one more drive as Clemson took it down and scored to tie the game with 12 minutes to go. And that's where the score stayed until the game clock ran out.
Auburn was only able to muster a field goal in the first OT, which gave Clemson a chance to win the game with a touchdown. The purple Tigers were able to get to the 8-yard line, and after a bad throw in the end-zone to a wide-open receiver, Clemson lined up to kick the tying field goal.
During the snap it looked like Auburn had jumped offsides as the kicker made the kick. It appeared Clemson was going to be awarded a 1st-down due to an Auburn penalty. But after the refs conferred, they called an illegal snap on the center, which had caused the Auburn defense to appear to jump.
Clemson's kicker missed the subsequent kick, from the exact same spot, and Auburn won. The craziness of 2010 had officially begun.
Fun Fact: This was Auburn's 14th straight win over Clemson (they are 0-2 since). Oh, and don't forget about the blue helmet/pants rumor that ran rampant leading up to the game.
Why did I pick this game? This was the first of many big comebacks for Auburn in the 2010 season. It was bad, then it was good, then it was really scary, and then it was really good. This game showed that while Auburn was mostly outplayed, they had a talent on the team that would bring them many wins the rest of the year. The world just didn't really know his name yet. This was also one of the most nerve-wracking games of the season, and that says a ton.
Play of the Game: Cam Newton's 78-yard touchdown pass to Terrell Zachary in the 3rd quarter gave Auburn their first lead after being down 17-0 in the first half.
Player of the Game: Auburn didn't play too great, so big stats are sparse, but Darvin Adams had five catches for 118 yards and a touchdown. That's good enough.
Quote of the Game: "They kept their faith the whole game. It was one of those games where we just kept fighting. You're always trying to figure out who your football team is and you never know until you get into a situation where you're in uncharted territory, which is where we were tonight." – Gene Chizik
Game Stories: ESPN | al.com Tigers Corner (me)
Full Game: 
You can view the rest of the 2020 edition of this list here.