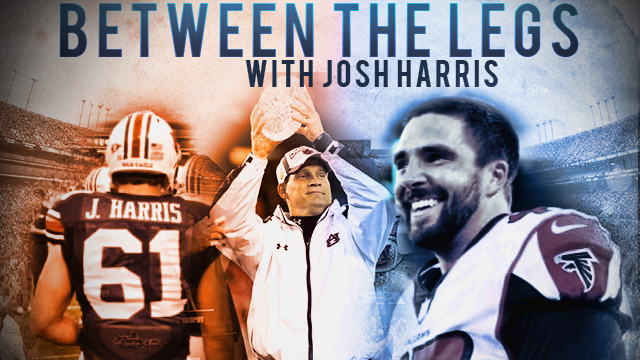 If you have seen Auburn football play a team from Arkansas in the last decade, you have heard hundreds of mentions of Malzahn's history in that state. This was a 3:30 CBS game so I know you heard it a few times if you tuned in. Gary and Verne had front row seats to a wild game that afternoon. Defensive coordinators look away. This game was a roller coaster all the way to the end.
There were a lot of things that happened in that game. I'll start with my bread and butter, which is special teams. Steven Clark got his first career start at punter. Steven is really tall, I remember thinking it would be tough to sail one over his head. We blocked a punt at the end of the 1st half that totally changed the momentum, and Ontario had a huge 99-yard kick off return. I'm still not sure how he got tripped up, but it set up another TD. Special teams played a big role in this win and that's always fun.
Bobby Petrino was the head coach and Ryan Mallett was under center. Ironically, Petrino had previously served as HC for the Falcons. I'm sure some of you remember him deserting them mid season to sign on with Arkansas. They had a really good, talented team. Mallet got hurt and the backup had to play the majority of the game. That kid came in ready. He threw a bunch of TD's and had them in position to win late in the game.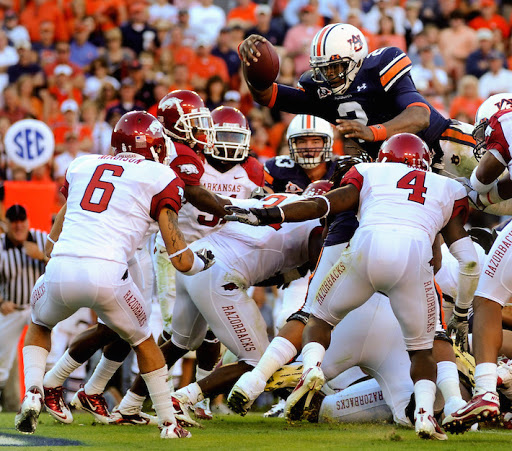 The backup's shining moment quickly turned into a learning opportunity. At one point, Arkansas turned the ball over on 3 consecutive possessions that resulted in Auburn touchdowns. A game that started fast, finished even faster. I'm sure we kicked a few field goals at some point, but this was a shootout in every sense of the word. 108 total points. There were a lot of lead changes and we ultimately won 65-43.
Whether you win by 1 or 100, a win is a win. That is unless it's college football during the BCS era. The first BCS standings were to be released the next day. Was our win "pretty" enough to move up the rankings? Or would our perfect record in the SEC not be legit until we played a full season? In 2004 that still wasn't enough. I don't remember everyone's reaction, but when we came in ranked 4th, I laughed a little. At 7-0 we were behind 6-0 Oklahoma, Oregon and Boise State.
The following week would provide an opportunity to jump a few spots. LSU was up next. Gary and Verne would once again have the call and Jordan Hare would play host to another great game.