At the end of July, Auburn announced that they would be honoring four anniversary teams during the 2013 football season: 1963 (50 years), 1983 (30 years), 1988 (25 years), and 1993 (20 years). Although I did have to look up 1963 and 1988 to remember exactly what made those teams great, all four are worthy of being honored.
However, I believe there is one team that is celebrating a major anniversary this year that has been left out of this group. That team is the undefeated, Southern Intercollegiate Athletic Association (SIAA) Champion, and National Champion 1913 Auburn Tigers.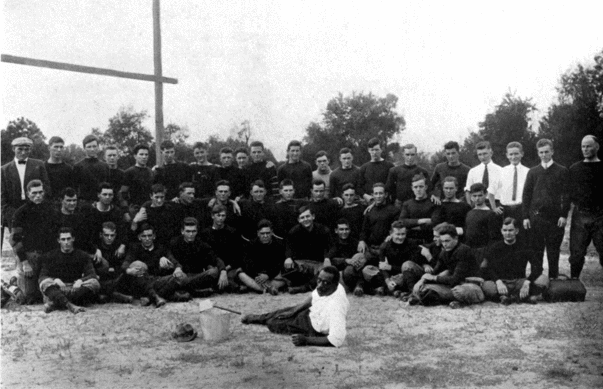 The achievements and accolades of the 1913 team are best described in Michael Skotnicki's book, Auburn's Unclaimed National Championships.
Mike Donahue had perhaps the best squad of his Auburn coaching career in 1913, and his Tigers certainly lived up to their name by going 8-0 while playing the most difficult schedule in the South. With only two games at home, Auburn shut out six opponents and outscored them 224-13. Six of Auburn's eight opponents finished with winning records, and for two of those teams, LSU and Mississippi State, the Auburn game was their only loss. The strength of the schedule can be recognized by noting that the last five teams Auburn played (Miss. State, LSU, Georgia Tech, Vanderbilt, and Georgia) were a combined 30-4-3 when not playing Auburn, and had a 29-3-1 record when not playing Auburn or each other. Auburn placed six players on the All-Southern team, including left halfback Kirk Newell.

The 1913 Auburn team is recognized as a national champion by at least six retroactive selectors. These are James Howell's Power Ratings System, the Billingsley Report, the Hatch Mathematical College Football Rankings, 1st-N-Goal, the Dolphin Historical College Football Rankings, and the College Football Rankings of Kyle Matschke. In the section of the Official NCAA Records book on "Poll Champions," Auburn is listed as sharing the 1913 national championship with Harvard University and the University of Chicago. The undefeated 1913 Auburn team, SIAA champion, is deserving of the title of national champion and that championship should be claimed by Auburn's Athletic Department with a banner in Jordan-Hare Stadium.
Skotnicki's book also argues that Auburn should acknowledge six other currently unclaimed national championship seasons. It's great backup for winning that argument at the water cooler, and also raises many questions as to why Auburn has ignored these in the past. I know why – because they don't want to look like Alabama – but at some point you have to ignore that. Anyway, I would definitely pick it up, but let's get back to 1913…
There is one small difference with the teams that Auburn will be honoring this season and the 1913 team, and that would be life. The players on the four teams being honored, for the most part, will still be alive. They will be able to come out on the field, wave their little hat, and give the crowd a thrill. They will be able to experience the honor, but more importantly, fans will be able to remember the greatness of those teams with the actual players on the field. With 1913, that obviously can't happen.
I guess there could be a 118-year old A.P.I alum out there, but I doubt it. So because we can't parade the champions of 1913 onto Pat Dye field, and because there will be no highlight video from that season, a different style of honor would have to be used. I'm sure you know where I'm going.
A year and a half ago, I gave you the visual history of the Auburn football uniform. In that post were sketches of uniforms worn by significant teams in Auburn history. Each sketch came from extensive research by a company called Heritage Sports Art. And wouldn't you know it, the 1913 team was one of the few they chose. Below is their description and sketch of what the 1913 Auburn Tigers wore that season.
Blue woolen jersey with orange sleeve stripes and tan pants. No uniform number or lettering on front. Natural leather (brown) helmet. The 1913 Tigers were undefeated as they went 8-0 and were crowned SIAA Champions. In the process they outscored their opponents 223-13. The team was coached by Mike Donahue, who coached for 18 seasons from 1904-06 and 1908-22.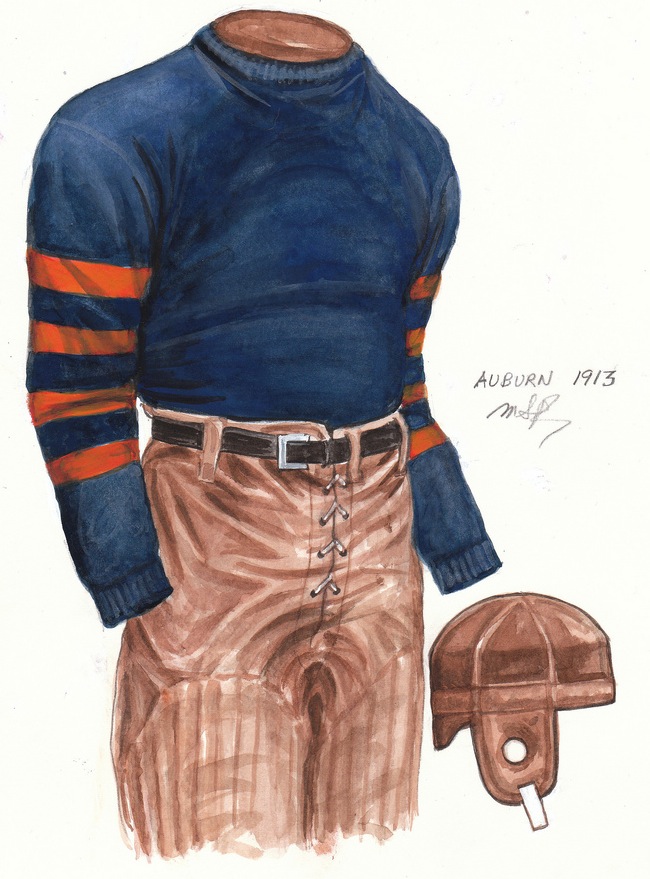 So on the 100th anniversary of the 1913 Auburn Tigers, arguably one of the best teams in Auburn history, I propose that this year's team should wear a throwback uniform in at least one game this season. I don't care what game. I know the other four teams are being honored on what are seemingly Auburn's four easiest home games, but maybe they can wear them on the same day that the 1963 team (10/12, Western Carolina) celebrates their 50th anniversary.
Another option would be to wear them during a game where Auburn is playing a team from the 1913 schedule. There are two: Mississippi State (called Mississippi A&M back then) and Georgia. I would actually prefer Georgia. I know the Bulldogs have sort of been the SEC's king of ridiculous uniform changes over the years, but Auburn wearing a throwback, something solely based on history, against a team in which Auburn has the most history, would be perfect to me.
Obviously a few things would need to be modernized. As far as we know, there were no numbers on the jersey. And last I checked, leather helmets do not go with the safety precautions of today. Thick, wool sweaters are also very hot during the Fall in the Southeast. But don't worry, I've got all of these issues figured out.
Michigan wore throwbacks for most of the 2012 season. The original jerseys had no number on the front; only a very large 'M.' No problem, they just added a very small number in the top left of the jersey. Auburn can do that.
The leather helmet is obviously out, and I guess Auburn could go with their current version or an all white version, but faux-leather helmets have been done before. The Washington redskins wore one last season.
Given that full length sleeves are just not part of real football anymore, a few changes would need to be made there. The new thing for some uniform-makers has been to continue jersey designs down onto the sleeves of the player's undershirts. Texas A&M had something of that nature last season.
The pants could be all white, as they may have been back then before being covered in mud and washed in a creek bed, but I'd rather see the brown to be authentic as possible.
After I ran through all of the possible issues with making a 1913 uniform work in 2013, I got with @CharlesSollars, the guy who has given us some pretty eccentric mockups of uniforms and helmets in the past, to see what we could work up.
Now before you look at this and go all ape on how terrible it looks, just remember that this is just a basic design idea. I know some of you are also chomping at the bit to tear up anything that has to do with changing Auburn's uniform, but just remember why I'm suggesting Auburn should do this and just give it a chance.
So here it is: faux-leather helmet, updated uniform with small number on the front, modern sleeves with orange stripes across jersey and undershirt, and dingy brown pants. On top of acknowledging this team's National Championship, this is how Auburn can honor this team.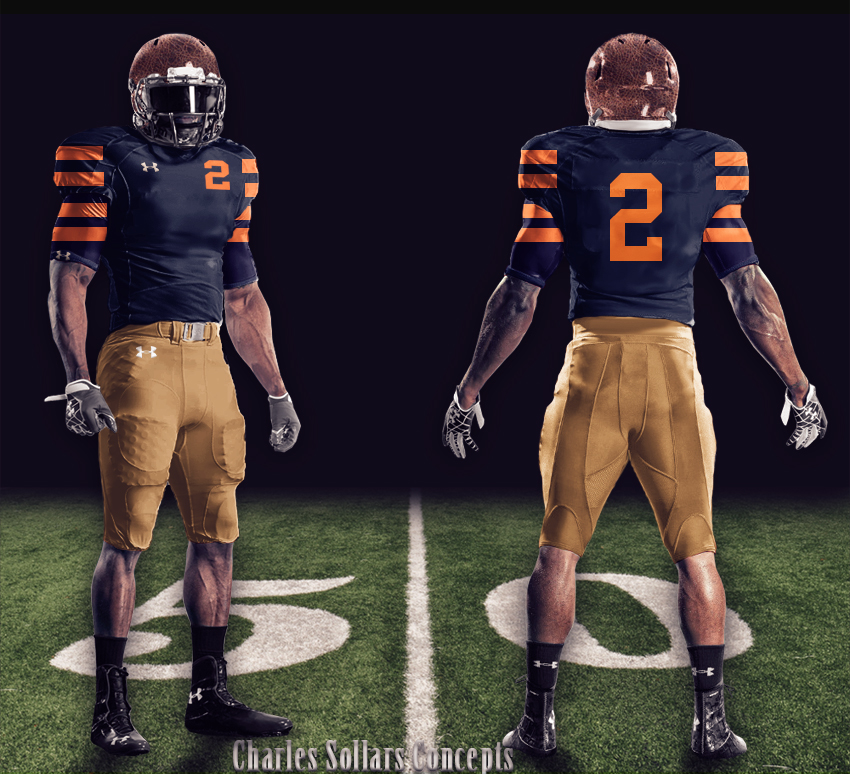 And here it is with white pants and a last name (or War Eagle) on the back of the jersey: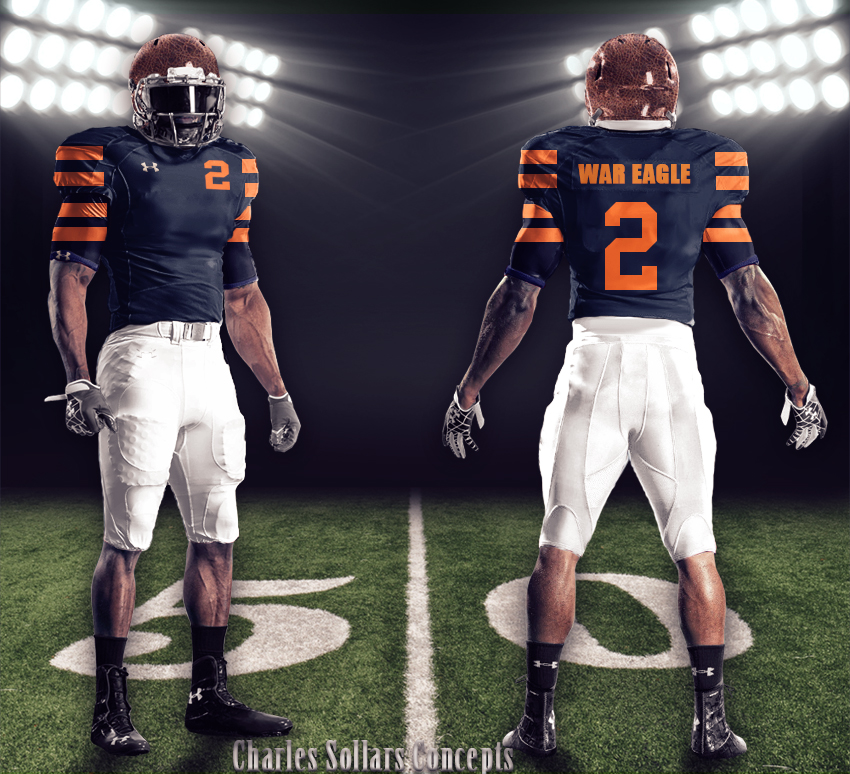 And in true Charles Sollars fashion, he had to do a few more with some changes that don't really reflect anything from history, but do look pretty cool.
To be honest with you, I don't care how good they look to the modern eye. I just know that they look as close as possible to what a National Championship team from Auburn's history wore.
I know there's always huge debate over uniform changes, and I've been over it a thousand times. I don't want Auburn to change their current uniform. It is one of the best in the nation. However, Auburn has history before the current uniform was created. Just because it's what you know, doesn't mean it's what has always been.
So while I never want Auburn to go all Pro Combat or make any major changes to what they wear now, I see no problem going with a throwback for a game or two to honor the past. I think it's the perfect mixture. The crowd that wants a change, gets a change. The crowd that wants to be traditional, gets true traditional.

The 1913 team is responsible for one of the most dominant football seasons, not just in Auburn history, but in college football history. It's time for Auburn to acknowledge it, and this is the year, 100 years later, to do just that. Claim the championship. Wear the throwback. They are both ours. It's time we own them.

Loading ...