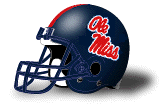 Auburn comes in following one of the worst SEC losses in their history. Ole Miss comes in following one of their worst collapses in recent memory. Needless to say, both teams are in need of a win in a big way. This matchup presents both teams with a chance to right wrongs and to save what's left of their seasons, although a win means very different things for each team.
Ole Miss is having an abysmal season, with losses to BYU and Vanderbilt (by 23 points) already on their resume. The natives are restless in Oxford, and Houston Nutt is acting like a guy who wouldn't mind if the administration showed him he door. His recent actions of calling out a media member for a score prediction shows that he's at the end of his rope.
So what would a win over Auburn mean? Well, it would temper the flames for a little bit and give Nutt his signature upset-when-nobody-is-expecting-it win that we've all become accustomed to. Some would say a win over Auburn in Auburn this season doesn't hold the same clout as it normally would, but Auburn still holds a 12-game winning streak in Jordan-Hare, and is 24-4 since 2000 in night games at home.
And let's not fool ourselves, beating Auburn this year would easily be the biggest win at this point of the season for the Rebels, and probably would be for the rest of the season as well. All in all, a win won't get them in a bowl game or take away the bad losses, but it will give Ole Miss a reason to smile for a day or two.
Speaking of smiling, Auburn coaches and players will say this game will be as tough as any of the others they've played in the month of October, but we all know they have to be all giggly on the inside just a little bit. For the first time in five weeks, Auburn is favored to win a game and is finally back home after being on the road three out of the last four.
But things still won't be that easy. Ole Miss is still an SEC opponent, Auburn's offense still hasn't proven it can move the ball consistently in the last month, and the Rebels will be playing with nothing to lose. Not to mention the aforementioned Tricky Nutt is on the other sideline. Side note: Houston Nutt's brother's name is Dickey Nutt. I'm not kidding.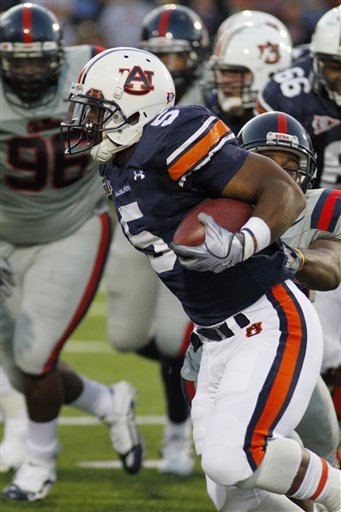 Auburn is the more talented team, has beaten tougher teams, and has the luxury of playing a night game in the friendly confines of Jordan-Hare Stadium, and I believe that's all they'll need to get things back on the positive track. Clint Moseley will have his first real chance to run the offense for an entire game, because let's just admit it, last week wasn't fair. This week he'll be able to look for a second receiver, and maybe even have time to turn around and hand the ball off to Michael Dyer.
Speaking of Dyer, who currently has 812 yards on the year, I have a feeling he may break the 1000 yard mark against the Rebels this week. Ole Miss's defense is near the bottom of the SEC in every statistical category and should have a tough time stopping Dyer. Once he's established the running game, that will give Moseley a chance to throw it to Reed, Benton, and maybe, possibly, hopefully Blake. It could be a very balanced and complete offensive performance. Could be.
When it comes down to it, Auburn should win this game and go into their bye week on a high note. If the Tigers can knock off the Rebels, they will finish the unbeatable October with a 3-2 record. I think we can all be proud of that.
Auburn 38, Ole Miss 20