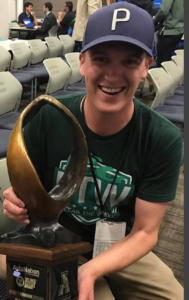 JP Gooderham is a Tulane grad, and he has managed FearTheWave.com for the past seven years. He also hosts a weekly podcast and can be found on Twitter here: @fearthewaveblog. He's a dude that likes Tulane, and I must commend him for that. He's also pretty nice, and doesn't think Joe Burrow is that great, so he's a REALLY good dude. Top notch.

1. What are a Tulane fan's thoughts about Auburn football historically and what about the program right at this moment?
Well, it's just great to see Auburn's marquee SEC rivalry restored after a long absence from our lives. While I am sure Tigers fans are a bit nervous that Auburn trails 17-14-6 in the all-time series, they have to be excited by the chance to get a game closer this weekend if they can pull it off.
But seriously, I think there's a lot of excitement to go play a team of Auburn's caliber, particularly coming off that win last Saturday night that just about everyone was watching. It's a name that means something, with a history that includes getting Les Miles fired from school upriver.
2. What's the vibe like in the fanbase? Pumped about the big win over FIU?
Big time. FIU was supposed to be a toss up in the opener — they were returning a lot of players from a nine win season and are under former Miami coach Butch Davis. Tulane looked much stronger in every component, and the Wave was able to rest starters by the fourth quarter. That's pretty much a dream start for us in a season where the Wave is looking to go to back-to-back bowls for the first time since 1980. It's been a while since there was reason for genuine optimism right here, but Coach Willie Fritz has done a tremendous job building a culture in Uptown that doesn't tolerate losing.
Looking at this week, it's a buy game. Auburn is paying Tulane $1.9M to come to town, the second most ever I believe. In the past, these games have been a necessary evil (the AAC TV deal is much better than the other G5s but lives several neighborhoods away from P5 money). Looking at Gus Malzahn's comments, I can say this is the first time in maybe 20 years that a team of this caliber would need to take Tulane with some seriousness.
3. Who are you two favorite Auburn Tigers of all time and why?
Does everyone choose Bo Jackson? I'll go with Cadillac Williams. Great name. I think he's on the staff now. He was a great flex play in fantasy around 2005. For my second pick, I'll go with the gentleman who stood in disgust when Marshall Henderson flashed his Ole Miss jersey at the crowd in that gif. The man's a hero, and I hope you draped him in toilet paper or however y'all celebrate such matters.
4. Which two Green Waves (is that what they're called?) should Auburn fans look out for and why?
I will go with Defensive End Patrick Johnson first. He's the Phil Steele choice for preseason Defensive Player of the Year, and for good reason — he had 10 sacks and 14 TFLs last year. He's brings great instincts and strength, and he's a destructive player that offenses have to account for.
On the offensive side of the ball, here's a new name for us too: Jalen McCleskey. The Oklahoma State transfer is top 10 in all-time receptions for the Cowboys, and he came home to New Orleans with his father on the Tulane staff. We didn't see him much in Game One with the Wave getting ahead early and emphasizing the run game, but he'll need to be a factor for the Wave to do something special in Auburn.
5. In which positional matchup do you see Tulane excelling against the Tigers?
I'll say that the strength of Tulane comes from the Defensive Line, where every player brings starting experience from last year. With Bo Nix, we know that he has a gunslinger mentality, and I think that Tulane's ability to get pressure and force turnovers will be an absolutely critical part of this game.
6. Where will Tulane struggle against Auburn?
Well this might be boring, but I'll also say that Tulane's OL and overall gameplan need to be ready for Auburn's DL. I think when you see a quality G5 team against a top tier P5, the battle in the trenches is where you most often see a team start to crumble. Tulane's offensive line, in recent years, has been a challenge. With that being said, they are coming off a great game against FIU, but we know we'll see a step or three up in weight class. Their ability to buy Justin McMillan time in pass protection and force Auburn to respect the pass will be a huge deal, in my mind.
7. Is it true that Tulane left the SEC because it was "just too dang hard?"
That's actually not really exactly the case as I understand it. For one, Tulane won three SEC titles, which is as many as Kentucky, Mississippi State, Vanderbilt, Missouri, Texas A&M, and South Carolina have won total to this day, despite leaving in 1965.
That said, Tulane was angry with the league and not playing very well by the 1960s, as I understand it. In some instances, the SEC would see in a newspaper that Tulane didn't schedule a full SEC slate and instead opted to play a more national schedule with teams like Miami and Pitt on there. The league really didn't dig that. At the core of this breakdown was the lack of academic standards (which Tulane thought might ultimately break down the SEC…) as well as over-signing, when schools like Alabama could bring in 140 players and that type of deal. And thus, somewhere in Decision Hell with the guy who sold his Apple stock in the first year of the company, we have Tulane bailing on the Southeastern Conference.
8. What's your prediction/analysis of the game?
The spread is 18 as of my writing. I'm bullish on the Wave, maybe not going full homer and saying I guarantee an upset, but I can see this being a score that will surprise some people. I'll go 35-24 Auburn, with the Wave playing close through the first half but the Tigers finishing strong in the second to get it done with a fourth quarter TD.
Auburn is coming off an emotional game and playing in front of a big home crowd with a freshman QB. I can see this being an environment where mistakes can get made. Tulane under Fritz really has a culture around winning the turnover battle, and I think going +2 would be a highly positive factor in Tulane's chances of making this a close game.
9. Where will Auburn and Tulane end the season?
People seem to think that Joe Burrow is the second coming of Joe Montana. I don't. I think Auburn finishes in a NY6 game and 2nd in the SEC West behind… y'know. I like Nix. Your RB Whitlow is really good, albeit he decommitted from Tulane by throwing a Green Wave hat on the floor and pulling an Auburn hat out of a box of honeybuns. I think if the Tigers can find a viable #2 and #3 back to give him some rest, the offense can really develop into something.
10. Does Tulane have something against clean water? I tend to avoid water that's green.
I guess it came from a song or something in the 1920s? I don't know. We're cool with clean water. Not every school can be so lucky as to be one of like five conference teams named the Tigers.
Thanks for bringing us on. I'll tell you that our interactions with Auburn fans have been great this week, so good on ya for that, Tiger folk.