Everyone knows the old adage: Defense wins championships. Recently, teams seem to have relaxed their commitment to that mantra, but in the SEC, the best of the best are almost always defensive powerhouses as well as offensive dynamos. It's a good thing then, that Auburn has one of the best defenses in the country year in and year out. It's a unit that can be leaned on, and if it's complemented by a productive offense, Auburn can be a physically devastating team to play against. Let's take a look at the myriad of reasons why.
Defensive Coordinator: Kevin Steele
Steele's unit had a down year in 2018, but I would pin a lot of that on youth and fatigue due to the offense not doing them any favors. Not all of it, but a lot. Steele has evolved his defenses with his players over the course of his last 3 seasons coaching for Auburn, and I would expect that to continue in 2019.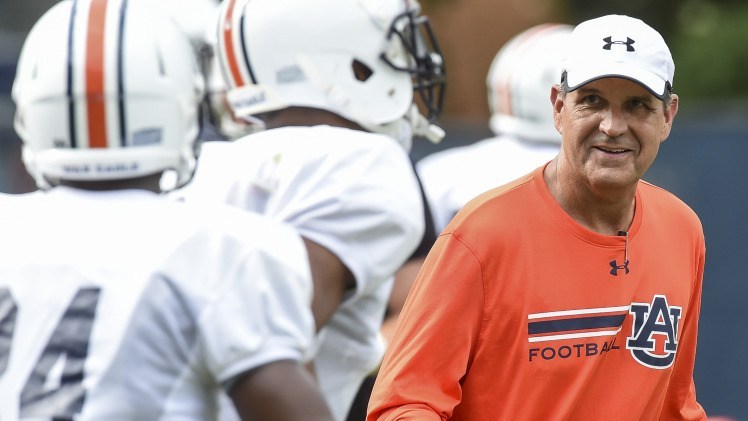 "Rush" Defensive Tackle: Derrick Brown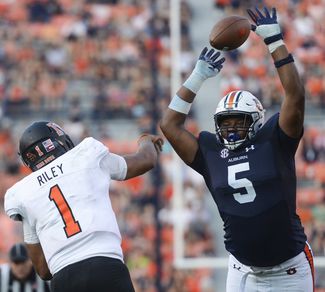 You build a great defense from the inside out, and Auburn has a great anchor in Derrick Brown. There's not a lot about him you could say that hasn't already been said, he's a disruptor in the center of the field. He's quick, big, and smart. There's a reason he's one of Auburn's first players routinely mocked in the first round of the NFL draft in years. He makes the people around him better.
I distinguish Derrick as a "rush" defensive tackle because that's the situation he more often than not finds himself in on passing downs. The other DT routinely is responsible for gap discipline and slowly collapsing the pocket.
"Plug" Defensive Tackle: Tyrone Truesdell
This is one of the few positions on the defense where Auburn has any kind of questions as far as depth is concerned. I'm fairly certain Truesdell will find himself in that Dontavious Russell/Montravius Adams position more than anyone else, simply due to his appropriate size and time spent as the understudy to Russell. The plug tackle is generally responsible for clogging run lanes and taking on double teams, so having a player like Truesdell available will be invaluable.
Of course, he's not the only player who will play at the position. Nick Coe and Coynis Miller, Jr. have both spent a lot of time at the position, and I would expect a ton of mixing and matching to find the most potent mixture for the defense.
Strong Side Defensive End: Marlon Davidson
If you've wondered why Marlon Davidson's stats don't pop off the page anymore, I would say a lot of it has to do with the role he has played in the defense since his freshman season. With his elite size and build, it makes a lot of sense for him to play the strong side where he can still rush, but will also be an asset to setting a hard edge. Being forced to diagnose a play before being able to rush dramatically slows down his ability to get pressures and sacks.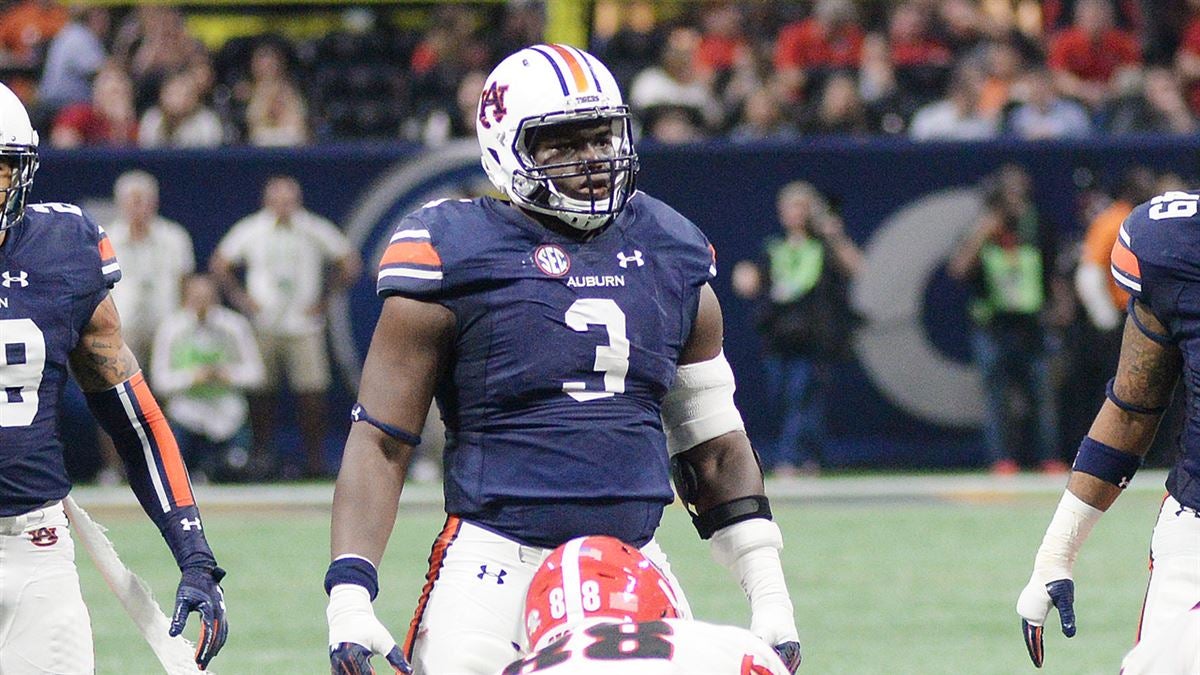 There is, however, newfound hope for Marlon's stat sheet. That being his offseason dieting and training. He's supposedly cut down on a lot of his weight, and if he can combine that training with a new set of rush moves, he could find himself once again a potent rush presence off the edge. Time will tell.
Buck Defensive End: Nick Coe
I'm of two minds on the Buck position. There is a prevalent school of thought that says Buck should be more of a weak side defensive end than anything else, and another that says it should play a little more of a weak outside linebacker role. I personally fall closer to the "lineman" point of view, and so my decision for the first man up is Nick Coe, I would say the best pure pass rusher, hell maybe the best overall lineman on Auburn's roster. At 291 pounds and with the burst and pass rush library he has, he can play inside, outside, pass rush, run defense, upside down, and with a hand tied behind his back.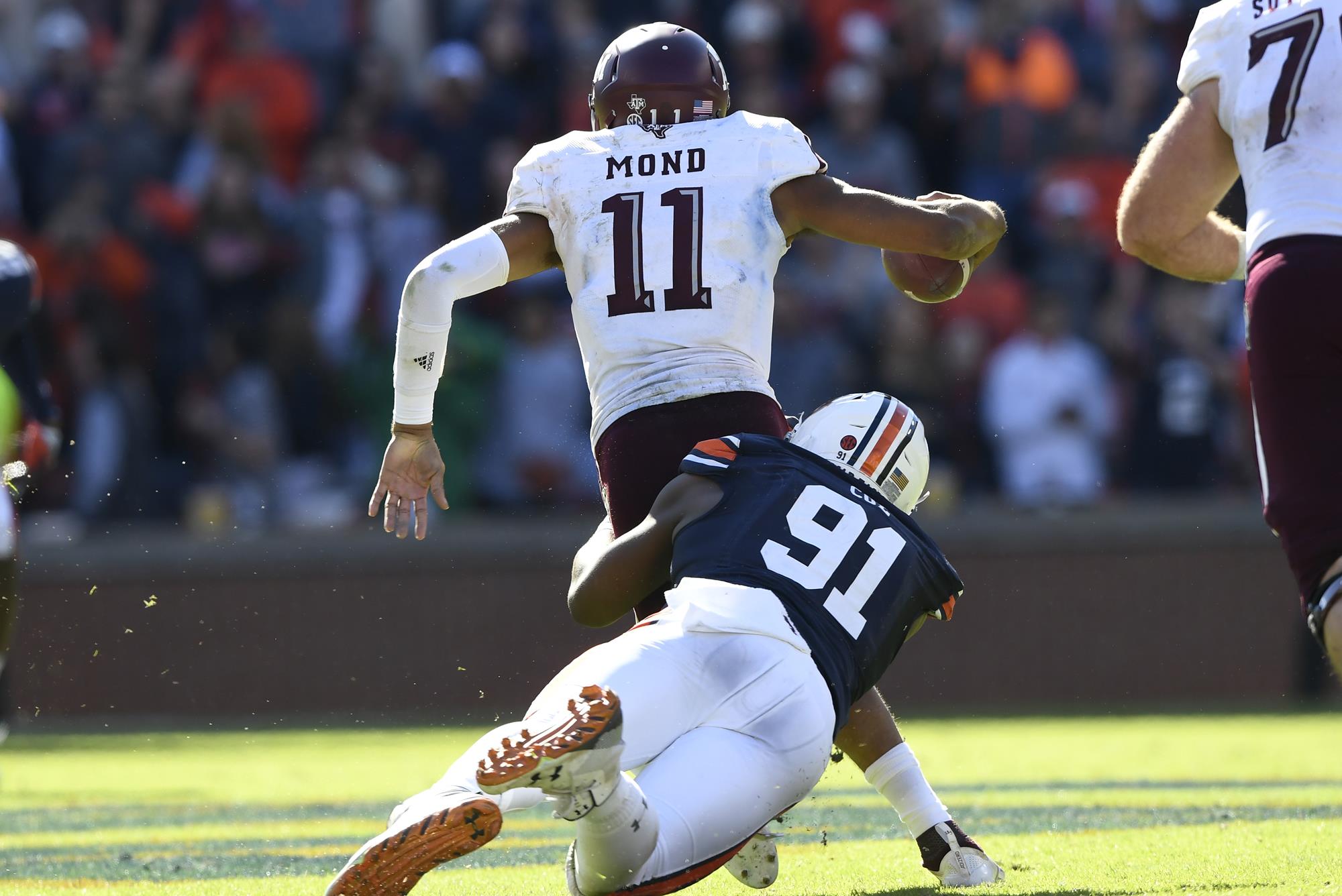 Outside of Coe, TD Moultry has apparently been very impressive in preseason camp, though I am securely in "wait-and-see" mode when it comes to him. I need to see that he can be a potent rush presence without abandoning his run defense responsibilities, or else he will lose his playing time under a flurry of read option gaffes.
Outside Linebacker: Owen Pappoe
Allow me to blow your mind. The top 30, 5-star player turned out to be really good, and found his way into the starting lineup early. Pappoe is just one of those guys I think we all looked at and said, "yeah he's probably gonna be really, really good." I'm excited to see his ability to rush the passer, something he excelled at in high school, but we haven't seen him do yet, due to his only action in an Auburn uniform so far being the Spring game.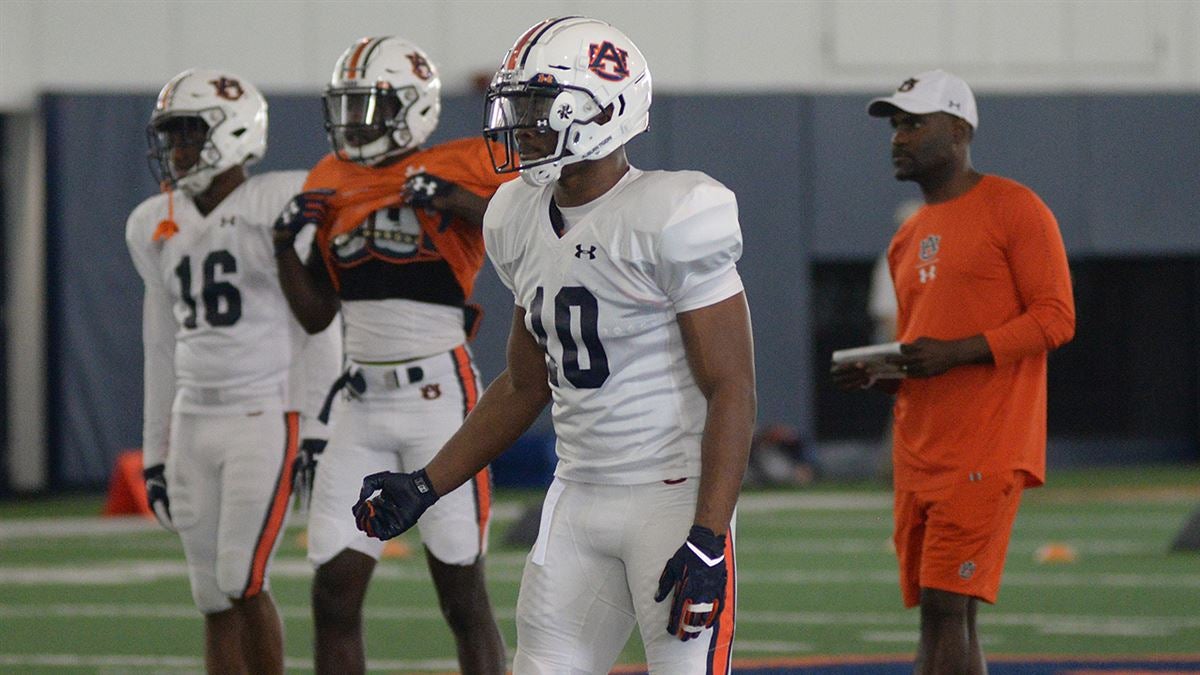 Middle Linebacker: KJ Britt
I like this guy. On paper he already looks pretty good, but in relief of Deshaun Davis in 2018, he showed a metric ton of promise, especially against Purdue. His speed from sideline to sideline is no joke, and he takes really good angles in open space. He has great instincts, and he's taller than Deshaun Davis to boot. It's a little early to say he'll be better than Deshaun, but his athletic promise and veteran status in this defense are very encouraging.
Strong Side Linebacker: Chandler Wooten
Wooten is a complete unknown, and so are the three other players who all split time with him at his position. They all seem good in their positions, but truth be told I haven't really paid a great deal of attention to this spot. Honestly, I'm expecting Auburn to run lighter defenses more in an effort to both cover more effectively and get bodies on ball carriers (it's the modern way of playing defense, only really a disadvantage when an OL can outsize your front 7)
#1 Cornerback: Noah Igbinoghene
Iggy is an odd case. He is extremely athletically gifted at playing corner, and he seems like an exceptionally natural fit for defense for someone who came to Auburn playing wide receiver. He experienced some hiccups playing in 2018, but considering his position change, the fact that he started every game at corner for Auburn is amazing. I'm really excited to see what kinds of changes he makes to his game in 2019 to make a bid for the NFL.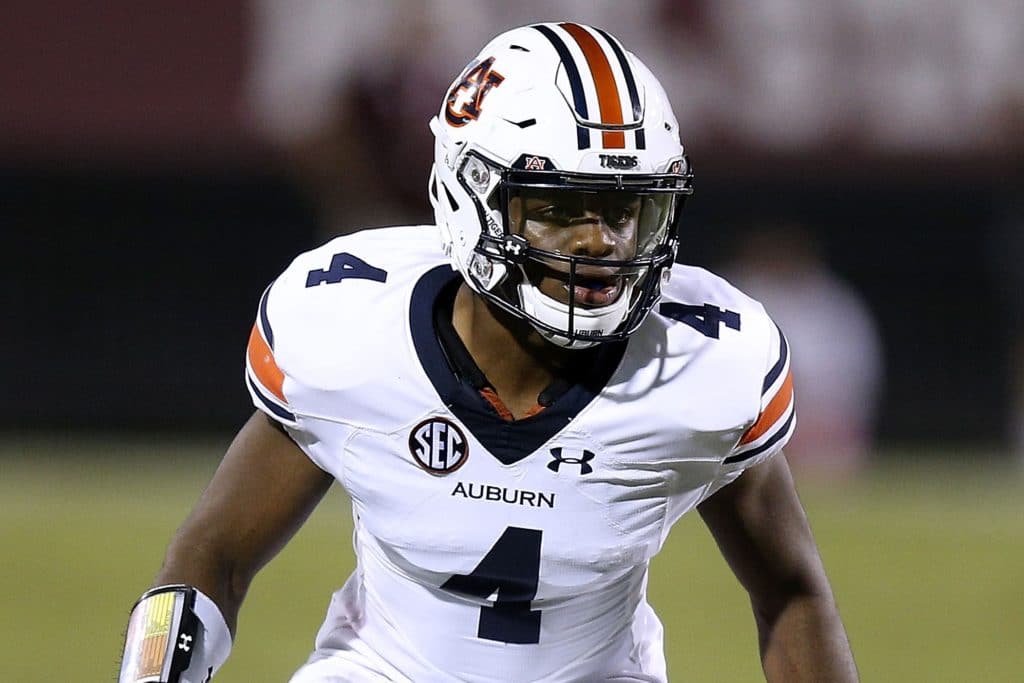 And to be clear, he absolutely has the talent to make it as a corner in the league. He's physical in run support, shadows routes very well, and has the speed to run with anyone he's matched up against.
#2 Cornerback: Javaris Davis
Here we arrive to the last "Davis" on the team. Javaris will play in the NFL if for no other reason than he is stupid fast and knocks the he*k out of people. He is a difference maker wherever he is placed on the field, and the staff knows that, as shown by their continual shifting him around the defense. In any one game he'll play nickel, star, strong safety, or corner, and he excels at all of it. He's special, and now that he'll get a chance to focus on one position, I want to see just how good he can get.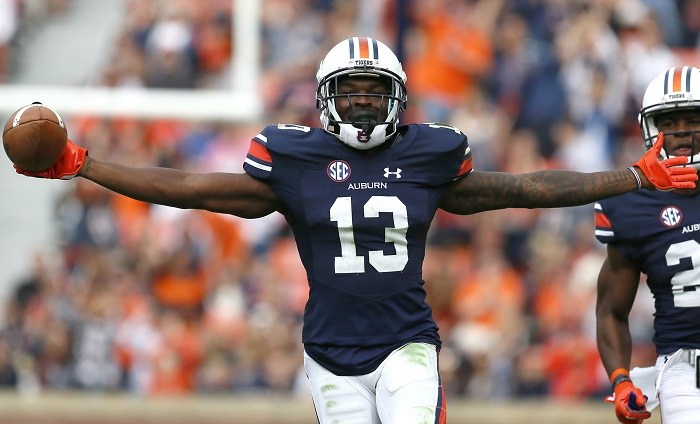 Nickel: Christian Tutt
I fully expect Tutt and Jordyn Peters to split time here, as both are great athletes that it would be very hard to keep off the field, but I give the nod to Tutt because of his stellar debut season and versatility. I really hope he gets a chance to focus on playing as a slot corner, because I think his size and explosiveness make him an ideal player to cover both that 5' 8" shifty kid and the 6' 3" behemoth of a TE.
Strong Safety: Daniel Thomas
Ah, here we arrive to the perennially underrated Auburn safety group. Daniel Thomas made quite the name for himself in 2018, knocking heads and getting picks. I would say Thomas is unequivocally the leader of the Auburn secondary, and his play speaks for itself most of the time. I don't really know how much I can say about him beyond "he good." I'm looking forward to a lot of mind-blowing hits from him this season.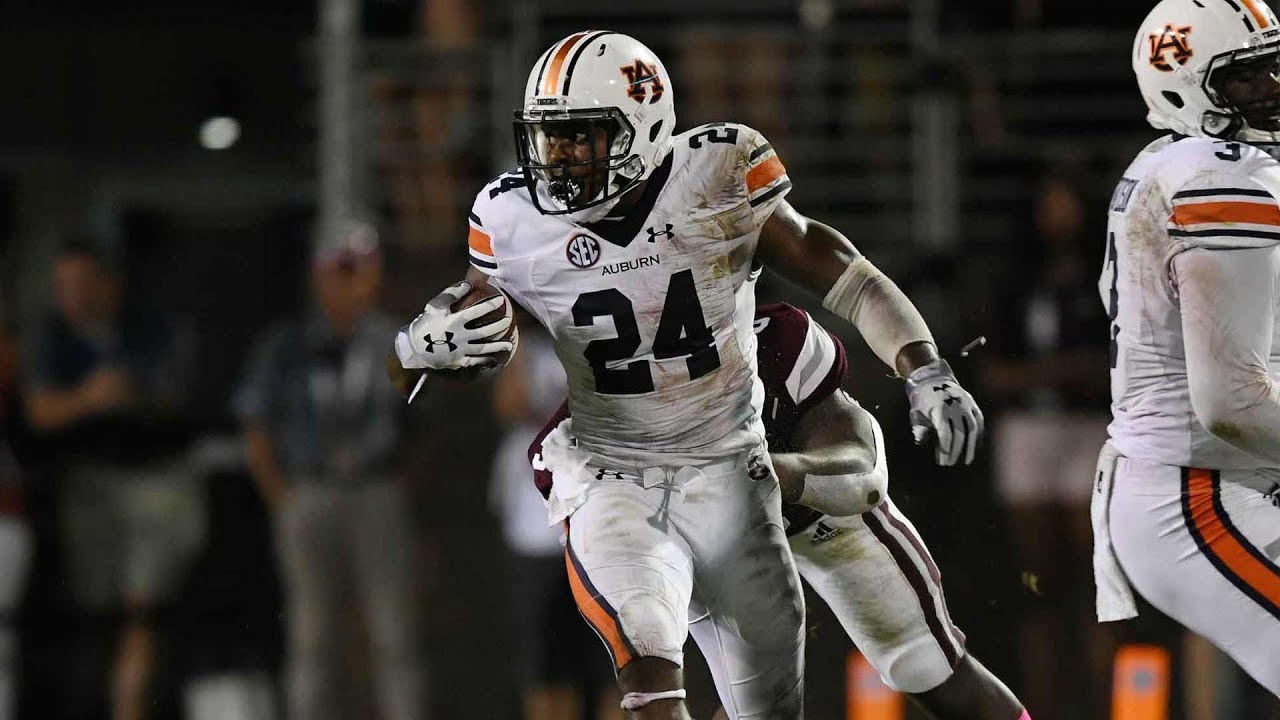 Free Safety: Jeremiah Dinson
Along the same vein, I'm not sure what I can really ay about Dinson. He's a pretty effective player at his position, but his spot on the field doesn't lead to highlights as often as Thomas's does. He's reliable in coverage, and has no problem helping in run support, but I would say Thomas is the real star of the tertiary layer of the defense.