WHERE TO WATCH
Kickoff – 2:30 PM CT, November 6th 2021
Watch –  CBS
Listen – Auburn Website
Gamecast – ESPN
TEAM HISTORY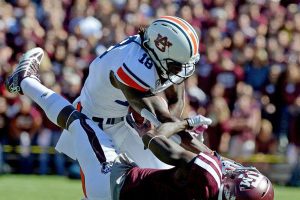 If you've been on twitter, surely you've seen the term "little brother" thrown around with serious intent. While it is an overplayed phrase, when mentioning Texas A&M it's incredibly accurate. Texas A&M hasn't played Texas in almost a decade and they're still in the Longhorns' shadow. It's a sad reality the have. But they bring it on themselves.
A .606 winning percentage doesn't exactly scream "RESPECT ME". In fact, since they've joined an actual conference, they've only finished above 3rd in two seasons. If you're wondering if they've ever finished first in the division – no, they haven't.
SERIES HISTORY
This is a weird series. Outside of a 2012 game that I'm not convinced ever happened, Auburn has had a shot to win just about every game. While A&M technically leads the series 6-5, they've lost 4 of the last 6. This game has been an exciting one with a lot of great memories, like basically every play of the 2013 game where Kris Frost definitely didn't horse collar Johnny Manziel. Who can forget 2018 when Anthony Schwartz nearly broke the land speed record on foot on an end around? When these two play, there are always fireworks. Be ready.
WHAT TO WATCH
Honestly the biggest thing for me to watch is the battle at RB. Isiah Spiller and Tank were rated as the two best RBs in the conference coming in to the season (Tank is number 1, obvi). Also, we get to see the phoenix that is Road Nix rising from the ashes this season. Seriously, his improvement isn't talked about enough. Something inside is telling me Auburn wins this one 24-14.