Update: Auburn won. You can watch them win it on ESPN on Sunday, Feb. 16, at 5 p.m. or on ABC on Saturday, Feb. 22.
ESPN's Sport Science has shown us the nerdier (and awesome) sides of Cam Newton's power and just how the Kick 6 worked by giving us the numbers behind every move that made each play or player so spectular. Now they're going to give out awards for the best.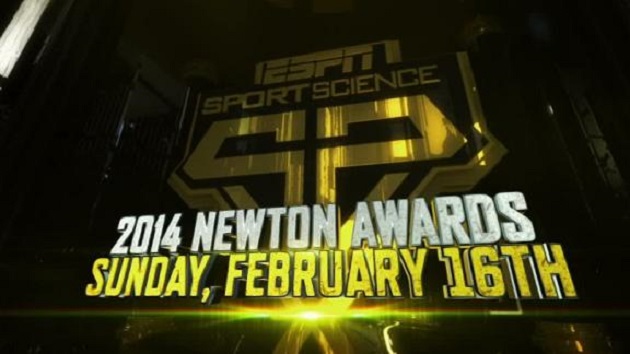 The ESPN Sport Science Newton (named for Sir Isaac, not Cam) Awards will premiere on ESPN on Sunday, Feb. 16, at 5 p.m. and will air on ABC on Saturday, Feb. 22. It will be hosted by John Brenkus, and will honor athletic achievements in nine categories, including "Best Catch," "Best Flight," "Outstanding Agility," "Outstanding Reaction," "Best Projectile Launch" and "Outstanding New Limit."
Auburn should be up for "Best Catch," "Outstanding Agility," and "Outstanding Reaction" for Ricardo Louis's catch against Georgia, but instead the 2014 Tigers only garnered one nomination. The Kick 6 is up for "Most Improbable." Here's the full list of the category's nominees:
Boston Bruins
Down by 3 goals in the 3rd period, the Bruins rally to defeat Toronto in overtime for one of hockey's greatest comebacks of all time.
Oracle Team USA
Down 1-8, the US sailers make a historic comeback by taking 8 straight races to win the America's Cup over New Zealand, 9-8.
Khalil Edney, Guard / New Rochelle High School
After he steals back his own stolen in-bounds pass, Edney hits an insane 49-foot game winning buzzer beater from past half court.
Auburn University
Capping an incredible comeback season, led by Coach Gus Malzahn, Auburn returns a game-winning walk off field goal against Alabama with a 109-yard miracle.
Florida Gulf Coast University
One of the greatest Cinderella stories in NCAA basketball history, Florida Gulf Coast knocks off 2 seed Georgetown to become the first ever 15 seed to reach the Sweet 16.
I think both plays should win every award, but I'll take it. And I don't want to spoil anything for you, but I do know the Malzahns will at least be in attendance. With the ceremony being in Los Angeles, I wouldn't expect them to fly out for nothing.
According to ESPN's release, "The ESPN Sport Science Newton Awards are judged on unprecedented scientific analysis of thousands of athletic performances from the world of sports during 2013. The unique ESPN Sport Science metric accounts for numerous factors and variables in human performance, based on intensive video analysis and the huge database created through years of testing in its sports lab. The awards will honor a variety of sports including basketball, football, baseball, tennis, skateboarding, skiing, hockey and even base jumping."
As far as the ESPYs, though, Auburn really should be nominated for four or five awards. We'll see.