In an attempt to keep things so fresh and so clean, clean on the 'Blogle, I think I'll shake up things with my traditional game reviews. I'll still give overall thoughts on the game as I've always done, but when I can, I'll keep a tab of things that stuck out to me while I rewatch the game each Sunday. Topics will range from big plays, commentator comments, uniform/fashion thoughts, and anything else that I feel like typing. I'll also attempt to note the time or down & distance so you can watch along if you'd like. It'll be fun!
So let's try this. If you hate, tell me. If you don't say anything, I'll assume you didn't read this, so why am I even writing this part of the sentence? Anyway, let's rewatch and review.
---
Pregame
– Nick Marshall looks confident and upbeat, not like a dude that is mad he isn't starting.
– Jeremy Johnson is wearing full sleeves. I'm pretty sure last year's sleeves were basketball sleeves because they had small elbow pads. These don't have elbow pads. They look good, though.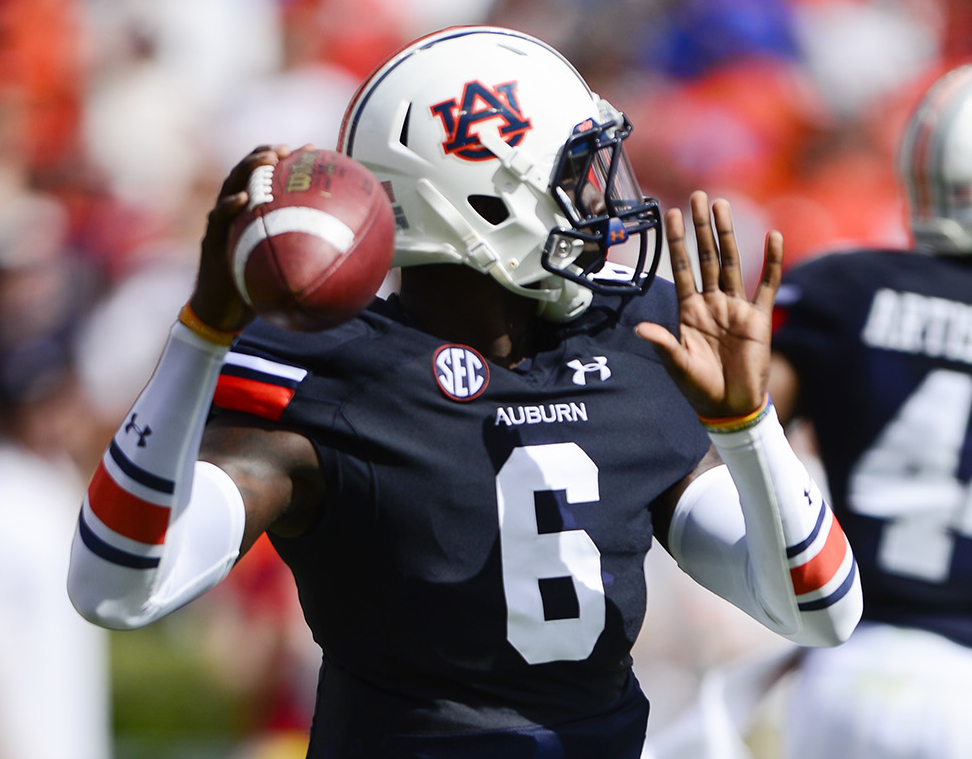 – Gus Malzahn is not wearing a sweater vest. CODE BLUE. No, but really, I never thought about this once until the rewatch.
– Bert wore full jacket. I did notice this during the game because he was the only idiot in the state wearing a jacket that day.
1st quarter
– The clock isn't working? You have all offseason to make sure the clock is working and it's not working. On the real, though, near the end of the half it was kind of fun to wonder how much time was left. They should hide the clock in Arena football or something.
– On Auburn's first drive, Musburger says Malzahn's offense looks sluggish on 3rd and 5. A 1 yard run, and a 2 yard pass. Sluggish.
– Musburger gets to call his second Melvin Ray touchdown in as many games. People make fun of Musburger because he's the easy target, but I love when he calls games. He's the old, white Gus Johnson.
– I rewatched the ball boy running with Ray about 5 times.
– On Arkansas's 2nd drive, it looked like their offensive line substituted a Pro Bowl offensive line. I could have driven truck through multiple holes. It was like Auburn's front seven were running away from the ball carrier. Ended with a wide open pass to a tight end, which seems to happen very often to Auburn with a pro-style offense.
– Auburn's 2nd drive is what Auburn will look like for the next 2 seasons. Near perfect. Precision passes from Johnson to Duke and Uzomah, good running from the backs.
– On Auburn's 3rd scoring drive, did Ricardo Louis push the defenders into Duke Williams on the long pass where Duke was hawked down? I know it wasn't on purpose, but the guy he pushed ended up helping trip up Duke.
2nd quarter
– Cameron Artis-Payne scores on the first play of the quarter, but called back due to Pat Miller facemask. It looked like his hand was stuck on the mask, but Cam's run looked just like his SEC Championship touchdown.
– Duke Williams scores on what seems like his 10th slant, the first of many. Whoever is playing QB, just throw a slant to Duke and their efficiency rating will be the best in the nation.
– Arkansas's 2nd touchdown is yet another easy pass to a tight end. Mental sweat joined my bodily sweat on gameday.
– Auburn's 4th drive is when things started to look like the Arkansas defense knew that Jeremy Johnson would never run the ball. Incomplete pass, decent run, then obvious handoff on 3rd and short get stuffed.
– But Daniel Carlson's punt tho…
– Arkansas fumbles but recovers on next drive. If Auburn recovers, the game would be over.
– Instead, the rest of the drive was embarrassing for the defense. More Bert-sized holes. And Musburger keeps calling Arkansas the Badgers.
– Auburn's 5th drive was the same exact thing as before: stopped on 3rd and short because Arkansas knows it's not really a zone read.
– The defense gets quick stop right before the half, giving the offense a chance to go up a TD before the half. Oh, and I'm totally fine with Quan Bray back there catching punts.
– Auburn's last drive was also going against the invisible clock. There were a few bad throws due to Jeremy pressing a little, two to Sammie in the endzone. This is when I knew Nick was coming in after the half.
– Daniel Carlson misses his first collegiate field goal. It wasn't a bad kick. It was one of those that weaved back and forth, and just happened to swing back and hit the upright. In real life, it felt awful, though. It gave Arkansas a reason to get excited. They were tied with the #6 team. Auburn fans hated it because it meant we had to think about it in that sun for 20 more minutes.
3rd quarter
– After Auburn's first 1st down off the half (dump off to Corey Grant), Arkansas's defense was allowed to substitute. I didn't see it in real life or on the rewatch, but Musburger said Malzahn was furious. He should be.
– We have a clock now…
– 11:54 – You can hear Gus angrily yelling "RUN IT, GO" over the broadcast on the play that Nick just barely saw Melvin Ray at the last second and chunked it in his direction. Ray made a great catch after his own tip.
– 10:48 – Nick Marshall zone-read weaving through the defense for TD is vintage Marshall. It's what I dream of when I dream of Nick Marshall.
– Musburger called the Razorbacks the Badgers again.
– Arkansas's first drive of 2nd half was same as their first drive in the first half. They were pressing and made mistakes in the passing game.
– Then Tre Williams crushed some dude on Quan Bray's punt return. That's a freshman showing he wants to play.
– Cameron Artis-Payne's fumble looked like he fumbled earlier in the run in person, or maybe I'm psychic. They didn't show the replay they showed on TV in the stadium. Nobody would have boo'd if they saw it.
– After some decent defense, Trovon Reed's missed tackle allows Arkansas to get down to Auburn's 35-yard line. The drive stalls, so they'll attempt a long but makeable for a college kicker field goal, right? Nope, the 2nd punt from the 35 of the day. Big 10 ball.
– 5:28 – Bray-cat – I guess it's just a wrinkle, but I don't get it. Yes, this is the only Malzahn-related complaint you'll ever hear.
– Duke Williams owns the middle of the field, but not if the ball isn't thrown within 10 yards. I think the ball just slipped out of Nick's hand.
– 2:51 – The defense finally hits Brandon Allen and it turns into a pick 6. Really liked seeing Rudy Ford stop and let Whitehead make the catch. It could have definitely been an immaculate deflection (and it was pretty much on the same spot of the field). Blocking below the waist was called on Arkansas, but I'm not sure why anyone from Arkansas was blocking when the ball had changed possession. Oh because he's from Arkansas.
– Didn't realize Ford got hurt on the pick 6 (turns out it was cramps/dehydration and he came back out after the ensuing weather delay).
– After the blocking penalty, Carlson kicks off from the 50 and it goes through the uprights. I think that should be one point. I'm serious.
– 1:00 – Therezie hit Arkansas's RB so hard that he fumbled, but also spun his momentum towards the ball on the ground. Could've have been scoop and score.
4th quarter
– The Arkansas defense is tired, which reminds me that this is what Malzahn's offense is made to do. That means that it may sputter for the first quarter or first half, but eventually they'll run over everybody as it gets later in the game. It's a marathon, not a sprint.
– The long pass to Coates would have been an awesome touchdown. Especially since Coates didn't get much action on the day. Marshall laid it out there perfectly. Coates just bobbled it during the dive.
– Hey, they're talking about 17-16. The play and the bar.
10:22 – Carlson makes the first field goal of his Auburn career. Musburger mentions him being from Colorado for the 100th time. I was worried about him being the guy doing all of the kicking duties, but I'm not worried anymore.
– And here's the weather delay, which messed up the DVR recording. Luckily the replay recorded. Note: had the game not been delayed, it would have been over way before the really bad weather came.
– It always surprises how rain does not really show on tv. It was raining hard. I was there, without a poncho.
An hour and a half later…
– 9:58 – Arkansas first play was called a false start. It was not. The ball slipped out of the center's hand. Should have been illegal snap or fumble.
– The entire time after the delay, Arkansas was pressing and passing. Pressing and passing. Lots of drops, and finally a few more sacks for Auburn. I was worried that Auburn would come out flat. They did not at all.
– The rain definitely rejuvenated the crowd that stayed. It was pretty loud. You can hear it on the broadcast.
– 6:27 – Cameron Artis-Payne turned into a little bowling ball on the final scoring drive. Two or three long runs, just bouncing around between defenders.
– 5:38 – Auburn has begun milking the clock hardcore. Almost trying not to score. Malzahn was shown multiple times telling coaches and players to wait and slow down. It had to hurt him to say that.
– 3:30 – I really wanted Corey Grant to score on his longer run around the end, but it was good to see him score on the next play between the tackles and moving the pile.
– Musburger says Alabama won, but "only by ten." Everyone else called it domination.
– Musburger then says Auburn has dominated Arkansas, everyone else said "held on" and "struggled."
– The replay jumped to Arkansas's last play: a 4th down play dropped by the receiver, a microcosm of Arkansas after the delay.
– I really wanted Peyton Barber to score in the mop-up drive, and he almost did (0:50). It was cool to see third-string everything for Auburn move the ball a little bit on what seemed to be Arkansas's starting D. One more minute, or had Malzahn not milked 3 or 4 minutes off the clock, and the final score would have been 52-21.
---
Jeremy Johnson's performance in the first half was definitely worthy of excitement for the future. I can't say totally that the few issues they had nearing the half have everything to do with the fact that he doesn't keep the ball on the zone read as much as Nick does, but it's definitely something that will need to be figured out by the time Johnson is the guy. Malzan's offense needs that aspect to make this thing work.
Nick reminded us quickly of what last year looked like: a little bit of perfection on the zone-read and a little bit of backyard football (the high throw to Melvin Ray). But let's make this clear: there is no quarterback controversy. Jeremy Johnson is an awesome quarterback that could start at every school but Auburn right now. Nick Marshall runs the zone read slightly better and has proven he can get Auburn to the championship game. He will be the starter and Jeremy understands, accepts, and supports that.
The defense reminded me a little of 2010. They can make they plays, and they have playmakers, but the first half is a lot of reading what the offense is doing. That's not just on the players. It's mostly Ellis Johnson. I mean, the point is to win the game, not the half. If you need a half to figure stuff out, and then are able to completely shut a team down in the 2nd half, then by all means do it.
As I said in the rewatch, I'm completely fine with Daniel Carlson doing it all. He kicks it out of the endzone. He can boom punts. He can make a field goal with a strong leg. He was also SEC Freshman of the Week. And did you know he is from Colorado?
Bottom line: Auburn beat Arkansas by 24 points, which is the largest margin of victory in the series. It's about time. Yes, the first half was typical Auburn-Arkansas. It was annoying Arkansas hanging with a better Auburn team as it usually has been.
You have to remember, though, that this was the first game. This was Jeremy Johnson's first SEC start. The 2nd half is the team you will see this season. That team won 24-0. It was a beatdown long overdue that's slightly being dampened by the 21 points in the first half. Guess what, those don't matter because they weren't enough to win.
I don't want to talk too nicely of the Hawgs, but they are better than last year. They'll win an SEC game if they keep running like they did in the first half.
It was hottest I've ever been at an Auburn football game. I hope to never have to play Arkansas at 3pm in August ever again. But I did like getting an SEC win and an Arkansas out of the way early. Let's just do it around 9pm next time.