Bowl season is here. It's the time to watch games you'd never watch in the regular season, but you'll watch it now because your uncle is in the kitchen talking about the Tide. It truly is the most wonderful time of the year.
My regular season picks weren't the best. I mean, they were nice, but not up to my standard. I picked a little too much with my heart.
Bowls: 7-2 (77.8%)
Regular Season: 101-45 (69.2%)
Overall: 108-47 (69.7%)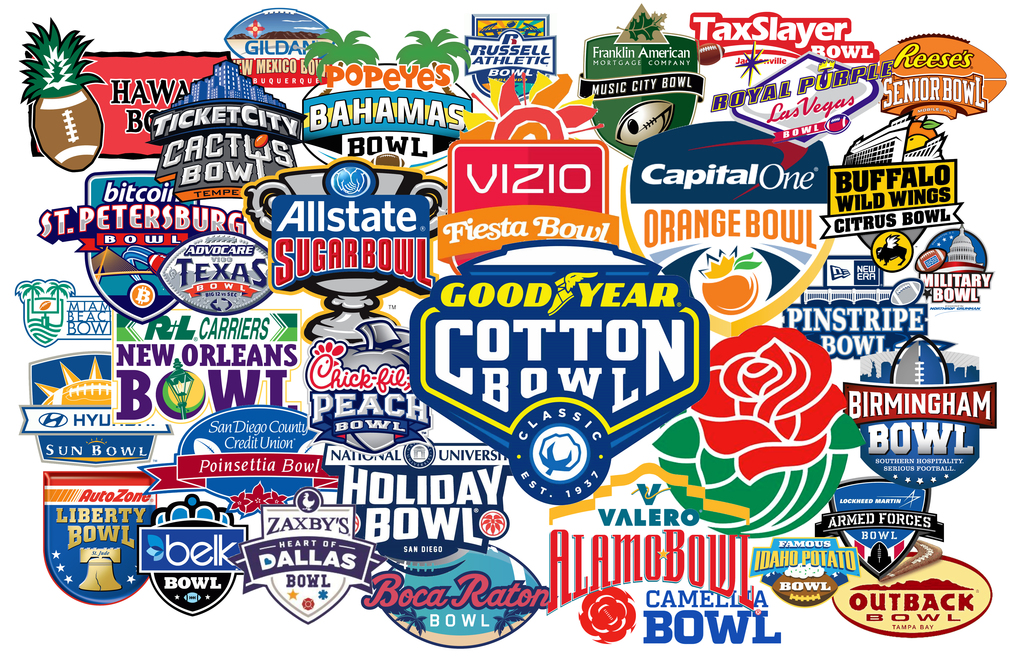 Before you read ahead, I want you to run on over to the 2018-19 War Blogle Bowl Pick 'em and get your picks in. I understand if you want to see what I picked so that you can be as close to perfection as possible, but at least get the process started. Now without further adieu, here are my picks for the first week of bowl games.
12/15
Air Force Reserve Celebration Bowl (11 a.m. ABC)
North Carolina A&T vs. Alcorn State – Steve McNair should've won the Heisman. Steve McNair played at Alcorn State. This will always be the only thing I think of when Alcorn State comes up. North Carolina A&T will win.
North Carolina A&T 38, Alcorn State 28
North Carolina A&T 24, Alcorn State 22 – SUCCESS!
New Mexico Bowl Presented by Progressive (1 p.m. ESPN)
Utah State vs. North Texas – North Texas has a good drumline. Utah State almost beat Auburn in 2011. Utah State is good.
Utah State 31, North Texas 10
Utah State 52, North Texas 13 – SUCCESS!
AutoNation Cure Bowl (1:30 p.m. CBSSN)
Tulane vs. UL-Lafayette – I refuse to call UL-Lafeyette "Lousiana," which somehow they have taken claim of the last few years. What about UL-Monroe, the team that beat Nick Saban's Alabama? I am picking Tulane just because of this naming fallacy.
Tulane 21, UL-Lafayette 17
Tulane 41, UL-Lafayette 24 – SUCCESS!
Mitsubishi Motors Las Vegas Bowl (2:30 p.m. ABC)
Fresno State vs. Arizona State – This might be a pretty good game. Fresno State beat Boise State in their conference championship. Arizona State was better than people who laughed at Herm Edwards believed they would be. I'm always going to give it to the P5 team because G5 teams never beat them. o_O
Arizona State 38, Fresno State 27
Fresno State 31, Arizona State 20 – FAILURE
Raycom Media Camellia Bowl (4:30 p.m. ESPN)
Georgia Southern vs. Eastern Michigan – Shooowee, this is a bowl game, isn't it? From Statesboro and Ypsilanti to Montgomery. That's a trip right there. Georgia Southern is better than Eastern Michigan, but Eastern Michigan beat Purdue. Ehh, I'm going with the South.
Georgia Southern 20, Eastern Michigan 19
Georgia Southern 23, Eastern Michigan 21 – SUCCESS!
R+L Carriers New Orleans Bowl (8 p.m. ESPN)
Middle Tennessee vs. Appalachian State – Appalachian State is favored, but they lost their coach and won't have their new one in place before kickoff. Middle Tennessee is a nice little football team and they'll be able to take advantage of the headless Mountaineers.
Middle Tennessee 34, Appalachian State 20
Appalachian State 45, Middle Tennessee 13 – SUCCESS!
12/18
Cheribundi Boca Raton Bowl (6 p.m. ESPN)
UAB vs. Northern Illinois – What's a Cheribundi? UAB will find out as they go to Florida to play the Huskies of Northern Illinois. The Blazers have had a good season at a lower level of football, especially at their standards. They'll take this one over another team that's beaten Alabama in the last 15 years.
UAB 28, Northern Illinois 14
UAB 37, Northern Illinois 13 – SUCCESS!
12/19
DXL Frisco Bowl (7 p.m. ESPN)
San Diego State vs. Ohio – It's the age old clash, the Bobcats and the Aztecs. What is more fierce? I honestly don't know. I do know that when I see the Ohio Bobcats playing football on tv, the most exciting part of the game is the fact that there's a game on a Tuesday. San Diego State is actually the underdog, but they are going to run away with it.
San Diego State 41, Ohio 14
Ohio 27, San Diego State 0 – FAILURE
12/20
Bad Boy Mowers Gasparilla Bowl (7 p.m. ESPN)
Marshall vs. South Florida – This is definitely the most fun sounding game. Both of these teams are green. That's about all I think about it when we're at this level of bowl games. South Florida is definitely the more exciting seeming team, but how do you pick against Marshall? WE ARE.
Marshall 27, South Florida 24
Marshall 38, South Florida 20 – SUCCESS!
Now that I've picked the bowls, you should go join the bowl pick'em. Just make sure you have them in prior to each game, but go ahead and do them all so you don't have to worry about it. There's prizes and stuff.