It's like Schedule-palooza all up in here! Yesterday, I ranked the 2013 football schedule, and then we got the 2014 SEC basketball schedule. Earlier today, we got the 2014 baseball schedule, and moments ago we were given the 2014 football schedule.
In short, it's not very fun if you like easy, winnable football games. And it does appear to be another "bridge" schedule until they can figure out a permanent rotation.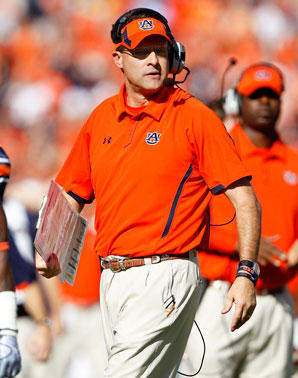 Aug. 30 – Arkansas
Sept. 6 – San Jose State
Sept. 13 – Open
Sept. 20 – at Kansas State
Sept. 27 – Louisiana Tech
Oct.  4 – LSU
Oct.  11 – at Mississippi State
Oct.  18 – Open
Oct.  25 – South Carolina
Nov. 1 – at Ole Miss
Nov. 8 – Texas A&M
Nov. 15 – at Georgia
Nov. 22 – Samford
Nov. 29 – at Alabama
Have you picked your jaw up off the floor yet? It's bad, but it's not that bad. It is very weird, though. A few notes:
Auburn opens the season versus an SEC opponent for the first time since 1995 when the Tigers beat Ole Miss 46-13. That will be 19 years. That's a long time. I know it's happened, but I don't remember Auburn ever opening a season against an SEC opponent that was not Ole Miss, at least not in my lifetime.
San Jose State? That's weird. An off week in week 3, that's really weird.
We've known Auburn would go to Kansas State for over a year now as a return trip from 2007. They shouldn't be very good, despite the season they had last year.
Welcome back, La. Tech. It's been a few years.
LSU is usually game 3 or 4, or game 8 or 9. It has been that way for a while. In 2014, they will be game 5. Small, I know, but different. Also something to note, LSU will be breaking in a new starting quarterback since Metterberger will have graduated.
At first glance, the second half of the schedule is ridiculous. One or two of those teams won't be as good as they are right now, but it's not fun to look at right now.
South Carolina comes back to the Plains for the first time since 2010. You know Steve Spurrier has never beaten Auburn while leading the Gamecocks? You know South Carolina has beaten Auburn only one time, and it was in 1933? Oh, but they are for real now? Remember, this game is in 2014. No Clowney and no Shaw.
Given that Ole Miss is on the rise, playing at their place may be tough. Eh, we'll see.
Texas A&M will not have Manziel. Texas A&M will not be as good or scary as this looks right now.
We knew it was probably coming, but going to Georgia and to Alabama is not fun in anyway at all. It's a terrible end to the home schedule, and it's just not fair. Yes, they both come to Auburn in 2013, but they don't travel to their two biggest rivals at the end of the season.
Georgia will still continue to be strong, but remember, no Murray.
Alabama will still continue to be strong, but remember, no McCarron.
There is not one instance of back to back road games, so that's good, but five road games, when two of those are your biggest rivals, and one of those is somewhere nobody in this lifetime has ever been, is not good.
So yes, this schedule is strange and tough, but the fact that seemingly the five toughest teams on the schedule will all be replacing starting quarterbacks, it takes the sting off a little bit. Alright, that's enough of 2014. We have 2013 football in 10 days. Tomorrow, I correctly predict the scores of each.