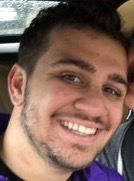 Roman Santos Tomashoff (@rtomashoff34) writes for HuskyHaul.com, is the founder of Title Talk Sports, and is a former college baseball player and sports communications major at Lasell College in Newton, Massachusetts. He is a lifelong Washington fan, as his dad is an alumni. Outside of the Huskies, he loves watching the Red Sox, Patriots, and Celtics. He was nice enough to answer a few questions for me before the game, and despite the loss, he's nice enough to answer a few more after. Enjoy.

1. What are your general thoughts on the game?
I couldn't have asked for a better game. For the past year the biggest gripe I've had with college football as a whole is that Washington and the rest of the Pac-12 get no respect. While the Huskies didn't come up with a victory, I feel like they earned some respect.
They played a very good, definitely not great, but very good all around game. Auburn definitely played themselves into a very good spot in a very tough conference.
2. What do you think of Washington's performance?
All in all, I was very happy with what I saw. Trey Adams not being active definitely played a big factor, but I'll get to that in a minute. The receiver play was eye opening, and a huge relief because they were definitely a huge question. I've loved Ty Jones since the day he committed, and he's turning into the star I saw in him. I thought that Jake Browning played a pretty good game outside of that ridiculously stupid interception.
The defense looked good, despite being caught off guard by the up tempo offense Auburn used. That shocked me from a Chris Petersen team, which is usually prepared for everything. Taylor Rapp flexed his muscles early on which was fun to see, because when he hits like that, along with his range and ball skills, he's the best safety in America. The pass rush looked like it can still hit home, which was great to see. Ariel Ngata had a few hurries, which was great to see, he's another big recruit I had high hopes for out of high school.
Peyton Henry and the kicking game scared me a little bit, but for a redshirt freshman in his first career game, I'll take him going 3-4.
3. What do you think of Auburn's performance?
Auburn played very well, the up-tempo offense was a very good idea and Jared Stidham looked incredible against a very good secondary. The TD throw early in the first quarter was just unbelievable. He did well attacking the soft spots in some zone coverage plays, and placed the ball perfectly in man.
The defense did exactly what it was supposed to do, they played fast, shut down the Washington run game for the most part and attacked the left side of the line. The Huskies having to play without Trey Adams was huge, and Auburn did a great job attacking that. The blitz call on the last play was nothing short of perfect. It was a very well played and coached game for the Tigers. They should definitely try to cut down on the penalties.
4. What won the game for Auburn?
The offense. Washington's defense is going to be ranked in the top 10 this season, but Auburn found a way to attack it. Obviously I hated watching it, but after the fact, I can't praise that up-tempo style enough. It was genius, and something the Huskies definitely didn't seem prepared for.
The front seven also was a huge factor, attacking the weak spots of the Washington line. They played fast and strong, and thankfully, the Huskies will probably have Trey Adams back next week, and won't see a line like that for the rest of the year.
5. What are you most mad about the game? What will keep you up at night this week?
The non-targeting call in the fourth quarter. I've watched JoJo McIntosh make hits like the one he got called for four years. He's been called for targeting twice, including that one play in the third quarter. But when it seems to be pretty apparent that there was helmet to helmet contact like there was on that play, you have to throw the flag. That's why you have the right to review a targeting call, to be sure. I'm not saying that's why the Huskies lost the game, but you definitely have to throw the flag there.
But that's not going to make me lose sleep, the OPI call might. The Huskies should have scored a huge TD right there, but the OPI call destroyed all their momentum. Peyton Henry missed a field goal after that and it seemed to take a lot of wind out of the Huskies' sails. I think it was a borderline call, but Chris Petersen's teams are more disciplined than that.
6. Which current Auburn players do you now like/dislike the most?
I really can't say that I developed any real dislike for any Auburn guys during the game, but I definitely bought into the Jared Stidham hype. I love following the NFL Draft and if he can keep doing things like he did on Saturday, he definitely has QB1 potential.
7. Despite Washington contractually agreeing to the game, do you believe it was unfair that Washington has to come to Atlanta for this game?
Absolutely not, Washington's Athletic Director Jen Cohen knew what she was doing when she signed the contract, and hopefully in the eyes of the national media, the Huskies gained a little bit of respect for a very well fought game. Of course, going into the heart of SEC country is a huge challenge, but if you want to be the best, you have to go into the heart of their house and prove that you can beat them.
8. Where will Washington and Auburn finish this season?
I'm holding by my predictions that I gave before the game, Washington is going to run the table from here, win the Pac-12 championship and sneak into the CFP. Auburn might drop a few tough games, but they'll still find themselves in a New Year's Six bowl game and in the top 10.