Despite some nearly perfect picks in Week 10, the overall record wasn't that great. I know a D is passing, but I'm going for name brand candy only. Let's check the slate this week. It's getting late in the year, so obviously the games are going to get easier. o_O
Last week: 7-4 (63.6%)
This week: 9-1 (90.0%)
Overall: 89-27 (76.7%)
Yeah, they aren't getting easier. Bad teams are playing bad teams. Good teams are playing good teams. It's going to be tough, but the only we can do is just pick and pray, amirite?!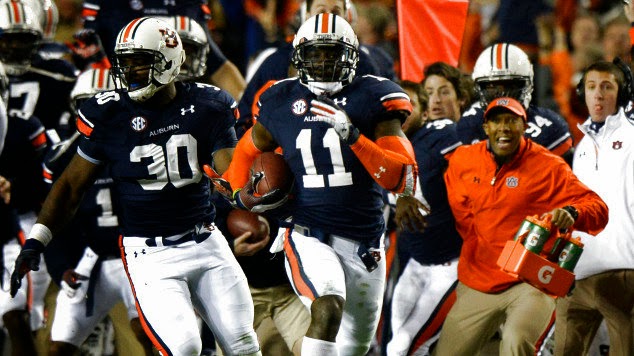 11/11
Arkansas at LSU – Why is this game so early? Isn't it usually on Thanksgiving or somewhere around there? I guess we're still trying to find a real rival for both of these teams. LSU will win easily.
LSU 30, Arkansas 10
LSU 33, Arkansas 10 – SUCCESS!
Louisiana-Lafayette at Ole Miss – Why do I feel like these two teams have played? I guess I'm thinking about Texas A&M struggling with the Ragin' Cajuns earlier this year. Ole Miss has some momentum, so they'll win it early.
Ole Miss 38, Louisiana-Lafayette 17
Ole Miss 55, Louisiana-Lafayette 20 – SUCCESS!
Florida at South Carolina – The Spurrier Bowl has lost all of its luster. Florida's done. South Carolina is fine.
South Carolina 37, Florida 10
South Carolina 28, Florida 20 – SUCCESS!
Kentucky at Vanderbilt – This game typically determines which team is 6th in the SEC East and which team is 7th in the SEC East. Kentucky is better than that this year, and that's why they will win.
Kentucky 27, Vanderbilt 17
Kentucky 44, Vanderbilt 21 – SUCCESS!
New Mexico at Texas A&M – Texas A&M isn't terrible. New Mexico pretty much is. That's about all I need to see.
Texas A&M 34, New Mexico 13
Texas A&M 55, New Mexico 14 – SUCCESS!
Alabama at Mississippi State – Alabama is #2, they are getting no credit for a "meh" win over LSU, their pets' heads are falling off! Mississippi State is 7-2. The two losses were blowouts to the #1 team in the nation and the team that's about to beat the #1 team in the nation. I mean, the vibe is there for the Maroons to get the win, but I don't feel it enough.
Alabama 27, Mississippi State 13
Alabama 31, Mississippi State 24 – SUCCESS!
Tennessee at Missouri – Missouri whooped up on Florida last week. Tennessee is bad, but are they "we just fired our coach and don't care anymore" bad? Yeah, probably.
Missouri 38, Tennessee 28
Missouri 50, Tennessee 17 – SUCCESS!
Georgia at Auburn – Check back tomorrow for my prediction in the game preview, but SPOILER ALERT: dead dogs.
Auburn 31, Georgia 21
Auburn 40, Georgia 17 – SUCCESS!
Other Games of Note
Notre Dame at Miami – Notre Dame might be good. Miami is undefeated, but they aren't exactly blowing out bad competition. This is sort of a toss-up within the confines of Auburn homerdom. If Notre Dame wins, they are that much closer to taking a playoff spot. If Miami wins, they are still undefeated and may move into real playoff talk as well. I think Miami might be a bit of a paper champion.
Notre Dame 31, Miami 17
Miami 41, Notre Dame 8 – FAILURE
TCU at Oklahoma – Both of these teams are ranked in the Top 10. Both have one loss. Both losses are to Iowa State by a touchdown. Iowa State is fine. They have three losses and got hot there for a moment, but let's slow down. Oklahoma is going to win this one simply because it's in Norman.
Oklahoma 45, TCU 34
Oklahoma 38, TCU 20 – SUCCESS!
Now that you know who will win, head on over to the 2017 War Blogle Pick 'em and get your picks in. There will be weekly prizes and an overall winner at the end of the season. It's easy. Do it.