Well, after a bad 1st half of this week, the 2nd half got me back in the positive. That's worth something, right?
Bowls: 25-17 (59.5%)
Regular Season: 94-45 (67.6%)
Overall: 119-62 (65.7%)
The final week of bowl season is all about the big boys, and besides the National Championship Game, Auburn plays in the last bowl game.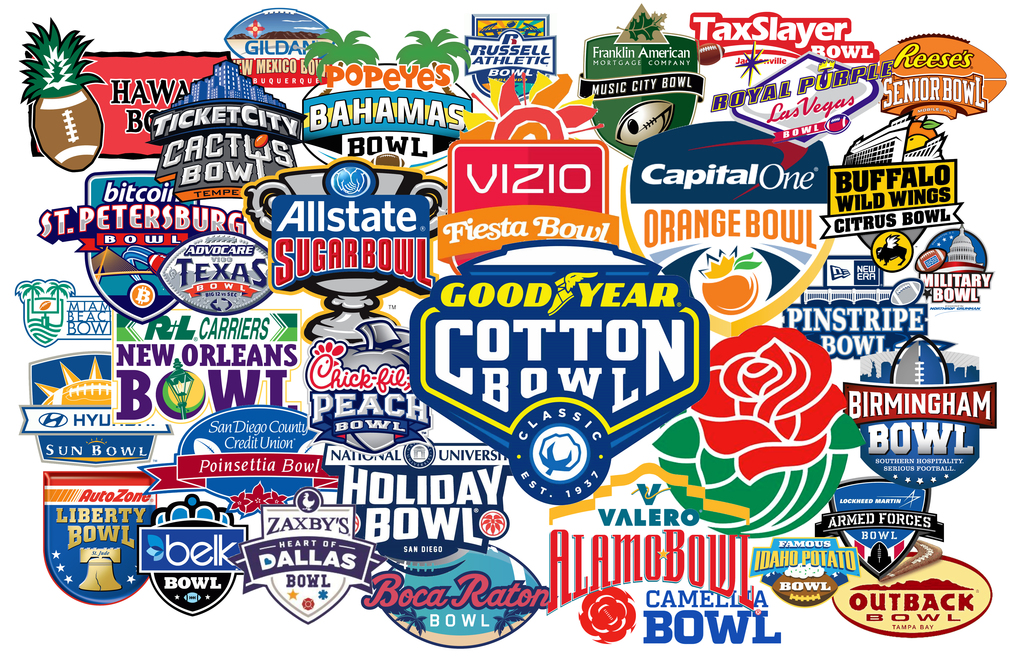 12/31
Buffalo Wild Wings Citrus Bowl (10 a.m. ABC)
LSU vs. Louisville – Boy, the Cardinals really dropped off, didn't they. Nothing against the Citrus Bowl, but they were on the fast track for the playoffs and just fell apart at the end. LSU switched coaches and were mediocre most of the year, with some really weird losses. I'm gonna say SEC wins. I mean, SEC Kentucky beat Louisville, so yeah…
LSU 34, Louisville 30
LSU 29, Louisville 9 – SUCCESS!
Taxslayer Bowl (10 a.m. ESPN)
Georgia Tech vs. Kentucky – What used to be called the Gator Bowl can't really love this matchup. Sure, it was cute that Kentucky had a nice year, but a bowl doesn't want a team like the Wildcats, when 90% of their fanbase is squarely in basketball season. Georgia Tech is fine, though, and will win because of the triple option alone.
Georgia Tech 28, Kentucky 21
Georgia Tech 33, Kentucky 18 – SUCCESS!
Chick-fil-A Peach Bowl (2 p.m. ESPN)
Washington vs. Alabama – I have this slight feeling that Washington is going to surprise Alabama, and then I remember the Huskies losing to the team that Alabama beat by 500. It will be boring. It will be a love fest. But hey, the SEC will get a bowl win. That's all that matters……… right?
Alabama 41, Washington 21
Alabama 24, Washington 7 – SUCCESS!
Playstation Fiesta Bowl (6 p.m. ESPN)
Ohio State vs. Clemson – What if they both lost? I mean, I guess I want whatever team win this game to win the National Championship, which hurts REALLY bad, but I can't dislike two non-Alabama teams more. They are almost the exact same team, with similar resumes and similar pasts. Yes, Ohio State is more prestigious, but both are usually overhyped because they beat up on mediocre conferences. Clemson has closer wins. Ohio State struggled with Michigan, who has proven with losses to Iowa and Florida State that they aren't THAT good.
I think Clemson will win. I just do. That's all.
Clemson 31, Ohio State 27
Clemson 31, Ohio State 0 – SUCCESS!
1/2
Outback Bowl (11 a.m. ABC)
Florida vs. Iowa – If this isn't the most Outback Bowl matchup of all time I don't know what is. I mean, when Auburn isn't playing Wisconsin in it, it's ALWAYS Iowa vs. Florida or Tennessee, isn't it? Seriously, I think it is.
Neither team is as good as their name suggests, and it will be a snoozer.
Florida 17, Iowa 10
Florida 30, Iowa 3 – SUCCESS!
Goodyear Cotton Bowl Classic (11 a.m. ESPN)
Western Michigan vs. Wisconsin – I know it's fun to let Western Michigan play in a big game, but Wisconsin is going to drill them. Now watch it turn into Boise/Oklahoma from a years back.
Wisconsin 34, Western Michigan 10
Wisconsin 24, Western Michigan 16 – SUCCESS!
Rose Bowl (4 p.m. ESPN)
USC vs. Penn State – I know the Rose Bowl is a big deal, but is it a huge deal when one team just has to drive across town? For Penn State it's huge, but does that matter? USC got really good later in the year, and the Nittany Lions were solid most of the year, but I'm going to have to say the team that drove a bus to the game will win.
USC 21, Penn State 13
USC 52, Penn State 49 – SUCCESS!
Sugar Bowl (7:30 p.m. ESPN)
Auburn vs. Oklahoma – Check back later for my prediction in the game preview, but SPOILER ALERT: what won returns.
Auburn 27, Oklahoma 17
Oklahoma 35, Auburn 19 – FAILURE
1/9
National Championship Game (7 p.m. ESPN)
Clemson vs. Alabama – It feels like Clemson is set up to knock off Alabama this year. They blew out Ohio State. They have the advantage of having already done this just a year ago. And Alabama will be using a new offensive coordinator for the first time. It just feels like the Tigers is primed. But I still hate this matchup with the fire of a thousand suns.
Clemson 31, Alabama 20
Clemson 35, Alabama 31 – SUCCESS!