Guys, this is not good. Not good at all. After starting 6-4 in the first week of games, it got way worse the first half of this week. "Meaningless" bowl games are tough to pick, but it's never been this bad.
Bowls: 17-16 (51.5%)
Regular Season: 94-45 (67.6%)
Overall: 111-61 (64.5%)
The 2nd half of week 2 starts to give us some "real" matchups, but it won't matter. 2016 is a terrible year. Let's just end it now.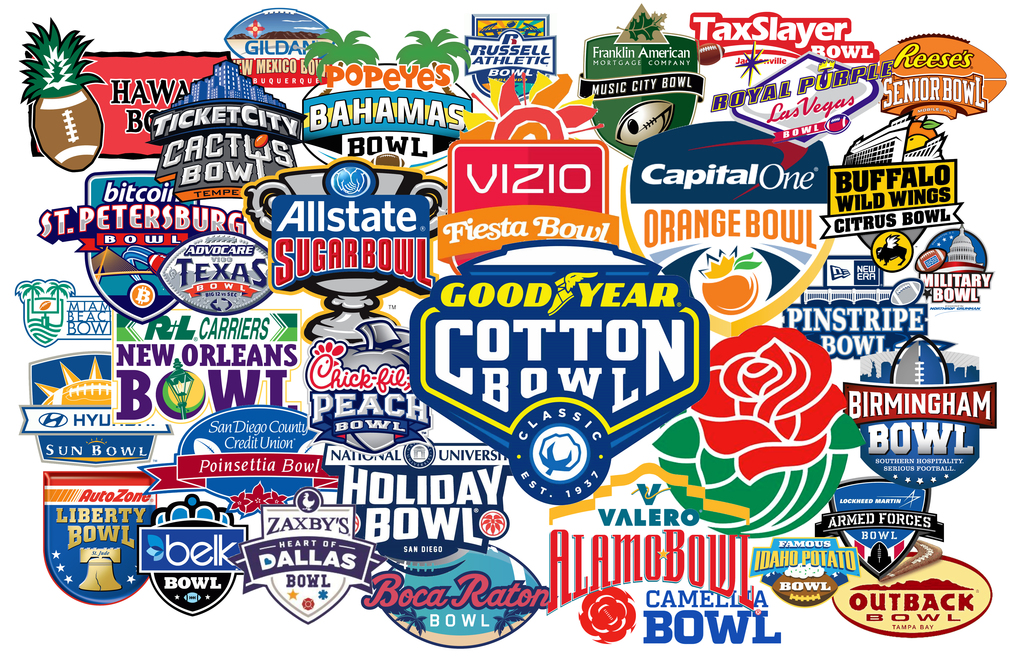 12/28
New Era Pinstripe Bowl (1 p.m. ESPN)
Pitt vs. Northwestern – I hate Northwestern when it comes to a bowl game. Who remembers that stupid 2010 Outback Bowl that Auburn won 100 times? For that reason alone, I'm going with the Panthers.
Pitt 34, Northwestern 13
Northwestern 31, Pitt 24 – FAILURE
Russell Athletic Bowl (4:30 p.m. ESPN)
West Virginia vs. Miami – For some reason, West Virginia has sorta become my 2nd team. I know why, but I can't tell you. It's too embarrassing. If you think you know, leave it in the comments. Miami is coached by Mark Richt, and he's always good to beat teams I like.
Miami 24, West Virginia 20
Miami 31, West Virginia 14 – SUCCESS!
Foster Farms Bowl (7:30 p.m. FOX)
Indiana vs. Utah – Lotta red in this one. Indiana is a mid-level Big Ten at best. Utah is a good Pac-12 team. Utes big.
Utah 41, Indiana 13
Utah 26, Indiana 24 – SUCCESS!
AdvoCare V100 Texas Bowl (8 p.m. ESPN)
Texas A&M vs. Kansas State – Kansas State is the type of team that plays out of their minds on a big stage. They'll lose to somebody like Kansas, but they'll rise to the occasion when it comes to a big time TV game. Texas A&M has been on their annual 2nd half slide, and they'll embarrass the SEC.
Kansas State 31, Texas A&M 28
Kansas State 28, Texas A&M 23 – SUCCESS!
12/29
Birmingham Bowl (1 p.m. ESPN)
South Florida vs. South Carolina – There's no way 2015 Auburn and 2016 South Carolina are at the same level, but so goes the bowl season. South Florida wasn't half bad, but their coach left. South Carolina got better when Jake Bentley took over, but they're still not very good.
South Florida 17, South Carolina 10
South Florida 46, South Carolina 39 – SUCCESS!
Belk Bowl (4:30 p.m. ESPN)
Arkansas vs. Virginia Tech – For some reason this sounds like a nice little matchup. Arkansas is like Kansas State. They can lose to anybody, but when people are watching, they are pretty good. The Hokies benefited from the ACC's version of the SEC East. I like the Hawgs in this one.
Arkansas 42, Virginia Tech 34
Virginia Tech 35, Arkansas 24 – FAILURE
Valero Alamo Bowl (8 p.m. ESPN)
Oklahoma State vs. Colorado – The Buffs had a slight shot at the playoffs late in the season. Oklahoma State was a game away from the Big 12 title. These two used to play every year until Colorado starting pretending they are on the West Coast. I guess in terms of making weed legal they are very similar. Oklahoma State is another one of those teams I don't mind, so I'll go with them.
Oklahoma State 38, Colorado 21
Oklahoma State 38, Colorado 8 – SUCCESS!
12/30
AutoZone Liberty Bowl (11 a.m. ESPN)
Georgia vs. TCU – This is a weird game. Both are big names, but had bad years. They are both known for winning lots of games and having nothing to show for them. Now they're just not winning that many games. TCU is probably a little less embarrassed about playing in the Liberty Bowl, but Georgia has more talent.
Georgia 20, TCU 10
Georgia 31, TCU 23 – SUCCESS!
Hyundai Sun Bowl (1 p.m. CBS)
Stanford vs. North Carolina – Because I think skipping your last bowl game to "prepare for the NFL Draft" is stupid, I will not be picking Stanford.
North Carolina 28, Stanford 7
Stanford 25, North Carolina 23 – FAILURE
Franklin American Mortgage Music City Bowl (2:30 p.m. ESPN)
Nebraska vs. Tennessee – This sounds like a National Championship Game from the mid-to-late 90's, but both teams really haven't been close to that level since then. Nebraska had two respectable losses and then got blown out by Iowa. Tennessee got blown out by any team that should've beaten them.
Nebraska 34, Tennessee 28
Tennessee 38, Nebraska 24 – FAILURE
Nova Home Loans Arizona Bowl (4:30 p.m. ESPN)
South Alabama vs. Air Force – South Alabama's first bowl game isn't half bad. You get to play a service academy. You get to play in a bowl that doesn't have a terribly embarrassing name. You get to be the lead-in game for the first big bowl game of the year. Despite all that, they won't win. Sorry.
Air Force 27, South Alabama 17
Air Force 45, South Alabama 24 – SUCCESS!
Capital One Orange Bowl (7 p.m. ESPN)
Michigan vs. Florida State – The Wolverines were probably a little overhyped this year. They did hang with Ohio State, and probably should've won the game, but they didn't. They also barely left the state in any of their games. Florida State is typical Florida State without Jameis. They can be really good in the ACC, but they aren't elite. This game is really even, and I have no clue who is going to win. I have about the same level of hate for each as well. It's not too high, but it's up there.
Michigan 31, Florida State 28
Florida State 33, Michigan 32 – FAILURE
Now that I've picked the bowls, you should go join the bowl pick'em. Just make sure you have them in prior to each game, but go ahead and do them all so you don't have to worry about it. There's prizes and stuff.