The first week of bowls weren't anything to write home about. Neither were my predictions. Hopefully things ramp up quickly.
Bowls: 10-11 (47.6%)
Regular Season: 94-45 (67.6%)
Overall: 104-56 (65.0%)
Week 2 of the bowl season is always the most busy, so I split them into two prediction posts. Things are starting to look up. Yeah, I think there's actually a ranked team or two in these. Hopefully I can start picking like I'm ranked or something.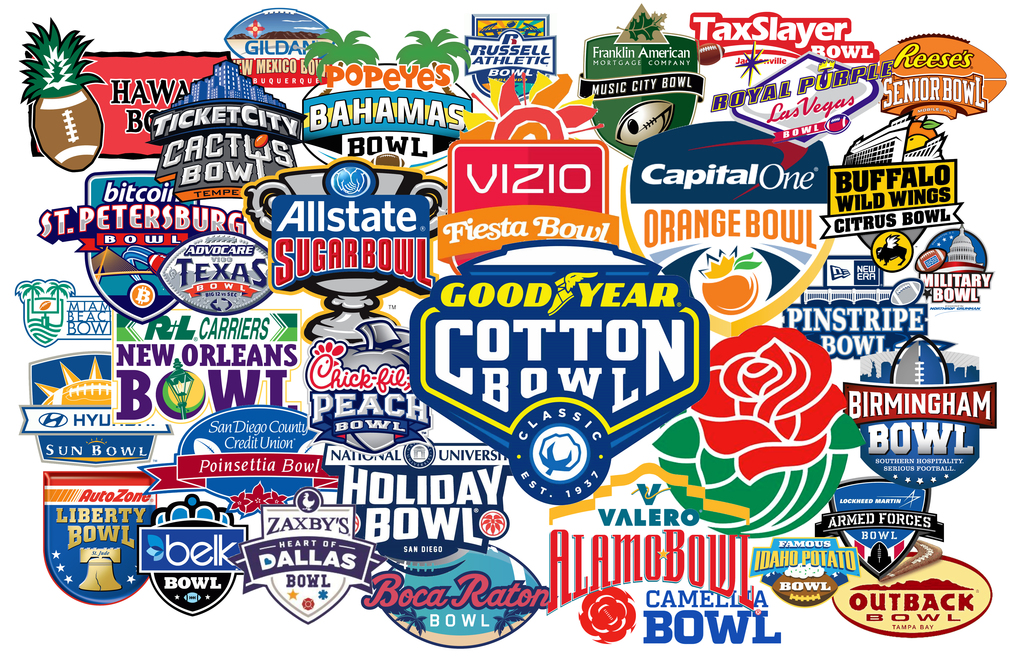 12/23
Popeyes Bahamas Bowl (12 p.m. ABC)
Eastern Michigan vs. Old Dominion – The directional Michigan schools have come on strong the last few years, and Eastern is the newest to the mix. They were blown out by Missouri, though, so…
And who knew Old Dominion had a football team? We've seen them through the basketball ranks over the years, but this is honestly the first time I've seen them in anything related to football. Just checked, they restarted the program in 2009 and already winning nine games, so I'll go with them.
Old Dominion 35, Eastern Michigan 31
Old Dominion 24, Eastern Michigan 20 – SUCCESS!
Lockheed Martin Armed Forces Bowl (3:30 p.m. ESPN)
Louisiana Tech vs. Navy – It seems like I say this every year: how fair is it that the Navy gets to play in anything called the Armed Forces Bowl? It immediately makes the opponent an enemy of the state. This year that's Louisiana Tech, but they aren't good enough to be a viable threat to the country.
Navy 28, Louisiana Tech 7
Louisiana Tech 48, Navy 45 – FAILURE
Dollar General Bowl (7 p.m. ESPN)
Ohio vs. Troy – I know we've had some embarrassing bowl game names over the last few years, but this may take the cake. I shopped at Dollar General for a few Christmas gifts yesterday and let me tell you, you don't want anything to be named a Dollar General but an actual Dollar General.
Troy has been pretty hot all season. For a while, their only loss was to Clemson. Ohio is typical Ohio. A high level MAC team. Troy wins.
Troy 41, Ohio 31
Troy 28, Ohio 23 – SUCCESS!
12/24
Hawai'i Bowl (7 p.m. ESPN)
Hawai'i vs. Middle Tennessee State – Who is more excited to play in this bowl? The team that lives in paradise or the team that's visiting paradise from the middle of Tennessee? I'll go with the Blue Raiders, who ain't a bad little football team.
Middle Tennessee State 24, Hawai'i 20
Hawai'i 52, Middle Tennessee State 35 – FAILURE
12/26
St. Petersburg Bowl (10 a.m. ESPN)
Miami (OH) vs. Mississippi State – The Maroons got into bowl season with a 5-7 record because they had good grades last year. Seriously, that's it. That being said, they definitely got better over the back end of the season and Ben Roethlisberger ain't walking out of that RedHawk locker room. I've said "ain't" in back-to-back predictions. It's Christmas, get off me.
Mississippi State 45, Miami (OH) 21
Mississippi State 17, Miami (OH) 16 – SUCCESS!
Quick Lane Bowl (1:30 p.m. ESPN)
Maryland vs. Boston College – I can honestly say I did not watch either of these two teams play all season, but Boston College somehow inexplicably beat Auburn in basketball so I hope Maryland wins by 100. Oh, and this is an Under Armour battle.
Maryland 17, Boston College 13
Boston College 36, Maryland 30 – FAILURE
Camping World Independence Bowl (4 p.m. ESPN2)
North Carolina State vs. Vanderbilt – This is a nice little game right here. Vandy is good enough and North Carolina State is mediocre enough for it to be a pretty even matchup. Vandy does have Vandy in them and could get blown out, and the Wolfpack was a missed chip-shot field goal from beating Clemson, but I feel like Derek Mason's vest is going to be the difference in this one.
Vanderbilt 20, North Carolina State 10
North Carolina State 41, Vanderbilt 17 – FAILURE
12/27
Zaxby's Heart of Dallas Bowl (11 a.m. ESPN)
Army vs. North Texas – Army is back to bowling. The last time I remember them in a bowl was when they played Auburn in the 1996 Independence Bowl. Auburn was up 32-7 and then I fell asleep because it was New Years Day and I had been up all night partying as a 13 year old. I woke up just as Army had scored 22 4th quarter points and I think missed a game-tying field goal. Unlike that Independence Bowl, they'll beat North Texas.
Army 34, North Texas 17
Army 38, North Texas 31 – SUCCESS!
Military Bowl presented by Northrup Grumman (2:30 p.m. ESPN)
Temple vs. Wake Forest – Temple was really good this year, but lost their coach. Wake Forest started their season 5-1 and ended their season 1-5. That's not a good trend. Owls up.
Temple 45, Wake Forest 20
Wake Forest 34, Temple 26 – FAILURE
National Funding Holiday Bowl (6 p.m. ESPN)
Minnesota vs. Washington State – Yep, never saw the Gophers play a game this year, either. But I do know the Pirate had a good squad this year. Cougs win. Cougars always win.
Washington State 62, Minnesota 34
Minnesota 17, Washington State 12 – FAILURE
Motel 6 Cactus Bowl (9:15 p.m. ESPN)
Boise State vs. Baylor – Boise State had a Boise State year. Baylor started hot and faded fast. Very fast. I'll go with the fighting Blue Fields.
Boise State 38, Baylor 28
Baylor 31, Boise State 12 – FAILURE
Now that I've picked the bowls, you should go join the bowl pick'em. Just make sure you have them in prior to each game, but go ahead and do them all so you don't have to worry about it. There's prizes and stuff.