I didn't feel like things went bad last week, but in terms of my predictions… not too good. I need to turn that around now, and just like Auburn, this is the week to get every little bit right.
Last week: 6-4 (60.0%)
This week: 9-1 (90.0%)
Overall: 40-19 (67.8%)
Nationally, there are quite a few good games, but inside the SEC, the big games are only big because of the names.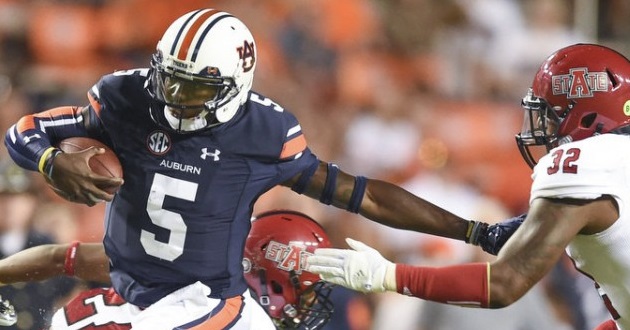 10/1
Alcorn State at Arkansas – It's week 5 and Bert is already on cupcake number three, which is strange because it usually only takes him about 5 minutes to get three deep on those red velvet cups of cake.
Arkansas 35, Alcorn State 7
Arkansas 52, Alcorn State 10 – SUCCESS!
Florida at Vanderbilt – In terms of Vandy, the Commodores aren't playing too badly. The Gators are probably reeling after losing a huge lead and a huge streak against Tennessee last week. I think Florida wins, but it will take more work than expected.
Florida 24, Vanderbilt 14
Florida 13, Vanderbilt 7 – SUCCESS!
Tennessee at Georgia – Just when I think it can't get any worse, it does. Let's run through Top 10 Tennessee's resume: OT win over Appalachian State, pulled away from a bad Virginia Tech late, struggled against Ohio, and beat Florida's 2nd-string QB. Now they get to go to Athens where a team just lost by 20+ and should've lost to Nicholls the week before. But no, let's ignore all of that because you've heard the name Tennessee and Georgia before and that sounds like a big deal.
Tennessee 31, Georgia 23
Tennessee 34, Georgia 31 – SUCCESS!
Texas A&M at South Carolina – The Aggies look like they always do. They start of strong, but usually end up losing a few. I don't think that starts this week as the Gamecocks just lost to Kentucky. Yeesh.
Texas A&M 45, South Carolina 10
Texas A&M 24, South Carolina 13 – SUCCESS!
Kentucky at Alabama – The Crimson Tide may be without a star linebacker following an arrest this week. It could bode well for the Wildc…. who am I kidding? That guy practices in the heat while we're all in the air conditioning. Alabama beats the basketball boys big.
Alabama 38, Kentucky 13
Alabama 34, Kentucky 6 – SUCCESS!
Memphis at Ole Miss – Memphis probably treats this game like the Super Bowl. Too bad their not that super. Ole Miss has their offense rolling, and despite their struggling defense, they shouldn't struggle with these Tigers. But wait, Memphis beat Ole Miss last year…NOPE.
Ole Miss 41, Memphis 14
Ole Miss 48, Memphis 28 – SUCCESS!
Missouri at LSU – Well this is a weird one. As much as I don't like Missouri, they have been scoring lots of points (against really bad teams), and LSU can't score points and now have an interim coach. I can see the LSU fans packing it in, but I can also see many of them really glad that Les is gone and see this as the start of a new season. I really don't know where this one is going. Fournette's probably out so I'm going to pick an upset I don't want to see.
Missouri 28, LSU 21
LSU 42, Missouri 7 – FAILURE
UL-Monroe at Auburn – Check back tomorrow for my prediction in the game preview, but SPOILER ALERT: offensive betterment.
Auburn 54, UL-Monroe 6
Auburn 58, UL-Monroe 7 – SUCCESS!
Other Games of Note
Wisconsin at Michigan – Remember, Wisconsin is ranked in the top 10 because they beat LSU. Michigan is ranked in the top 5 because their coach stays in the news.
Michigan 24, Wisconsin 17
Michigan 14, Wisconsin 7 – SUCCESS!
Louisville at Clemson – This is a big game. The trends say Louisville wins big. But I just don't see it happening. Clemson's D is probably the best the Cardinals have played all season. It may not be enough, but I'm picking what I want to happen in this one.
Clemson 41, Louisville 38
Clemson 42, Louisville 36 – SUCCESS!
Now that you know who will win, head on over to the 2016 War Blogle Pick 'em and get your picks in. There will be weekly prizes and and overall winner at the end of the season. It's easy. Do it.