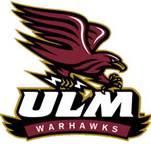 The Northeast Louisiana/Louisiana-Monroe/LA-Monroe/UL-Monroe/ULM Indians Warhawks are currently 1-2 and coming off a bye week. They beat Southern modestly, were blasted by Oklahoma, and lost a close one to Georgia Southern. That's about all I know.
For a year or two there, the Warhawks were a scary little team. Of course we all remember that beautiful day when they beat Saban's first Alabama team. We remember 2012 when they beat Arkansas in overtime the week before losing to Auburn in overtime. But other than that, the haven't put a scare into many other teams.
Auburn is 9-0 against the Warhawks and I don't see that 2nd number changing on Saturday. I'm sorry, Willie Robertson of Duck Dynasty fame, I just don't.
Auburn has already dispatched one SunBelt team this season, a Sunbelt team that appears to be pretty bad (Arkansas State is now 0-4), and if things go as they should, the Tigers should be able to put another notch in their (sun) belt.
Despite the lack of touchdowns last week, the Auburn offense moved the ball against a really good defense. The redzone was the only part of the game that wasn't worthy. It's these types of games where those things get fixed.
Malzahn teased that we may see something a little different inside the redzone this week. Does that mean I-formation? I sure hope so. It's what I said needs to happen when Tony Franklin was here and any other year without Cam Newton in the back field.
Whatever the difference is, Auburn should be able to work out the kinks this week, somewhat like they did with Arkansas State. Following the loss to Clemson, where five different people took snaps, the Tigers used the Red Wolves to figure out how to run the offense with one quarterback. Now that Auburn has that figured out and has done somewhat so against really good teams, it's time to use a lesser team to figure out the rest.
The 1st-string Auburn defense should not surrender a single touchdown. The Auburn offense should not punt one time. Sean White should throw it at least 30 times, and John Franklin should play the entire 4th quarter.
After the September that Auburn had to play, this is the most welcome UL-Monroe has ever been to me. It's a good week for people to come home (it's Homecoming), take it easy, and watch Auburn go above .500.
Auburn 54, UL-Monroe 6