Following a 700+ yard performance against Arkansas State, it appeared that all things Clemson had been rectified. The defense had played pretty stellar for the first two games of the season, but it looked like the offense had gotten things worked out and a very complete team was ready for the Aggies of Texas A&M to visit the Plains.
After the 2nd drive of the game, where Auburn used a heavy dose of pace and a heavier dose of Kamryn Pettway, it appeared some adjustments were made by Texas A&M defensive coordinator John Chavis. It didn't hurt that they were playing with arguably the best defender in the game, Myles Garrett, who blew up the very first play of the game, but something happened.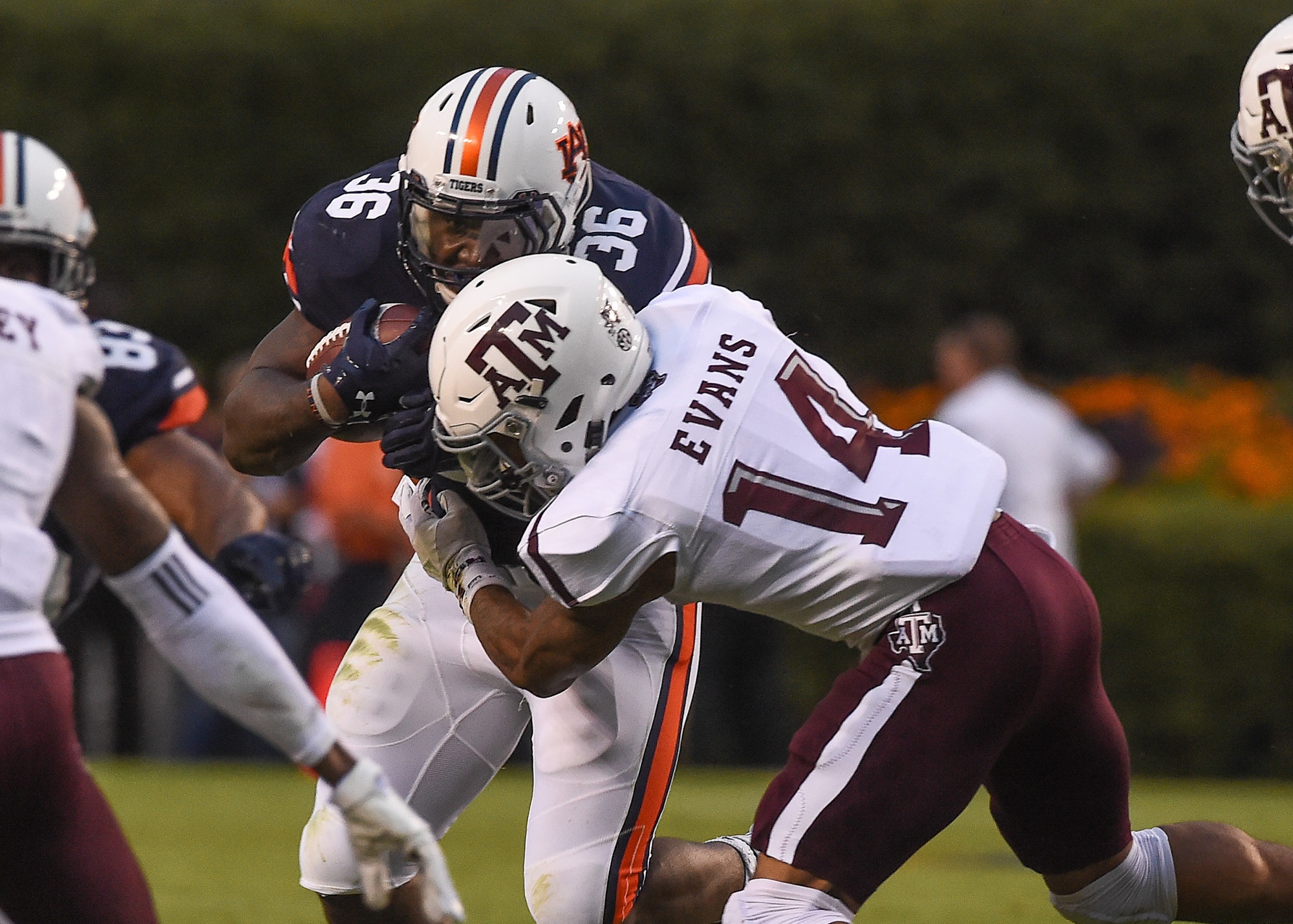 Sean White had little to no time to throw the ball, which eventually caused Gus to abandon the deep ball. Kevin Sumlin also mentioned post-game that their biggest concern in the secondary was to stop passes over the top. That's where Auburn can hurt people, and the Aggies took it away from defensive line all the way down the field.
As I said in the Clemson game, I don't care who is playing quarterback or running back, if there is no time to do anything, you can't do anything. That being said, there were times when plenty of protection was given and what had seemingly become sure-handed receivers dropped many, many crucial 3rd down passes. Not to mention coughing up a fumble on the first play after a huge defensive stop.
It seems the angriest of fans have decided to latch on to the idea of play-calling as the sole reason for Auburn's offensive problems this year. In the first game, there was an argument to be made with the swapping of quarterbacks after every few plays. But aside from the deep ball that Auburn used liberally in the Arkansas State win, which was taken away by a good defensive line and strategy in the secondary, I feel like the game was called pretty similarly.
There was some pace. There were only a handful of plays that you may call tricky. The run game was strong with over 240 yards. There were just too many mistakes and lapses in execution. The fact that this offense wasn't facing a SunBelt defense and was instead facing a John Chavis defense might have had something to do with it as well.
When it comes down to it, Gus Malzahn knows more about football and play-calling and designing plays than me and the millions reading this combined. After coaching tee-ball for two years and coach-pitch for one year, I know without a doubt that coaches coach and players play. You can coach and coach and coach, but when it comes down to it, the quarterback has to throw the ball and the receiver has to catch it. That didn't happen as often as it should.
After that didn't happen, and the game seemed to be over, Malzahn tried to give the team a shot in the arm with John Franklin III at quarterback. It's hard to really gauge how effective that was. He did run for some first downs. He did step out of bounds on 4th down when the game was all but over. But after about 3-4 runs, the Aggie defense swallowed up the zone read, knowing he wasn't really going to throw. He did end up throwing a few after that, and as far as I remember all were decent and caught. But like I said, the game was all but over.
As far as the defense is concerned, save the one 95-yard back-breaking run that sealed the game, this is the best Auburn defense I've seen since 2006, and maybe since 2004. Travis Williams has the linebackers playing out of their minds, and aside from some trouble in the really weird option play that the Aggies ran a few times (you can throw the ball after running 15 yards down field as long as it's a backwards throw), the defensive backs played pretty well against 5-star receivers that were a foot taller than them.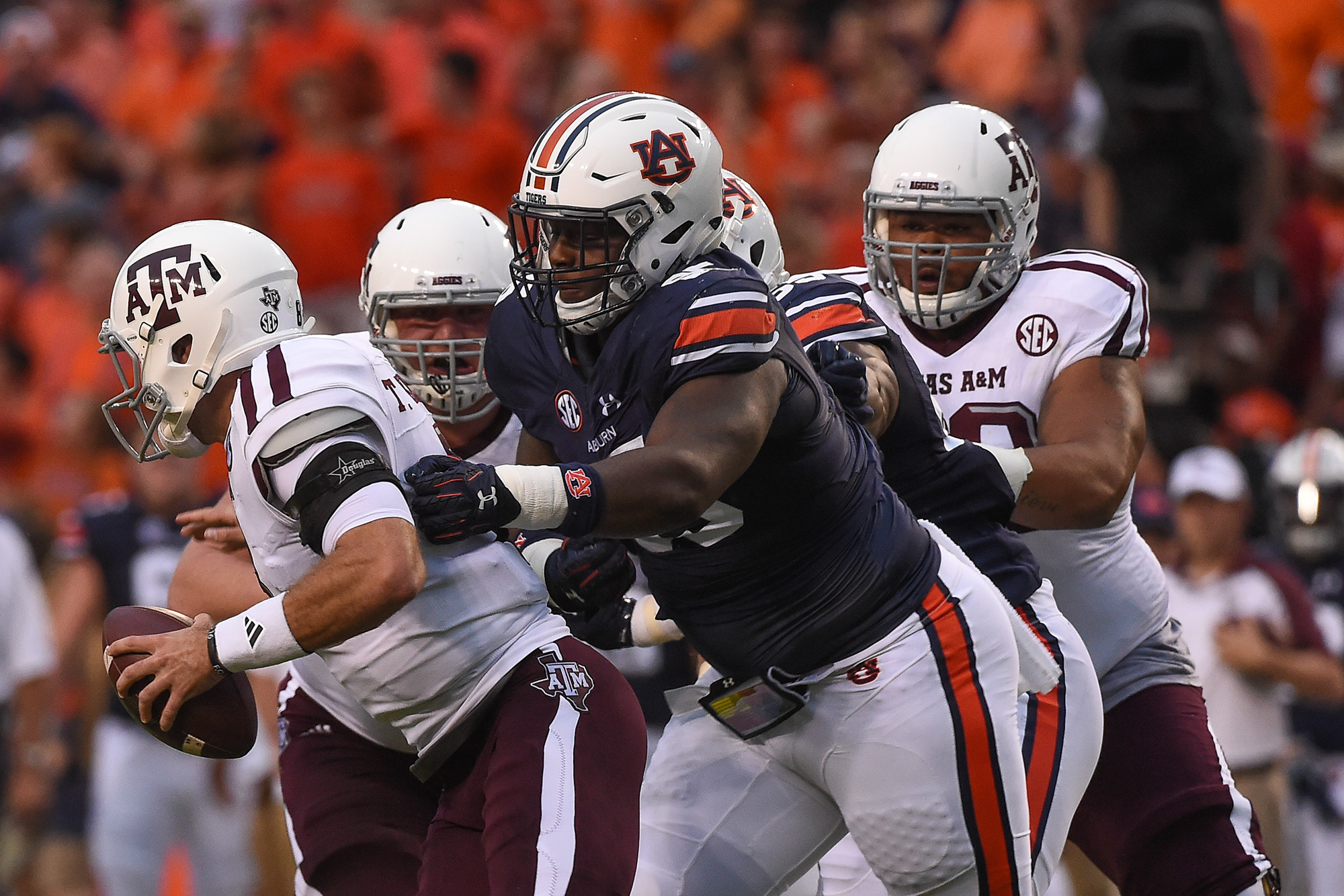 The defensive line had their shot at a few sacks, but Trevor Knight's legs gave them a little bit of trouble. He's going to do that to teams for a while. He doesn't look like he should be able to run, but he can, and with the scare of their monster receivers, he's always going to be able to run for a first down here and there.
While we're at it, I don't buy into the "it's a shame this defense has to work this hard for the offense" idea. I'm pretty sure the offense is what has saved Auburn for the last decade. Nevertheless, nothing's perfect, and Kevin Steele has admitted that the defense still has a long way to go, but this unit is very good, and I've been glad and proud to see it.
Overall, it was a frustrating game. The Aggie defense had a good gameplan and they got the passing game knocked out quickly, which then forced Auburn to run a simplistic offense that the best defensive end in football fed on.
Even still, Auburn had their shot to beat another Top 10 team in the 4th quarter. Almost is not enough, but it's not awful. This team is laden with freshmen and Sean White is still a young quarterback. The season isn't over, and until Alabama, it's probably going to be much easier than what the Tigers have already faced.
Now on a different note, I wanted to talk about the actual vibe around campus leading up the game.
The day started with a nice overcast sky. It appeared that it was going to be a lovely college football day, especially considering the scorchers from the previous two weeks.
As the day went on, including a decent rain for 15-minutes or so, I kept waiting on the normal tailgating scene to show up. But no, campus was dead. Why? It was the Texas A&M game, the first SEC game, a big game for the rest of Auburn's season.
The tailgating traffic did pick up throughout the day, but the mood was that of a SunBelt opponent. Honestly the crowd was bigger and more rowdy for the Arkansas State game. I didn't get it.
Then I got in the stadium, and the corners of the upper deck were empty. There were seriously more fans at the Arkansas State game (the first non-sellout in 17 games), after which excitement seemed to be back up following a close loss to Clemson. Most thought Auburn had a shot at knocking off the Aggies, but where was everybody? I didn't get it.
Maybe LSU is a real enough SEC team to bring everybody back. We'll see…
And don't tell me you're not coming to another game until this offense is fixed or somebody is fired. I am talking about before the game I just reviewed. Seriously, don't. It's LSU week.