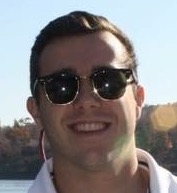 Landon Young (@96ForeverYoung) is the site expert for Maroon & White Nation, and is an alum of the Mississippi State University College of Business. He loves college football more than any sport out there, is a Marvel movie lover, an average disc golf player, and a rocket league baller. This is Landon's 3nd appearance on the Other Sideline. He's fine, for a Mississippi State fan.

1. What is a Mississippi State fan's current thoughts on Auburn football?
Hmm… I'll play this one nicely. I think Auburn football has talent all over the field which has kept them in many games this season, but the program has just had a rough-go-round this season and the months leading it up to it.
2. Go ahead and lie and say y'all didn't want John Cohen anymore…
No, I'll be honest, I didn't necessarily want to see John Cohen go anywhere, but I don't think it's as big of a deal as many Mississippi State fans are making it out to be. I wish John Cohen the best, and I only have one ask… Take Lane Kiffin away from Ole Miss… now.
3. Does the recent coaching change and interim status of Carnell Williams give you any worry since there is no film on a possibly modified version of the offense?
Absolutely. I would feel better about this game if Bryan Harsin was still the head coach at Auburn.
4. What's the vibe like on Mike Leach?
Saturday's game will tell Mississippi State fans a lot. I think our fanbase really wants an Egg Bowl win from Mike Leach, and once that happens, the vibes trend up.
5. Name two relatively unknown Bulldogs that Auburn fans should lookout for.
Jaden Crumedy (DL) and Nathaniel Watson (LB). Jaden Crumedy has been out with an injury all season but returns for Saturday's game vs. Auburn. He was a huge asset for the Bulldog's defense last year, and I expect him to make a difference as soon as he hits the field on Saturday night.
Nathaniel Watson, aka Bookie Watson, has been the leader of Zach Arnett's mean, nasty 3-3-5 defense, and he might lead the Bulldogs in tackles on Saturday.
6. Name the two Auburn Tigers that worry you the most.
First, the obvious Tank Bigsby. With a name like that, who wouldn't be worried?
Secondly, I'm going with the new interim head coach, Cadillac Williams. Seriously Auburn… Cadillac and Tank, that concerns me.
7. Where do you see each team having an advantage over the other?
Mississippi State has the advantage with the game being at home. The Bulldogs have played differently at Davis Wade Stadium this year, and the cowbells help.
Auburn has the advantage in the run game. Kentucky exposed the Mississippi State defense and rushed for 200 yards. I think Auburn will try to attack the ground early and often.
8. What's your analysis and score prediction for this game?
I've got the Bulldogs pulling away in the 4th quarter, 42-27.
9. Where do you see Auburn and Mississippi State ending up this season?
I want to see Mississippi State finish the season 8-4 with an Egg Bowl win, but you never know with that game. I think Auburn just needs to push through 2022, rely on their talent, and win 5 games.
10. On a scale of 1 to 10, how much do you hate Auburn and why?
Great question. I'll go 6.5. I was at 9.5 in 2010 when Cam Newton was ringing a cowbell in Starkville, Mississippi, but it's gone down since then.