7. Auburn 40 vs. Georgia 17 – Nov. 11, 2017
Note: This game was not in the 2010 edition or the 2015 edition of this list because it was played in 2013.

How I Remember It: It was fun. Georgia was ranked #1, but nobody believed it. And I don't want anybody acting like what happened after this game changes that. They weren't the best team in the nation. Auburn proved it early and often.
Auburn messed with them. Auburn ran a 200-yard screen pass to Kerryon Johnson. Georgia scored a late touchdown to make it look 1% respectable. It wasn't. Auburn whipped the dawg crap out of 'em.
What Really Happened: Well maybe Auburn didn't score early and often. The scoring was started by Nick Chubb and Daniel Carlson added two field goals to round out the 1st quarter. He added one more a few minutes later and then Jarrett Stidham threw a 40+ yarder to Darius Slayton who used his body to shield the defender as he landed in the endzone. After that it was all Auburn.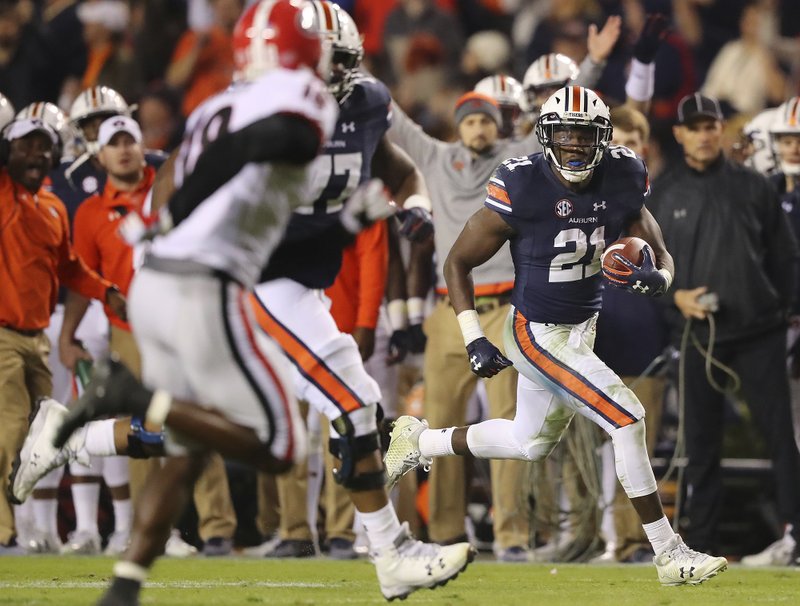 Stidham ran one in, Ryan Davis took a short pass to the house, to a 30-7 lead. The nerd kicker from Georgia made a field goal to make 30-10, but who cares? Carlson added another to negate those 3 points as the 4th quarter was getting rolling.
Then Kerryon had the 55-yard (not 200-yard) screen pass that was just demoralizing to the DWAGS and put the score at 40-10. Remember, Georgia was ranked #1. Fromm threw a trash time touchdown pass, but the beatdown was already complete.
Why did I pick this game? By definition of a good game, this probably wasn't one. Good games are usually reserved for back and forth battles. This wasn't a battle. This was fun. That's all it was. That's why it's here.
Fun Fact: In true Georgia fashion, a late hit on Kerryon eventually caused injury that would be the sole reason Georgia won the rematch three weeks later. The sole reason.
Play of the Game: Kerryon's long throwback screen stuck the dagger in the DAWGS.
"Come on and join our convoy
Ain't nothin' gonna get in our way" pic.twitter.com/jy3OOFQgaG

— CBS Sports (@CBSSports) November 11, 2017
Player of the Game: Jarrett Stidham was 16-23 for 214 yards, but had three touchdown passes. He can thank Ryan Davis and Kerryon Johnson's runs for two of those, but still quite strong.
Quote of the Game: "We knew we had a great team, but we had to go out and prove it. We did that today and that's something we can hang our hat on." – Kerryon Johnson
Game Story: ESPN
Game Highlights: 
You can view the rest of the 2020 edition of this list here.