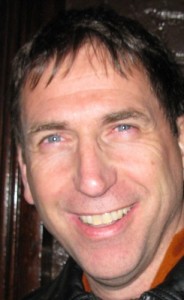 Olin Buchanan (@olinbuchanan) is a columnist/assignments editor for TexAgs.com. He previously worked as a Texas A&M beat writer for the Bryan-College Station Eagle and the Austin American-Statesman. He also was a national CFB writer for Rivals.com and Yahoo! Sports. Olin has been on the Blogle a lot. Like, more than any other Other Sideline guest. It means a lot.

1. After losing a lead before beating UCLA in overtime and then blowing out Prairie View, what do we really know about Texas A&M?
We know what we always knew. The Aggies have a strong pass rush, a good secondary and explosive receivers. Beyond that, there are still many questions. We think A&M has a better running game. We think Trevor Knight is a competent game-managing quarterback. We think A&M's rancid run defense of the past three seasons is much improved. But we still don't know for sure. Prairie View was overmatched, UCLA seemingly wants to run to complement its passing game and was one of the worst run defenses in the country last season. The Aggies have shown progress, but we will know a lot more after the game on Saturday.
2. What's the excitement level like in College Station right now?
Aggies are always excited for football season and typically are optimistic — sometimes without good reason. The same this year, although there also a sense of apprehension. The Aggies started fast the last two seasons and then faded in the second half. Fans want to believe that won't be the case this year. The victory over UCLA was encouraging.
3. What are Aggie fans thinking about Auburn right now? Clemson did not happen.
I believe Aggies fans respect Auburn, especially after the Tigers ran all over them last season. They know Auburn has strong offensive and defensive lines. I do believe the average Aggie is very confident this week, but has learned not to take an SEC opponent for granted (unless, of course, that opponent is South Carolina).
4. Who are two Aggies that Auburn fans may not know that they should be looking out for.
I'm not sure how much Auburn fans know about safety Justin Evans, but he's a big-hitter and very good in pass coverage. He intercepted Josh Rosen twice. Auburn fans probably don't know about defensive tackle Kingsley Keke, but they will learn. He's a big sophomore, who played some last year but seems to have made giant strides this year. He's good against the run and can provide an inside pass rush.
5. Which two Auburn Tigers worry you the most?
After last year … whoever runs the football. That would be Kerryon Johnson, right? He's been productive. Until A&M shows long term consistency in run defense Aggies have to be worried by a good running back.
Probably, Carl Lawson would be next. A&M needs to get the football to its receivers to take advantage of their big-play capabilities. Lawson may not give Trevor Knight time. He's a major concern.
6. What's the biggest matchup that will decide the game and why?
Left tackle Avery Gennesy is the only starter in the offensive line who was a starter last season. He has 15 starts. The rest of the offensive line has combined for nine. A&M's unproven line faces a huge task in blocking Auburn's defensive front. A&M has more explosive offensive players, but may not be able to capitalize of their big-play ability if Auburn dominates the line of scrimmage. Obviously, A&M has to fare better in run defense than a year ago. They probably will. But whether the O-line can hold up is a much bigger question.
7. If you could do anything with the beveled T, what would it be?
Replace it with a traditional block T.
8. What's your score prediction and analysis for the game?
I believe A&M has more scoring potential with Knight and his receivers. The Aggies also have a big-play element at running back with Keith Ford and Trayveon Williams that they did not have a year ago. I'd guess that scoring potential would lift A&M to a 24-17 victory unless the offensive line is just completely overmatched.
I think Auburn will have difficulty scoring on A&M's defense. The Tigers only managed 26 points last year with 311 rushing yards. I'm doubting Auburn gets nearly that much this year. A&M cannot help the Tigers with turnovers. If the game is tied or close late in the fourth quarter Auburn will have an edge with Daniel Carlson. Still, the guess here is that A&M prevails. The visiting team always does in this series.
9. Where will Auburn and Texas A&M end up this season?
Tough call. If A&M beats Auburn I think the Aggies will be on the way to a 9-3 regular season … possibly even 10-2. Auburn's offense is a concern. I know the Tigers move the ball last week, but Arkansas State isn't a threat. I go back to the Clemson game and how they could not capitalize on excellent field position in the fourth quarter. That defense, though, will keep Auburn in games and Carlson will win some. The guess here is Auburn finishes about 7-5.
10. What's that on your thumb?
A thumbnail?