After the best opening weekend of college football of all time, the sport returns with literally the worst weekend I have ever seen. There is not one ranked-on-ranked matchup in the entire nation. There is maybe one slightly intriguing matchup in all of the SEC. But it's football, I guess, and it's week like these that sometimes give us the weirdest upsets.
Last week: 9-5 (64.3%)
This week: 9-4 (69.2%)
Overall: 18-9 (66.7%)
Given the amount of huge games and weird turnouts, going 9-5 last week isn't the worst thing in the world I guess. I mean, I could've lost to South Alabama.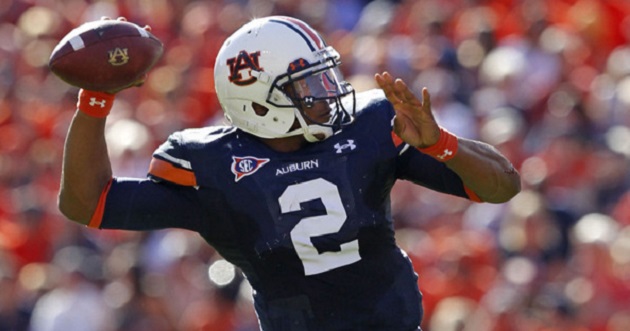 9/10
Nicholls at Georgia –  I guess Nicholls dropped the State? Which is sort of funny because Troy dropped the State and the only Troy State game I ever watched was against Nicholls State. HILARIOUS. Georgia big.
Georgia 48, Nicholls 13
Georgia 26, Nicholls 24 – SUCCESS!
Prairie View A&M at Texas A&M – BATTLE OF THE AGRICULTURAL AND MECHANICAL POWERHOUSES. Seriously, ESPN doesn't even have a team page for PVAM, which sounds like a progressive rock band from 1999.
Texas A&M 63, Prairie View A&M 7
Texas A&M 67, Prairie View A&M 0 – SUCCESS!
Western Kentucky at Alabama – The Hilltoppers blew out Rice last week, but Alabama beat USC by even more. So I guess that tells us what will probably happen in this one.
Alabama 42, Western Kentucky 7
Alabama 38, Western Kentucky 10 – SUCCESS!
Kentucky at Florida – This is the CBS game. THIS is the CBS game. Kentucky scored some points, but blew a lead to Southern Miss. Florida didn't score that many points against UMass. It might be closer than we think. Florida beat Kentucky by 5 points last year and 6 points (in OT) the year before. And that OT game was crazy. Kentucky sorta owes Florida one or two. But they won't do it.
Florida 31, Kentucky 20
Florida 45, Kentucky 7 – SUCCESS!
Wofford at Ole Miss – This schedule… Woof-ford. Ok, that was funny. Ole Miss letdown this week after letting FSU of the hook last week? Hope so. Nope.
Ole Miss 52, Wofford 13
Ole Miss 38, Wofford 13 – SUCCESS!
Middle Tennessee State at Vanderbilt – The Blue Raiders beat Alabama A&M 55-0 last week, which bodes well for Auburn later this season. Vanderbilt blew a 10 point lead at home to a not very good South Carolina. State wins.
Middle Tennessee State 27, Vanderbilt 13
Vanderbilt 47, Middle Tennessee State 24 – FAILURE
Arkansas at TCU – I guess this is a the biggest matchup in the SEC this week? Arkansas beat Lousiana Tech by 1 point, and TCU was tied with South Dakota State at halftime. Maybe these two teams that are always fun to give early credit to aren't that great this year. TCU is better than Arkansas, though.
TCU 31, Arkansas 17
Arkansas 41, TCU 38 (OT) – FAILURE
South Carolina at Mississippi State – Hoo boy. Will the stands be empty at Davis Wade Stadium? I'm sure some South Carolina fans will come over, but after that loss to South Alabama last week, I don't see too much excitement for this one. But I guess the Bulldogs will rebound a home against a team that needed a 55-yard field goal to beat Vandy.
Mississippi State 24, South Carolina 17
Mississippi State 27, South Carolina 14 – SUCCESS!
Jacksonville State at LSU – Watch out LSU. You play not too great in a non-college venue game 1 and then the Gamecocks come to town. I've seen this story before. Oh, and Roc Thomas ain't scared of Death Valley. He's been there. And Auburn has seen this same situation before. Watch out is all I'm saying. LSU wins big.
LSU 38, Jacksonville State 14
LSU 34, Jacksonville State 13 – SUCCESS!
Eastern Michigan at Missouri – If you haven't been able to tell from previous posts, I am pushing Missouri out of the SEC harder than ever this season. I'm just done with them.
Eastern Michigan 78, Missouri 2
Missouri 61, Eastern Michigan 21 – FAILURE
Virginia Tech vs. Tennessee (Bristol Motor Speedway) – Why are we letting these two teams play in front of the biggest college football crowd ever? Virginia Tech is nothing. Tennessee is overhyped… again. I mean, the game is in Tennessee. I get that. But this is what we're going with? This game, to end the worst college football slate in history. I guess it makes sense.
Tennessee 34, Virginia Tech 20
Tennessee 45, Virginia Tech 24 – SUCCESS!
Arkansas State at Auburn – Check back tomorrow for my prediction in the game preview, but SPOILER ALERT: return to form.
Auburn 42, Arkansas State 10
Auburn 51, Arkansas State 14 – SUCCESS!
Other Game of Note
BYU at Utah – Seriously, this is it. This is the biggest game outside of the SEC this week. I told you it was bad. I only put this one here because the game has a name: The Holy War. How long until we're forced to remove or change that one? BYU won a close one at Arizona last week. Utah modestly beat Southern Utah. I'll go with the Cougars.
BYU 21, Utah 20
Utah 20, BYU 19 – FAILURE
Now that you know who will win, head on over to the 2016 War Blogle Pick 'em and get your picks in. There will be weekly prizes and and overall winner at the end of the season. It's easy. Do it.