The 2016 season has returned, and the SEC is just going all out. No more practicing. We talkin' bout practice? It's here, and most of the SEC is putting it all out there. This is easily the best opening weekend I've ever seen. All national media is saying the same thing. And aside from maybe one game, it's all because of the SEC's schedule. Seriously, take a look at this thing, and give me your predictions in the comments. Oh, and not too shabby record of picking last year (including the bowls), Blogle. Thank you.
Last season: 134-54 (71.3%)
This week: 9-5 (64.3%)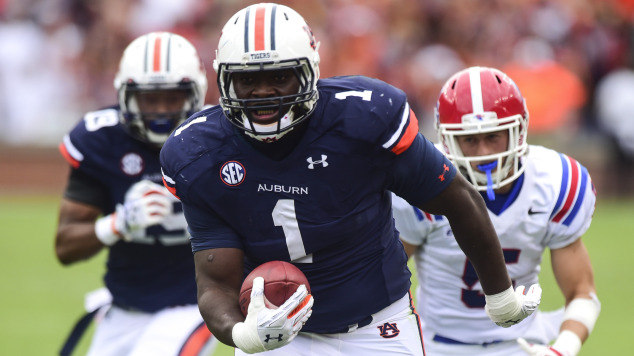 9/1
Appalachian State at Tennessee – The Vols were the hot team in the East this offseason. "It's FINALLY their year," they say. Appalachian State has been known to ruin a big name's season before. Remember Michigan? It's fun to think about, but it won't happen.
Tennessee 31, Appalachian State 17
Tennessee 20, Appalachian State 13 (OT) – SUCCESS!
South Carolina at Vanderbilt – The Gamecocks were pretty bad last year, but did beat the Commodores 19-0 midseason. I don't think they'll be any better, but Vandy should be. And they've got all that home field advantage (in the 4th quarter if Vandy is winning by at least 10 and study hall is done). This is tough. I guess I'll go with the home team.
Vanderbilt 17, South Carolina 14
South Carolina 13, Vanderbilt 10 – FAILURE
9/3
South Alabama at Mississippi State – At least Mississippi State got South Alabama to come to Starkville. They went to Mobile in 2014. Ridiculous. You s'posed to be SEC.
Mississippi State 34, South Alabama 10
South Alabama 21, Mississippi State 20 – FAILURE
Missouri at West Virginia – Country roads… take Missouri… back out of… the SECCCCCCC… West Virginia… beat the Tigers… down the road… take them home.
West Virginia is now officially my second team, and it's all because of this. And Missouri is undeserving.
West Virginia 48, Missouri 17
West Virginia 26, Missouri 11 – SUCCESS!
LSU vs. Wisconsin (Lambeau Field) – ESPN's College Gameday is broadcasting from this one. You know, that great college atmosphere at Lambeau Field. This is a matchup of big names, but I can't think of anything more boring. It's I-formation after I-formation. If it was in January, I'd give it to Wisconsin. But it's not.
LSU 27, Wisconsin 21
Wisconsin 16, LSU 14 – FAILURE 
UCLA at Texas A&M – UCLA is ranked. Texas A&M is not. That will change after this game. Texas A&M has a quarterback and 100K fans partaking in the excitement of game one. It may not last, but they'll be lit and they'll take down the "we are ranked because we play in the Pac-12" Bruins.
Texas A&M 41, UCLA 24
Texas A&M 31, UCLA 24 (OT) – SUCCESS!
LA Tech at Arkansas – The Razorbacks ended last season winning six of seven and the one loss was by one point to Mississippi State. They were typical Arkansas, though. Not good enough to beat most of the big dogs, but good enough to ruin some seasons. I don't know how good LA Tech will be, but I'm guessing not as good as Toledo, who beat Arkansas last year in their uber-typical year.
Arkansas 35, LA Tech 23
Arkansas 21, LA Tech 20 – SUCCESS!
Georgia at North Carolina (Georgia Dome) – Georgia shouldn't be very good. They have a new head coach, who is only getting credit for his past boss. Georgia will always have talent, but that talent has gotten them one SEC title in 10 years. Their quarterback situation isn't certain as well. North Carolina was 11-1 in the regular season last year, and they should be just as good. they'll beat Georgia in their home state.
North Carolina 28, Georgia 17
Georgia 33, North Carolina 24 – FAILURE 
UMass at Florida – Don't hurt yourself, Gators.
Florida 48, UMass 3
Florida 24, UMass 7 – SUCCESS!
Southern Miss at Kentucky – The Golden Eagles made it to the C-USA Championship Game last year. They lost, but it's better than Kentucky saying they were finally going to get over the hump for the 12th year in a row. Are they in line for basketball tickets yet?
Southern Miss 17, Kentucky 10
Southern Miss 44, Kentucky 35 – SUCCESS!
USC vs. Alabama (AT&T Stadium) – Part of me thinks USC has a team worthy of taking down a quarterback-less Alabama in Dallas, but we've seen this all before. USC only has a chance if they blow out Alabama at the start, and that won't happen. Blah.
Alabama 24, USC 16
Alabama 52, USC 6 – SUCCESS!
Clemson at Auburn – Check back tomorrow for my prediction in the game preview, but SPOILER ALERT: big fun.
Auburn 37, Clemson 31
Clemson 19, Auburn 13 – FAILURE 
9/5
Ole Miss vs. Florida State (Orlando, FL) – Ole Miss has a pretty stout September and it starts in Orlando. The Seminoles are supposed to be near the caliber of the Free Shoes University days. Ole Miss may be as good as last year, but I doubt it. When you cheat in football, it eventually evens itself out. I see Florida State rolling.
Florida State 34, Ole Miss 14
Florida State 45, Ole Miss 34 – SUCCESS!

Other Game of Note
Notre Dame at Texas (9/4) – Normally I have at least two games in this section, but this is literally the only game in the nation that isn't terrible and doesn't include an SEC team. The rest of the nation should be ashamed. Notre Dame is poised to be pretty good. But that's what they always say. Texas still hasn't shown they are back. Maybe they are, and maybe being at home will help. Actually, yeah, they'll win.
Texas 24, Notre Dame 21
Texas 50, Notre Dame 47 (OT) – SUCCESS!
Now that you know who will win, head on over to the 2016 War Blogle Pick 'em and get your picks in. There will be weekly prizes and and overall winner at the end of the season. It's easy. Do it.