On Saturday night, Kenny Chesney, Miranda Lambert, Sam Hunt, and Old Dominion will take the stage in Jordan-Hare Stadium as part of Music and Miracles and Chesney's Spread the Love Tour. Despite what some outlets are putting out there, it is most certainly not the first concert in Jordan-Hare Stadium. I was at The Beach Boys/Tonic/Pat McGee concert in 2001. However, it is definitely the largest non-football event that will have ever happened on those hallowed grounds.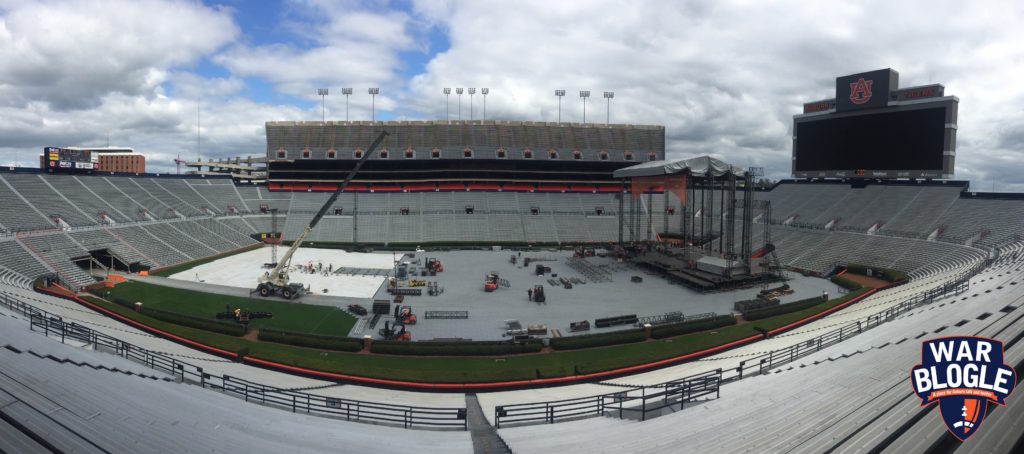 This past weekend, as the setup of the stage was taking place — a week in advance — I was lucky enough to take a walk around the stadium and view the magnitude of the process. Dozens of men in hard hats were building what looked like permanent structures for what will actually end up being pieces of huge six-hour show. It's crazy.
Check the gallery below, but here are a few details on the tour and just how big this event will be. Like Kenny Chesney and country music or not, this is huge deal for Jordan-Hare. He's sold out Gillette Stadium (where the Patriots play) twice, and he's coming to play in little ol' Auburn. It's big.
The 2016 tour will play over 40 shows – including nine NFL stadiums, two college football stadiums (Auburn and Louisville) and two MLB stadiums – with guest stars Miranda Lambert, Sam Hunt, Little Big Town, Big and Rich, Jake Owen and Old Dominion on various dates.
The tour travels with 121 band members and crew.
It typically takes 80 people just 3 days to build the stage and production. Jordan-Hare required a little extra setup given it is the first stadium of the tour.
Over 750 people work the event on show day, including security, vendors, stagehands and the performers themselves.
There are over 4000 man hours in local labor to help build the stage and move the production in and out of the stadium.
The stadium shows require 58 trucks of gear, and 23 buses of crew and band.
Each show consumes 9600 amps of power for the lights. Most homes has a 200 amp breaker.
Over 2 miles of cable will be used just from the generators to the stage.
And as far as food and beverage, this will be the first time, as far as I know, that alcohol will actually be sold in Jordan-Hare Stadium. Here are a more details from AU Concessions:
All concession stands on the main concourse and upper decks will be open to serve regular concession fare.
Food will be available on the field and north end zone lot.
Food trucks will be located outside of the Stadium on the east lawn for the "Fun Zone" pre-concert party. (12 to 5 pm)
Alcohol:

Miller Lite, Coors Light, Budweiser, Bud Light, Michelob Ultra, Corona, and Corona Lite.
Island Girl and Banana Fizz are the Blue Chair Bay rum drinks.

All alcohol selections will be sold on all levels including the field, all concourse levels inside the stadium, and pre-concert "fun zone."
Alcohol wristband locations will be set up inside and outside of the Stadium. You must show proper ID to receive a wristband to purchase Alcohol.
2 drinks per person per transaction.
Taxis will be set up outside the stadium after the show on War Eagle Way.
Tickets are still available at Ticketmaster. The gates open at 4pm CT. Old Dominion goes on at 5pm, with Sam Hunt at 5:55pm, Miranda Lambert at 7:05pm, and Kenny closing at 8:50pm.
Update: the stage is set…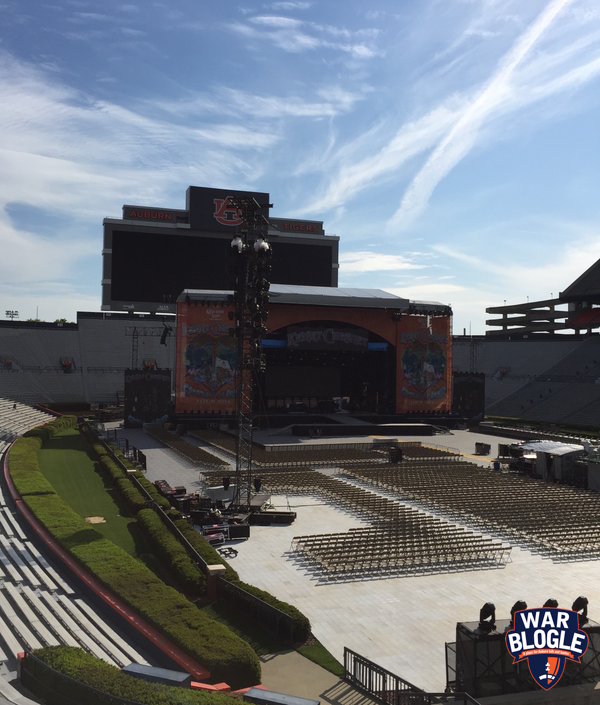 …and Kenny is now officially at the University of Auburn.
Update #2: and now we have system tuning thanks to @jeremyleff: