With the historic success of last year's WarBlogle.com Bowl Pick 'em, I figured it would be good idea to do this thing again. I mean, why not? We have nothing else to do for the next two weeks, unless you like watching MACtion-level games every night until New Year's Eve.
This year, the winner will either receive a WarBlogle.com t-shirt of their choice or one of my Christmas presents. Note: if you are giving me a present this year, don't let this be your present, if you know what I'm saying.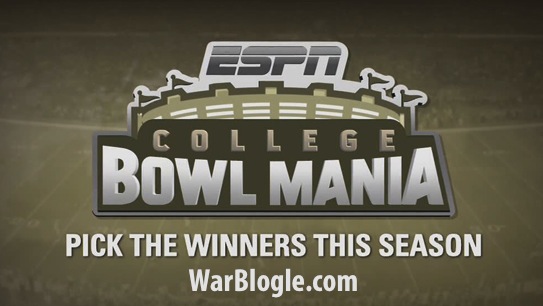 To join, you will need an ESPN.com account. Just click 'Register' at the top right of the page, or login with the username you already have. Once you are logged in, go here to join the group. The password is 'warblogle'.
I am anticipating there being tons of entries (don't let me down), so instead of straight picking which would probably cause many ties, I am using their confidence-based system. After making your picks, you will rank the games in order of your confidence level. The game you are least confident with will only count as one point, and your most confident pick will count as 35 points.
Tell your friends by sending them a link to this post. The more the merrier. Get it? Like Merry Christmas? But seriously folks, if you have any questions, send me an email or post it in the comments section below. Ok, that's it. Ready. Set. Pick 'em.