After an atrocious Week 1, the first half of Week 2 got me back on the positive side of things. Then the second half of Week 2 really did it. With the big boys playing (minus Auburn) for the next few days, things are getting more real.
Bowls: 24-18 (57.1%)
Regular Season: 110-36 (75.3%)
Overall: 134-54 (71.3%)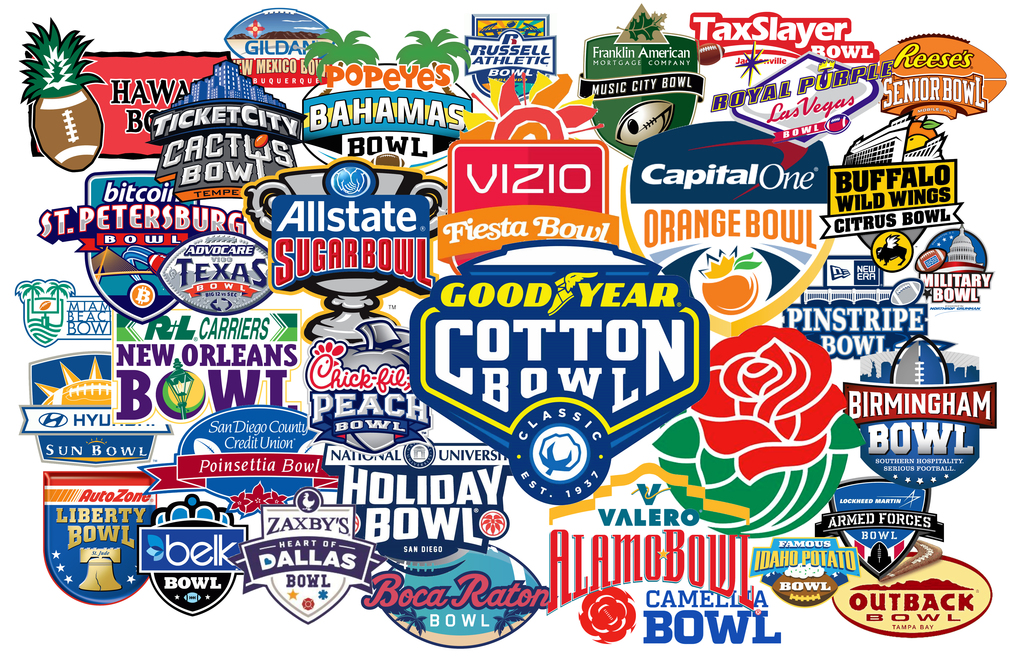 1/1
Outback Bowl (11 a.m. ESPN)
Northwestern vs. Tennessee – You couldn't pay me $180,000 to play Northwestern in the Outback Bowl again. It has nothing to do with how good they are or aren't. It has to do with everything in the universe being on their side when Auburn played them in the 2010 Outback Bowl. Tennessee is better and will win.
Tennessee 42, Northwestern 28
Tennessee 45, Northwestern 6 – SUCCESS!
Buffalo Wild Wings Citrus Bowl (12 p.m. ABC)
Michigan vs. Florida – Florida is the worst SEC East Champion of all time, and that's saying a lot. Michigan is good, not great, but they'll definitely be a little more enthused than Florida.
Michigan 28, Florida 7
Michigan 41, Florida 7 – SUCCESS!
BattleFrog Fiesta Bowl (12 p.m. ESPN)
Notre Dame vs. Ohio State – Well this game sounds prestigious. Too bad it starts with the word BattleFrog. Remember when Ohio State had so many elite athletes that they would beat the world by 100? Remember when we were worried about Notre Dame being 4 or 5 in the playoff? Yeah, none of that matters anymore.
Ohio State 38, Notre Dame 21
Ohio State 44, Notre Dame 28 – SUCCESS!
Rose Bowl Game (4 p.m. ESPN)
Stanford vs. Iowa – Stanford has to drive a few miles. Iowa has to fly a good ways. They thought they were something and then they were proven to be not. Then Michigan State losing to Alabama by 38 really proved it. Stanford has the quickness to win over the corn people.
Stanford 35, Iowa 17
Stanford 45, Iowa 16 – SUCCESS!
Allstate Sugar Bowl (7: 30 p.m. ESPN)
Oklahoma State vs. Ole Miss – This is the first time Ole Miss has played in the Sugar Bowl since 1970. That's a long time. Both of these teams were close. Ole Miss was probably a little closer. They were a 4th down lateral by Arkansas from being in the SEC Championship Game and then probably the playoff. They'll beat my second favorite color scheme in sports.
Ole Miss 38, Oklahoma State 31
Ole Miss 48, Oklahoma State 20 – SUCCESS!
1/2
TaxSlayer Bowl (11 p.m. ESPN)
Penn State vs. Georgia – The Bulldogs don't have a head coach, an offensive coordinator, or a defensive coordinator coaching in this game. Their next head coach is still busy trying to help Alabama win a national championship. That has to feel bad. Probably as bad as the entire Richtian era from a championship perspective. They don't have any good reason to win this one, so it will be one of those black eye games for the SEC.
Penn State 21, Georgia 14
Georgia 24, Penn State 17 – FAILURE
AutoZone Liberty Bowl (2:20 p.m. ESPN)
Kansas State vs. Arkansas – Arkansas went on their little late season run as they always seem to do, and it will continue against a Kansas State that isn't near as good as they were the year before. I mean, liBERTy Bowl, amirite?!
Arkansas 34, Kansas State 21
Arkansas 45, Kansas State 23 – SUCCESS!
Valero Alamo Bowl (5:45 p.m. ESPN)
Oregon vs. TCU – TCU QB Trevor Knight is in jail, so I don't think he'll be playing. TCU is not the same team without him. Oregon is fine. They aren't as good as usual, but they're fine. Can ducks win at the Alamo, though? Seems like good eatin'. Yeah, they will.
Oregon 42, TCU 20
TCU 47, Oregon 41 – FAILURE
Motel 6 Cactus Bowl (9:15 p.m. ESPN)
West Virginia vs. Arizona State – The last official bowl game before the championship game is the Motel 6 Cactus Bowl. Ok then. I like West Virginia, solely because of this, but I don't think a team from Arizona is going to lose anything with cactus in the name.
Arizona State 42, West Virginia 31
West Virginia 43, Arizona State 42 – FAILURE
1/11
CFP National Championship (7:30 p.m. ESPN)
Alabama vs. Clemson – There are so many things to hate about this game. One: Alabama. Two: Clemson. Three: One of them having to win. 4: Auburn starting next season with Clemson. 5: Hearing it all offseason if Alabama wins.
I think Clemson has the offense to beat Alabama. It's the only style of offense that has beaten Alabama in recent years. Clemson's defense is strong as well. Alabama is boring and Clemson is not. And I hate saying that.
Clemson 34, Alabama 27
Alabama 45, Clemson 40 – FAILURE 
Now that I've picked the bowls, you should go join the bowl pick'em. Just make sure you have them in prior to each game, but go ahead and do them all so you don't have to worry about it. There's prizes and stuff.