Welp, Week 1 was terrible. But Week 2 has so many games that I can make it up quickly. It has so many games that I'm splitting it into two posts. This is the first. Enjoy my FAILUREs.
Bowls: 13-12 (52.0%)
Regular Season: 110-36 (75.3%)
Overall: 123-48 (71.9%)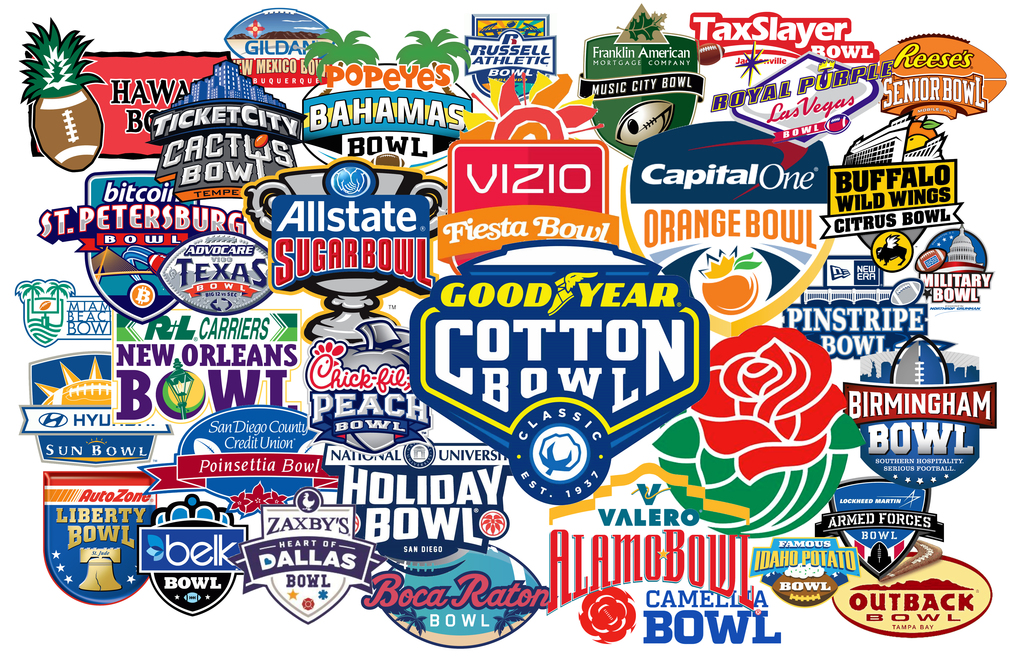 12/26
St. Petersburg Bowl (10 a.m. ESPN)
UConn vs. Marshall – I never pick against Marshall. You can't. But UConn is pretty horrible anyway.
Marshall 31, UConn 24
Marshall 16, UConn 10 – SUCCESS!
Hyundai Sun Bowl (1 p.m. CBS)
Miami vs. Washington State – The ol' pirate got him a good team this season. Leach had them ranked at one point. Washington State. Miami is in shambles for the moment, but don't fear, they'll be winning nine games a season for the next decade. Richt is in town.
Washington State 49, Miami 24
Washington State 20, Miami 14 – SUCCESS!
Zaxby's Heart of Dallas Bowl (1:20 p.m. ESPN)
Washington vs. Southern Miss – This sure is a weird matchup. Not sure Southern Miss and Washington have met in many sporting events. Washington isn't awful and Southern Miss built their record on a weak schedule.
Washington 27, Southern Miss 17
Washington 44, Southern Miss 31 – SUCCESS!
New Era Pinstripe Bowl (2:30 p.m. ABC)
Indiana vs. Duke – Hoosiers and Devils in the House that Ruth built. But not really. Indiana had a chance to knock off Ohio State at one point this season. Duke ended their season losing four of five. We'll go with the Hoosiers.
Indiana 34, Duke 28
Duke 44, Indiana 41 – FAILURE
Camping World Independence Bowl (4:45 p.m. ESPN)
Tulsa vs. Virginia Tech – Frank Beamer goes out in Shreveport against Tulsa. Some complained that he shouldn't be forced to end his career like this. Well, nobody forced him to hire Scot Loeffler. Both teams are 6-6, so I guess the universe will let Frankie win on his way out.
Virginia Tech 24, Tulsa 21
Virginia Tech 55, Tulsa 52 – SUCCESS!
Foster Farms Bowl (8:15 p.m. ESPN)
UCLA vs. Nebraska – This is a pretty even matchup, but the name is one of the most embarrassing in bowl history. Can you tell me what bowl this used to be? It was the Emerald Bowl, and then the Kraft Fight Hunger Bowl. Now you know. UCLA is a little better. Now you know.
UCLA 35, Nebraska 21
UCLA 37, Nebraska 29 – SUCCESS!
12/28
Military Bowl (1:30 p.m. ESPN)
Pittsburgh vs. Navy – Navy won't lose anything called the Military Bowl. They wouldn't lose this one anyway, but they wouldn't lose anything called the Military Bowl.
Navy 27, Pittsburgh 17
Navy 44, Pittsburgh 28 – SUCCESS!
Quick Lane Bowl (4 p.m. ESPN)
Central Michigan vs. Minnesota – There may not be a bowl I would like to watch less than this one. Call it a regional thing. Oh, and this one used to be the Little Caesar's Bowl. Better name. Still not watching.
Minnesota 30, Central Michigan 20
Minnesota 21, Central Michigan 14 – SUCCESS!
12/29
Lockheed Martin Armed Forces Bowl (1 p.m. ESPN)
California vs. Air Force – Air Force won't lose anything called the Armed Forces Bowl. They wouldn't lose this one anyway, but they wouldn't lose anything called the Armed Forces Bowl.
Air Force 34, California 17
California 55, Air Force 36 – FAILURE
Russell Athletic Bowl (4:30 p.m. ESPN)
North Carolina vs. Baylor – It's the first matchup of ranked teams of the bowl season, but it's still named after cotton athletic shorts. Had North Carolina not lost to South Carolina, this would probably be a totally different post season. Baylor can score, but they've been exposed like each of the last few seasons. I'll bet on Chizik stopping the Bears.
North Carolina 37, Baylor 31
Baylor 49. North Carolina 38 – FAILURE 
Nova Home Loans Arizona Bowl (6:30 p.m. ASN)
Nevada vs. Colorado State – Nevada playing Colorado State in Arizona? What, is the officiating crew from New Mexico? Colorado State ain't bad, and Nevada ain't been that good since Kaepernick left.
Colorado State 17, Nevada 7
Nevada 28, Colorado State 23 – FAILURE 
Advocare V100 Texas Bowl (8 p.m. ESPN)
LSU vs. Texas Tech – HAHA, LSU has the first SEC bowl game. I don't know why that's funny. I just wanted to laugh because it's a day before the Birmingham Bowl. They'll kill Texas Tech, though.
LSU 45, Texas Tech 10
LSU 56, Texas Tech 27 – SUCCESS!
Now that I've picked the bowls, you should go join the bowl pick'em. Just make sure you have them in prior to each game. There's prizes and stuff.