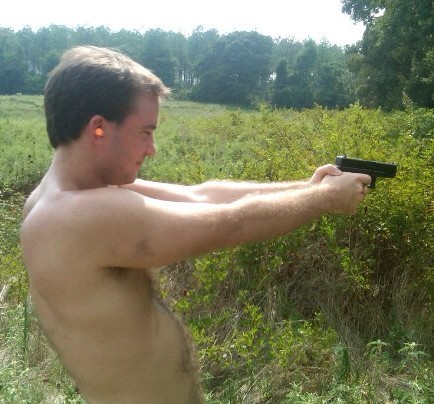 Rick Muscles (@rickmuscles) is an Alabama fan and recovering Ole Miss fan boy, who is making his 2827th appearance on the Other Sideline series. He has written for EDSBS, Friends of the Program, and Roll Bama Roll. In real life, he's engaged to an Auburn grad, loves to lift weights, and see rock concerts.

1. What is an Alabama fan's first thoughts of Auburn football right now?
My first thought is what happened? Pre-season the national media had us thinking Cam Newton, Jr. was preparing to sweep through the SEC like poop through a tin horn. That didn't happen. If you haven't seen a full Auburn game, there isn't much to think about. The Tigers just haven't produced many ESPN Highlights. I perceive Auburn's season the way I view Jeb Bush's Presidential campaign.
2. How bad does Alabama have to play and how well does Auburn to play for the Tigers to win the Iron Bowl this Saturday?
After listening to the pre-game chatter, I'm concerned Bama might have a let down. How does Ryan Kelly NOT know Carl Lawson? Kelly played in the dang Kick 6 game!
That said, I know Auburn is going to play hard. However, even if Auburn channels all of the Johnny Utah power in the world, I'm not sure they can stop Bama's ground attack. Auburn's DBs and Linebackers just haven't been physical enough.
3. Do you fear a slight letdown this week considering that Alabama doesn't care about beating Auburn, instead only caring about winning championships?
I do fear a let down, but Saban has a lot of respect for Muschamp. Those two built a predatory defense at LSU. The other day I wondered if Auburn fired Gus for finishing last in the SEC West and they hired Muschamp as HC, would that be the Empire Strikes Back moment for the Iron Bowl.
Pat Dye is the greatest coach in Auburn history but he was totally part of the Evil Empire when he was a Bama assistant. I just imagine Muschamp leading Jeremy Johnson and Carl Lawson into a room like Lando Calrissian and forcing them to sit at a table with Saban while Lane Kiffin chuckles pompously.
4. Which positional matchup are you most interested in watching?
If Auburn is going to win the game, Bama's DBs need to play really bad. In this era of football, targeting, and pass interference rules tend to favor the offense, so I anticipate Bama will give up a deep ball or two to Auburn. Gus drew up a series of plays based on the good old statue of liberty that worked pretty well against Ole Miss. It didn't win the game but Auburn scored some points thanks to that package.
I can see mental errors in Bama's defensive back field leading to some big plays thanks to Malzahn's creativity. However, Auburn had some success last year at receiver, but they don't have the talent at WR anymore thanks to Coates heading to the draft and Duke going Holly Holm on the security staff at Sky Bar.
5. Who are two Tiders that aren't big names that Auburn fans should look out for?
Michael Nysewander out of Hoover, AL immediately jumps to mind. He's a walk-on TE and has absolutely been steamrolling chumps while blocking for Derrick Henry. During the LSU game, he was flattening all those defensive first round draft picks they have in Baton Rouge. He's pancaking dudes with the weight of some student loans on his shoulders.
Calvin Ridley is a 6'1" Freshman WR from Coconut Creek, FL. It's like watching a freshman Amari Cooper all over again. His feet don't touch the ground when runs or jumps. He hovers over the field like he's wearing those winged boots from Legend of Zelda: Ocarina of Time. I have a lot of questions about Jake Coker but I feel better when he throws Ridley a back shoulder down the sideline.
6. Are there any guys on the current Auburn roster that scare you?
It's been a tale of two different teams defensively for Auburn. When Carl Lawson returned it finally stirred the defense. His presence on the field brings a culture of violence the unit lacked early in the season. In full disclosure, Bama's red-blooded Offensive Tackle, Cam Robinson has had some lapses here and there. If Auburn pressures Coker, which a lot teams have, this game might not be a blow out.
7. If Derrick Henry runs for 30 yards this weekend, do you feel the Heisman is then a virtual lock as it was with Mark Ingram?
Auburn legend, Bo Jackson recently stated of Henry, "he is my first choice on the list. I say this, if someone from Auburn can't win the Heisman or if Auburn can't win the national championship, I'd rather for it to stay in the state. If we can do that, the state is doing good."
That's what this rivalry should be all about: Respect and WHAT'S BEST FOR THE STATE. He needs to plow fields in this game because this could be Henry's last chance to impact the voters. If he goes for 30, it could ruin his advantage if Bama loses the IB and he doesn't get a chance to sparkle in Atlanta.
8. What's your prediction/analysis of the game?
Auburn is going come out hot and swinging. Gus will have some whacky trick plays hidden underneath his turtle neck and I assume we'll see some special teams shenanigans. Auburn is last in the SEC East so they're playing for their self-respect and to light up a big ass scoreboard.
That said, I think it will be a typical Bama game. Bama will start slow, look awkward on offense early and, then, like one of Hulk Hogan's 22 inch pythons will slowly constrict Auburn and break the game open in the 4th. The real fun of this game will be watching Malzahn's chicanery in his offensive play calling.
If Auburn wins, Muschamp has to stop the ground game, keep Coker off balance, and Johnson or White must break a few big plays. It's still the IB, right? Gonna be violent, y'all.
9. Where will Auburn and Alabama end up this season?
Just like Saban, I only take it one game at a time! The Iron Bowl is all that matters and next to be processed! The outcome doesn't matter! Only how the game is played!
I think Auburn is going to the Birmingham Bowl and it'll be the 2nd most fun that game has been since Ole Miss vs Pitt. Hope y'all can stop the Mighty South Florida Bulls. OH! Y'all had a rough time with them fellas before!
10. Lastly, how many times have you sung the Dixieland Delight remix and where do you stand on that moral debate?
The band Alabama and Bama Football are what's best for the State. It's no secret that late at night, I sneak up to Red Mountain and howl various Bama songs down to Southside. However, my fiancée is an Auburn season ticket holder. When I accompany her to games I've been coming up with new cheers for Auburn.
Here is my favorite:
"A heapa! A Cheapa! We's a gonna beat cha!
No? How about this one:
Snicker Doodle! Ping Pong! Ewoks A Plenty! Come on Auburn, Beat 'em By 20!
If y'all use those against Bama, and y'all win, I'll feel terrible. So nervous!