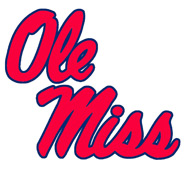 Over the six weeks, Ole Miss has beaten Alabama, then only beat Vanderbilt by 11, lost to Florida badly, bludgeoned New Mexico State, lost to Memphis by 13, and beat a flailing Texas A&M by 20. That's some up and down right there, but for the most part has been a downward trend since beating Alabama in Tuscaloosa.
The win over Texas A&M last week could've been worse, but to only score 23 points against that defense is probably something for the Rebels to be worried about. This is the same Ole Miss offense that scored 70+ points in each of their first two games of the season. Since then, they are averaging just 25 points in games not against New Mexico State.
The return of Laremy Tunsil may help with that since the Rebels have almost no running game, and doesn't even really try, but is that enough difference to add a touchdown or two? I doubt it. Also, the possible return of Carl Lawson could negate the return of Tunsil.
That being said, does Auburn have the offense to score more than 25 points? They've done it in their last three games and have only improved since Sean White took over at quarterback.
The biggest issue for the Tigers last week in their 4 OT loss to Arkansas was dropped passes early in the game. If you don't think that's almost all of what was worked on this week, you probably don't know how many championships Alabama should rightfully claim. The guys were open last week – way open – and the passes were on the money, but once one of them got the yips, they all got the yips until it was too late.
Robert Nkemdiche is said to be returning in this game, too. Is that enough to stop the positive trend Auburn's offense has been on? I doubt it. He's also coming off a concussion, so there's no telling how much he'll play or what kind of impact he'll have.
When it comes to down to it, the fact that Auburn will be playing it's first home game since the San Jose State game on October 3rd will be the difference. The crowd will be live. The team will remember what it's like to play in front of people that like you. They want to show the improvement to their own fans.
Yes, the 11am start takes a little bit of that excitement away, but this feels a lot like 2009 when ranked Ole Miss visited unranked Auburn on Halloween at 11am. The fans were asked to wear all blue in Navy Nightmare. Auburn beat the Rebels 33-20.
This year, ranked Ole Miss visits unranked Auburn on Halloween at 11am. The fans are being asked to Stripe the Stadium. That's spooky, man. That's hAUlloween or something, man.
The fact is that Auburn has gotten better every week. Think back to the Mississippi State game, which was Sean's first start. Has the offense looked better than three field goals for the game? Yes.
Ole Miss has gotten no better since beating Alabama over a month ago. They've dropped, lost, beaten some bad teams by a little, and think beating a divided Texas A&M by 2o at home as righted the ship. No, the Rebels lost by double digits to Memphis just two weeks ago. That's Ole Miss.
The 11am thing we all love to hate won't matter to Auburn as Ole Miss starts slow and allows the Jordan-Hare Stadium crowd to wake up quickly with an exciting play on defense. The Auburn offense gets a two touchdown lead in the first half and holds off the Rebels, much like 2009 and 2013.
Ole Miss has only beaten Auburn in Auburn twice in the entire history of the series. It will still be that way after Saturday.
Auburn 31, Ole Miss 23