Yes, it's another Heisman statue post. I promise no more until this weekend or Monday after they've been unveiled. As you saw yesterday, what is most likely Pat Sullivan's statue has taken its spot, and today, what are mostly like Bo Jackson and Cam Newton's statues are now ready and able to protect Jordan-Hare Stadium from evil forces.
Here's a look at all three that may give you some idea about how the whole scene will look: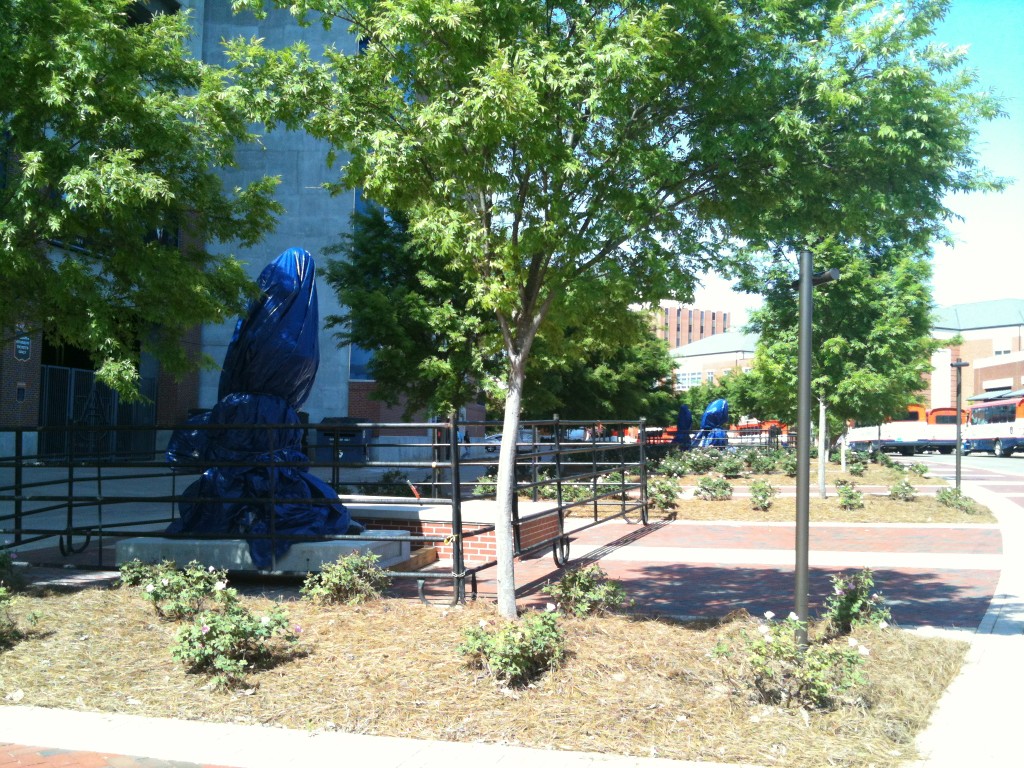 As you'll see in the myriad of pictures below (thanks to @hostsofheaven and @kookoo_katchu), it appears that each statue is placed under it's respective banner outside the stadium. So from left to right, it will be Cam, Bo, Heisman's bust, and Pat.
Based on some of the pictures, it's obvious that Cam will be featured in a running pose, but as small as his head is, will he be helmetless? Maybe that's a foregone conclusion, but I had assumed they would have helmets on. I guess it would be tough to see their faces or even sculpt a facemask, etc. Anyway, Bo appears to be hunched over holding the ball, likely having just run over some defender.
Here are 12 shots of any and every angle of the tarped, blanketed, and duct-taped Heisman statues.
Auburn announced today that the public will be able to watch the unveiling from the video boards in Jordan-Hare and Auburn Arena. Due to tight space in the area of the statues, this might be your best bet. That's another way of me saying, go watch it somewhere else so I can get a better view of Cam.