It's been called the biggest home game in Kansas State history. The last non-conference top-5 team to visit Manhattan was #2 Penn State in the 60's. So yeah, it's been a while.
It's surely to be an exciting situation for the Wildcat-faithful, what, with their raucous 50,000 or so piling into Bill Snyder Family Stadium (yes, that's what's it called) for the biggest game they've hosted since before JoePa was called JoePa. Was Bill Snyder the coach then, too?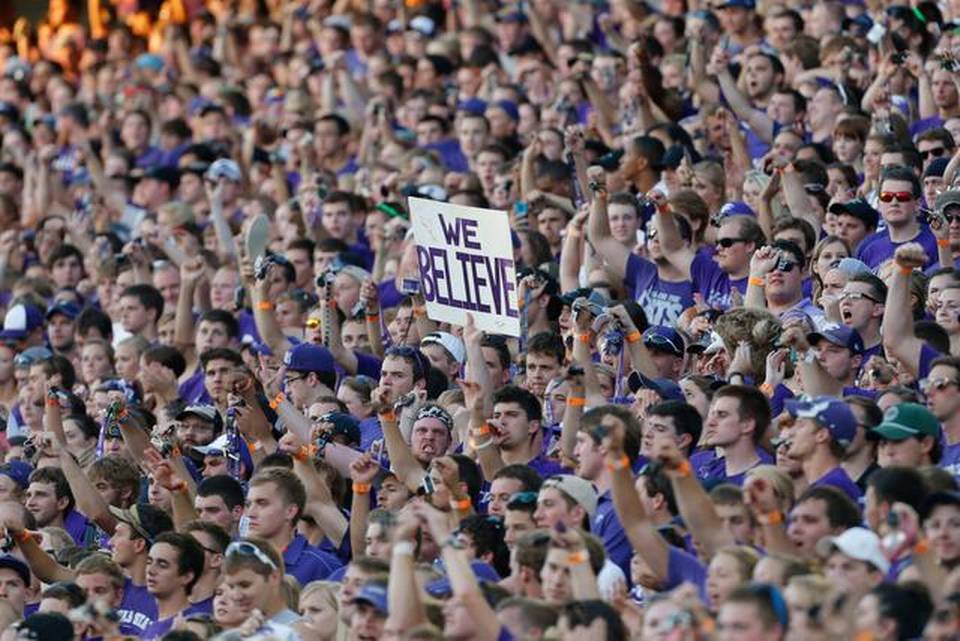 And have you heard the game is on Thursday? Yeah, it's tonight. Do you have plans to watch? Has the team left? Does Gus even know? If so, does he realize he's playing a living legend that's feared from here to Timbuktu? All these things. They aren't normal. How were we supposed to know? How are we supposed to handle them?
You see, it's these things that do run through all of our minds, as stupid as they sound. At least one of them. Shutup, yes one of them has at least once.
But it's also these things that give Kansas State fans the idea that their severely under-matched team has a real chance against a team that's been there, done that.
I do realize this is an entirely different year with a few different players. But does anybody remember the Auburn Tigers going into a stadium with literally double the capacity last year and beating Johnny Football? It was a stadium Auburn had literally never played in, playing against a Heisman-trophy winner in his house. It involved a flight half-way across the country with all sorts of newness.
And while Tennessee isn't an elite team, Gus also took his Tigers up to Neyland Stadium (also double the capacity of Kansas State), and pummeled the Volunteers.
This isn't his first rodeo. It isn't Nick Marshall's first rodeo, or Corey Grant's, or Gabe Wright's, or really anybody's that's going to have siginificant playing time.
I get that it's Thursday and their students and band (who sit right behind the visting team's bench) are going to be so pumped to the point that it gives them hope.
I've been there. I was there in 2009 for the Iron Bowl. I was there in 2011 for the Iron Bowl. I knew Auburn was undermatched, but I thought if I got excited enough with Alabama coming to our place that this magic voodoo would show up and give Auburn a shot of something to knock off a top-5 team. In 2009, it almost happened. But it didn't.
When it comes down to it, none of that matters. I understand the fighting EMAWs are going to have one hellacious 5 hours of tailgating and a great pregame, and maybe even an awesome first drive. But Auburn is a much better football team.
I'd put Kansas State right around the Tennessee level of the SEC. Wouldn't you think Auburn would beat Tennessee every day and twice on Sunday right now? I would.
It's just the mystery of going to a new place on a different night that makes people think certain aspects of their gameplan are unlike anything Auburn or Gus Malzahn has ever seen. It's football, and Auburn and Gus are very good at it.
If Auburn can keep the mistakes to a minimum (even typing that sounds weird because Gus's teams don't make mistakes other than during a rain-riddled first half in Baton Rouge), then they should win this game by 24+ points.
In Auburn, I'd say they would. But just because I'm the type that buys into a the voodoo hype just a little and just because it's the first away game, I'll take away a point or two.
Nick Marshall will throw an early interception and Kansas State will drive easily down the field to start the game 7-0. Then real man, Gus Malzahn, SEC football will take over quickly and hush a Kansas State crowd that will end up getting what they really expected to happen. Auburn will rush for 350 yards. Sammie and Duke will have a TD a piece. Auburn will win comfortably.
Auburn 38, Kansas State 17