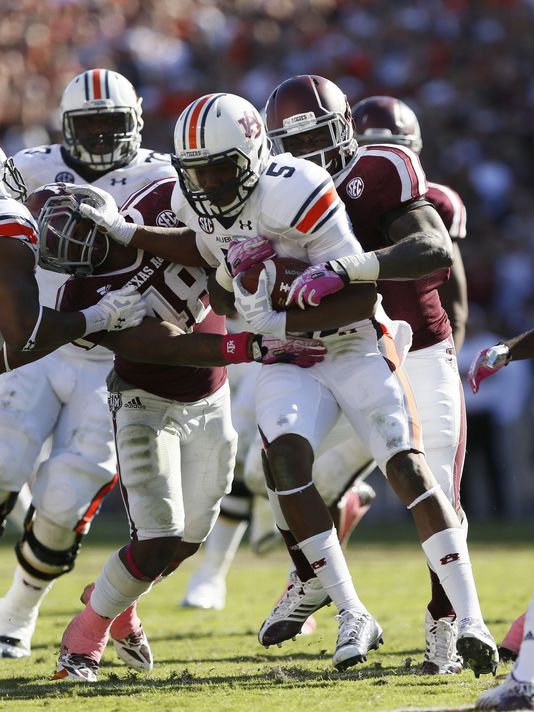 I woke up Saturday morning feeling achy and rundown. I imagine it's what Johnny Manziel felt like on Sunday morning. The only difference was that mine was induced by some illness and Manziel's was due to Dee Ford.
It was the first game this season that I have watched on television, and I was okay with that. That was until I remembered that Gary and Verne were calling the game on CBS. I know it's just the social norm to hate them now, and it's easy to beat up on the old guy who doesn't know how to pronounce a name that wasn't common in the 1950's and the yankee that sometimes sounds as if he thinks he invented football, but all of the feelings an Auburn fan has towards their analysis are warranted.
The whole game was analyzed in a tone as if any second Manziel was going to turn it on and blowout Auburn. Every Texas A&M touchdown was "magical" and "amazing." Every description of an Auburn touchdown sounded like a eulogy. Tre Mason had one of the hardest running performances of any running back this season, and he was called "perfect for this offense," the offense that Gary obviously hates. Texas A&M's running back had two or three consecutive runs of five or more yards and he was "special."
I know this sounds like a biased homer unable to hear their analysis objectively, but go back and listen yourself. It was completely one-sided. If you're not Alabama, if you're not the returning Heisman winner, they have no story for you. Unless you're a team like Vanderbilt doing something extremely amazing, you're just something that ruined their prediction. But enough about commentators. They had to watch and tell the world that Auburn beat Texas A&M, so let's talk about that.
I said in my game preview that if Auburn stopped Texas A&M on at least three drives, they would win the game. With two interceptions and a forced punt, Auburn did just that before the halfway point of the 2nd quarter. Manziel showed he was human (greedy) during a few "amazing" scrambles that ended in a poor throwing decision.
Aside from the opening drive, which technically didn't happen because CBS was showing commercials for Red Lobster while it happened, the defense set the tone in the first quarter. The Auburn offense showed early that they were going to be able to slice through the Texas A&M defense all day, but the defense let Mr. Pigskin know that it wasn't going to be an easy day, definitely not as easy as last year.
The biggest reason Auburn was able to outlast the Aggies in the 4th quarter (outscoring them 21-10), was the fact that the Tigers had completely worn out the Aggies throughout the game. The running game was like a knife through warm butter during the 4th quarter, scoring three times in less than 3:46 each drive. Johnny Manziel was playing with a horse tranquilizer running through his arm, but it wasn't enough to give his legs a boost. He was chased down by Kris Frost and Dee Ford twice in the last drive alone.
Auburn has depth throughout every position. That's why they could rotate throughout the game and keep players fresh. That's why there are season-ending injuries like Whitaker and Holsey, and possibly Justin Garrett, but there is no dropoff when the backup comes in.
As for Nick Marshall, he outplayed Johnny Manziel at his game. Yeah, I said it. He rushed for more yards and more touchdowns. He threw no interceptions. Manziel beat him at passing yardage and touchdowns, but most of every passing stat belongs to the work of Mike Evans. Overall, Marshall ran the offense better and was much more careful with the football. Manziel was running for his life most of the game and threw the ball up to a huge receiver who was open due to his scrambling. He's great, but Marshall didn't hurt his team as much early in the game.
The bottom line is that Auburn is a more complete team than Texas A&M, and as this game proved, having the best player in the game means nothing if it's pretty much all you have. A complete team will beat that nine times out of ten.
This win was not a fluke. This win was a statement. Last year was an anomaly. This year is Auburn.