Prior to last week's San Jose State game, the 2004 undefeated Auburn Tigers were honored on the field with the name of each player in attendance being called out by stadium announcer Ric Smith. As the final player was called, there stood one man left to be recognized. That man was smiling ear to ear. That man was Tommy Tuberville.
As his name was called, Tuberville lifted his hands. As he lifted his left hand, he extended five fingers. As he lifted his right hand, he extended one finger. They equaled six. Six wins. Six straight wins over Alabama from 2002-2007.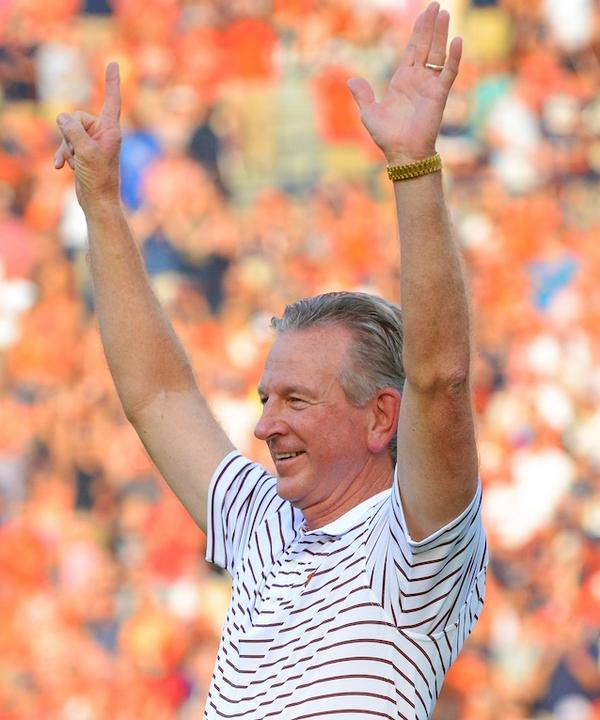 This wasn't the first time we'd seen those six fingers. That's what made it so great. Tuberville has been gone from Auburn since 2008, but he still wanted to remind us what he accomplished. Or did he want troll Alabama fans one last time? I think it may be a little more of the latter. He knew they hated it. They hated it when he started at four and even at five. They called it "klassy." And that's why I think he did it last Saturday.
That's also why I think this needs to be getting more attention. You've got a guy who is a current head football coach at a school that could in some way possibly compete against Auburn this year. It probably won't happen, but he's basically an enemy coach at this point. And he gets his chance to come back to a school where things didn't end great, and he uses his brief, 30-second window to stick it to Alabama fans one more time.
You get it, Tommy. I'm going to do my best to make this troll acknowledged a little more. Thank you for everything. Thank you for six-in-a-row, and more importantly thank you for reminding everybody about it.
Picture via @JayGTate.