The rewatch portion of my traditional game reviews got such good reviews (my mom liked it) that I guess I'll do this thing again. I hope this doesn't become a burden. I mean, I usually rewatch the games, but now I HAVE to. Gah.
Anyway, let's start at pregame and see if this game drug on as much on tv as it did in person. Winning is so boring, amirite?!
Pregame
– They throw multiple mice at the eagle when it lands on the field? That's the first time I've seen that. I always thought the little thing it lands on had a mouse or something dead on it. Spirit got at least two this time. White rats as far as I could tell.
– Nick Marshall was smiling and laughing during Tiger Walk. That's a little out of character. He's usually ridiculously stoic. He also instagrammed a picture from the locker room right before they ran out on the field, which was unexpected as well. He seemed uncharacteristically hyped and confident. Not that that's a bad thing, but it could have led to a few things that I'll discuss as I go through the rewatch.
– You can hear the inspirational video over the broadcast as you see the students watch, which brings up the question again: how deep into this season are we going to get pumped before a game by watching last year's Iron Bowl highlights?
1st quarter
– First play, first sign that Marshall seems a little more confident or outgoing than normal. He keeps the ball on a play that he probably normally would've given it off. He was stopped but drug the pile about 8 yards.
– The entire drive (4 plays) was flawless…until Marshall fumbled on the 1-yard line. I still don't think the San Jose State defender had possession of the ball in bounds. He wasn't officially laying on it until he was definitely out of bounds.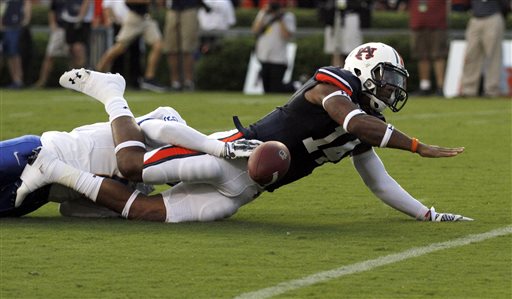 – No worries though, San Jose State fumbles on their first play! … But a facemask negates it? Why in the ever-loving mess does a facemask negate a fumble? It's not a dead ball foul. It didn't cause the fumble. Stupid.
– The defense gives up a few yards, but holds San Jose State to a 13-yard punt.
– Auburn's 2nd drive, Marshall keeps the ball again on a play that it seems he would've normally given it up on, and it results in a 3-yard loss.
– Duuuuukkkkkeeeee with his first catch of the game, and 10th catch in 5 quarters at Auburn.
– Marcus Davis gets his first catch of the season. Given the way the ball has been spread around in the air so far, and how Marcus was such a surprise last year, I'm really surprised about that.
– Cameron Artis-Payne picking up semi-3rd-and-shorts all over this 2nd drive. That's an improvement from Week 1.
– 8:16 – Touchdown Ricardo. Only his third as an Auburn Tiger. I love this play though. He came out of the backfield like a dang fullback and was wide open in the flat. It's like Gus and Bert got married or something.
– 8:05 – Next play from scrimmage smells like toast. Holsey and Moncrief both burnt. 75-yard touchdown by a MWC team. That'll be fixed, though. Just a busted coverage. Yeah, that's it.
– Ricardo then returns the ensuing kickoff through a major hole, and then turns straight into the next to last guy left. Interesting strategy.
– Corey Grant gets his turn and continues his 9+ yards per run average, but Nick is still keeping the ball way more than normal. Not a bad thing, but you can see a difference.
– Oh, and that difference then seems to cause Nick's "stomach pad" to come undone, but Gus ain't calling a timeout for that. Cameron Artis-Payne runs it two more times and scores. 14-7.
– Kris Frost's huge Yankees "NY" tattoo and white doo-rag hanging out his helmet looks a little out of place on Pat Dye Field.
– 2:50 – Does Auburn's defense have the all-time NCAAA record for most yards given up on called quarterback draws? Seems like if he's white and a decent passer, he's gonna get about 50 yards running up the middle on Auburn.
– The reviewed spot on San Jose State's QB sneak on 4th-and-1 was not reviewed enough. He was stopped, pushed forward by the fullback, fell forward, then put the ball out way after the play was done. Two missed calls involving the placement of the ball so far.
– Jermaine Whitehead with a perfect pick. He read everything and baited the quarterback perfectly. He was on the cover of the game program, so it was bound to happen.
– Cameron Artis-Payne ends the quarter on two decent runs that prove to me that this offense is going to work no matter who is back there. Wide open runs. That is not taking anything away from CAP, but it just works. 179 yards rushing in the 1st quarter.
2nd quarter
– Gus runs the exact same play two times in a row. The first time it's a slant thrown too high for Duke, the next time it's thrown perfectly.
– 12:08 – 4th-and-1 – The crowd wants to go for it. Gus goes for it. Cameron Artis-Payne goes for his 2nd touchdown of the night and gets it.
– The announcer says Auburn ran the ball 15 out of the last 17 plays, which reminds me that I was getting a little bored watching that part of the game in person. I mean, yes, a bruising run game is awesome, and these types of game are meant for refining the craft, but I want to see some double reverse bombs to Duke.
– The defense absolutely smothers San Jose State on the next drive ending with Montravius Adams jumping off the top rope on a 3rd-down sack.
– And then Quan Bray does the best thing he's done in his four years at Auburn. Awesome punt return. War Eagle, baby.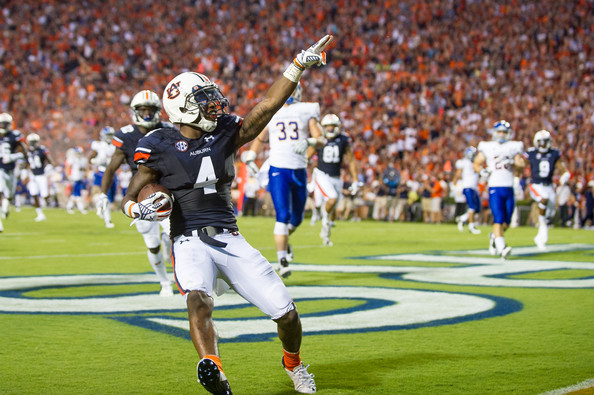 – "Ladarius Wright" with a big sack to end another San Jose State drive. I think they missed a facemask, but there wasn't one earlier, so who cares?
– But hey, there's a facemask against the Spartans. Only way to stop Duke, apparently.
– Cameron Artis-Payne with a run that not everybody could make, so it's rewarded with a 1-yard touchdown run. His third of the day, with more than 7 minutes left in the 2nd quarter.
– Oh snap, announcer says that Alabama ain't gon' keep the Tigers under 30 this year.
– Jermaine Whitehead almost gets another pick on a floater in the endzone, but I think he was worried he'd run into the Auburn Honor Band members so he alligator-armed it… and then ran over a photographer.
– Field goal by the Spartans gives them the amount of points I said they'd score: 10.
– And then multiple dudes spotted belting Katy Perry's "Roar." Like, a lot of them. No shame.
– Almost another "Immaculate Deflection" to Ricardo Louis, but the San Jose State defender correctly knocked the ball to the ground.
– Auburn punts with 1:56 left and somehow still kicks another field goal before halftime. Let's see how this happens.
– Oh that's how… Rudy Ford gets an awesome interception off a deflection.
– Almost another "Immaculate Deflection" to Ricardo Louis, but a few too many deflections.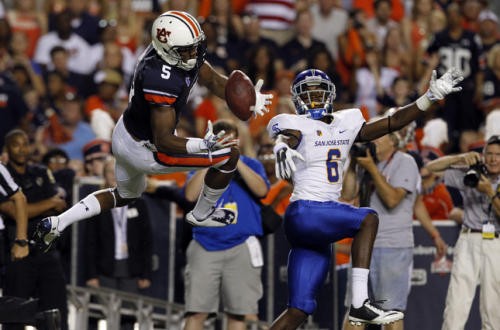 – This quick drive to get some more points before half does kinda show that Marshall's passing is a bit off. Not <message board font>PUT JERMIE IN!</message board font> off, but just a tad off due to being slightly rushed. There's a different type of pressure on Nick this year. It may have started to show in this game.
– Pass interference is called with 4 seconds left on a pass into the endzone. Why is time not put back on the clock? The offense should get the whole play back. It basically forces a field goal in this situation because their penalty stopped the touchdown but there's no more time to try for the touchdown without a penalty.
– Oh well, a field goal makes a 28 point game at the half. Really could've been 49-10 at the half, though.
Halftime
– On the way into the locker room, Tom Luginbill tries his best to get Gus's response to some negative aspects of the 1st half (bad passes, miscommunication). Gus shoots them down and turns them into positives. What a homer.
3rd quarter
– We've gotten so bored that the announcers are talking about a San Jose State wide receiver's mustache and the coach's college career. OH BUT WAIT, they complete a bomb.
– But the Auburn D holds inside the 10-yard line like they did so well last year, and the San Jose State kicker must've idolized Cade Foster as a child. Wide left from the right hash.
– Now we've got Luginbill on the sideline with a football, showing us Nick Marshall's footwork. When did this guy become a quarterback coach?
– Auburn's first drive of the 2nd half is pretty "we're beating a team 38-10" ho-hum, which ends in the 2nd and final punt of the night.
– Rudy Ford is fast. He came out of nowhere to chase down the quarterback. Being a running-back probably helped with that speed.
– San Jose State's kicker makes pretty much the same kick he missed a drive before, ruining my score prediction for them. I had them at 10 points.
– Oh, and here comes that thing all of Auburn Twitter was ablaze over. Film Room, huh? Let's see what the fuss was about.
– Yeah, halfway through one play I get it already. Why am I looking at the announcers as they talk. The main screen is way too small to see what's even going on. The only difference is that Luginbill and Co. are just being a little more technical in their lingo. I don't have to see them to understand it.
– Alright, shutup. I know it's 38-13, but there's no reason to act like people don't want to just watch a regular football game.
– Nick Marshall sort of redeems his fumble, following a great block by "Chris Slade" to score Auburn's 6th touchdown. You'd probably know his name if you stopped trying to say every technical football term you know.
4th quarter
– Jeremy Johnson takes over to start Auburn's 1st 4th quarter drive. You see the difference immediately. Passing on passing, and then a zone read for 0 yards. It's not bad, it's just different.
– But then JJ runs one in on a play designed to be a pass to CJ Uzomah. It was a wide open lane. Had to take it. Brian Griese then calls him the best backup in all of college football.
– Ok, I've been wanting to say this the whole game, but wanted to be nice. I can't take it anymore, though. The San Jose State coach has a really tall head. I don't know if it's his visor pushing his hair up, but man that's a tall head.
– The San Jose State punter does his best 2006 Florida punter impression. Pretty much in the same spot. But no flipping Tre Smith this time. He was in attendance, though.
– Next play, Roc Thomas. One play, 3 yards, one touchdown. Not sure how Peyton Barber feels about that.
– Each kickoff got shorter and shorter by 3 yards or so. I assume your legs get tired when you kickoff that much. And honestly I was actually glad they got to run a few out to get a little more action.
– In comes the San Jose State backup quarterback. Heisman performance looming.
– And yes, the backup does complete some nice passes, but the best one was to former wide receiver Trovon Reed. Good for T-Reed.
– The announcer mentions the 2004 National Championship team being honored before the game as they talk about getting Tucker Tuberville some playing time for his dad. Must've been reading my tweets.
– Roc Thomas is very shifty and spinny, but his night and Auburn's offense's night ends on a fumble. Although, I'm not sure the San Jose State guy had full possession of the ball.
– Whatever, 59-13. Final.
---
Overall, it was the win we all expected. San Jose State wasn't a bad team. They didn't make many mistakes. Auburn just has bigger and better players.
If we have to find anything negative from the win, we could say that Marshall's passing was off and that the defense gave up a few big gains due to busted coverage.
You know what? It didn't matter. It doesn't matter. It's the 2nd game of the season. Auburn won by 46 and they knew they would win by 46.
Honestly, when I watched the game in person, I felt like the issues were way worse than they just looked during my rewatch. Maybe it was the 10 hours of tailgating, maybe it was the heat, but it definitely didn't look that bad on TV.
Auburn has an unstoppable offense. It's already apparent and it's only going to get better. Auburn's defense was much better, aside from two deep passes, from week 1 to 2. There was pass rush. The run game was non-existant. They smothered the Spartan offense for the most part. And they are only going to get better.
Auburn won the game, by a lot. If you are harping on small things that ended up not making any difference, if you're saying Jeremy Johnson should be playing instead of Marshall, don't worry, be happy.