The 2013-2014 bowl season begins this Saturday with four games. That means it's time to get to picking all 35 bowls. 35! But that's too many! So you hate football? Anyway, we'll have two options this year. One with prizes and one without.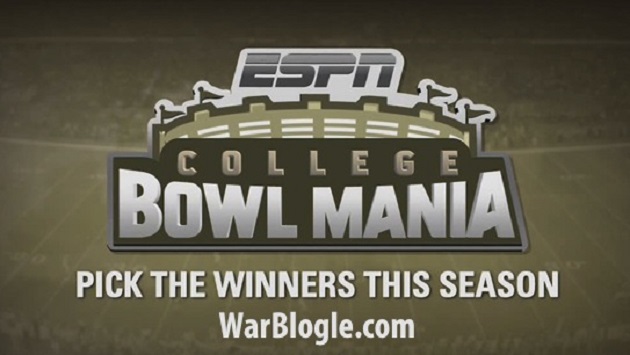 If you don't like prizes, or just like the traditional bowl pick 'em I've used in the past, go over to my ESPN group and start picking. I've set it up with confidence points, so you'll need to set that as well. You'll need an ESPN.com account, but that takes two seconds, so I don't want to hear it.
If you do like prizes, this is the pick 'em for you! This season I partnered with PickorPlay.com to do a weekly pick 'em for games against the spread. I found out that I was terrible at picking against the spread (and most of you were, too), but if you want prizes you sometimes have to step out of your comfort zone. Okay?
You'll need to sign up at PickorPlay.com (takes 1.5 seconds), and then join my group. Then from there you just pick at least 30 of the 35 games (against the spread) to qualify, and you're all set. If you're not taken directly to the group after you login/register, just go to the groups link and search 'warblogle.'
I'm working on a few prizes, but I know one or two will win this awesome Auburn map from auburnmap.com. More on that later.
So, get to picking. The games are coming. Prizes. Do it.